TECH
Top 15 Blogs in Nigeria that Have Stood the Test of Time
Blogs in Nigeria, Top blogs in nigeria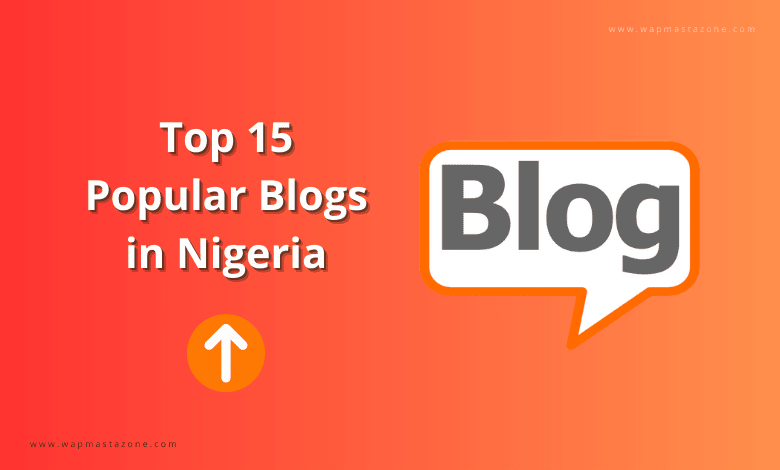 Top blogs in Nigeria – Nigeria is home to a vibrant and diverse blogging community that covers a wide range of topics. From entertainment and fashion to news and technology, Nigerian bloggers have made significant contributions to the digital landscape. The Nigerian blogging scene is thriving, and these 15 popular Nigerian blogs represent a diverse range of topics and interests.
Suggested read: 20 Most Popular Tech Blogs in Nigeria
Top 15 Popular Blogs in Nigeria that Have Stood the Test of Time
1. BellaNaija

BellaNaija.com is one of the best Nigeria blogs. It is a Nigerian lifestyle and entertainment blog that covers fashion, beauty, weddings, and celebrity news. With its engaging content and visually appealing design, BellaNaija has become a go-to destination for readers seeking the latest trends and entertainment updates in Nigeria. It was founded by Uche Eze in 2006.
The domain was registered on 21st-Sep-2006
2. LindaIkeji'sBlog

It is one of the most popular Nigerian blogs, focusing on celebrity gossip, news, and entertainment. Linda Ikeji, the founder, has built a massive following through her engaging writing style and exclusive news scoops, making her blog a must-visit for gossip enthusiasts. Linda Ifeoma Ikeji is one of the Top Nigerian bloggers and the founder of Lindaikejisblog.com
The domain was registered on 12th-Oct-2011
Also read: Importance of Domain name
3. Naijaloaded

Naijaloaded.com is one of the popular Nigeria blogs and a leading Nigerian music and entertainment blog that provides music downloads, celebrity news, and viral content. With its vast collection of Nigerian music and entertaining posts, Naijaloaded has garnered a large and loyal readership within the music-loving community. It was founded by Makinde Azeez in 2009.
The domain was registered on 27th-May-2010.
4. Techpoint Africa

Techpoint Africa is a digital media company that amplifies the best innovations out of Africa through its publications, data, and events. With its insightful articles, in-depth analysis, and coverage of tech-related events, Techpoint Africa has become a trusted source for technology enthusiasts and entrepreneurs. The founder of Techpoint Africa is Adewale Yusuf.
The domain was registered on 2017-08-03.
Read also: How to Find a Domain Name 
Also read: Domain Expiration – What Happens when a Domain Expires?
5. OgbongeBlog

OgbongeBlog is a popular tech blog that covers topics such as technology, blogging tips, and online business. Founded by Jide Ogunsanya, OgbongeBlog provides valuable information and tutorials for bloggers, internet marketers, and aspiring online entrepreneurs. Jide Ogunsanya founded ogbongeblog.com in 2008.
The domain was registered on 9th-Sep-2009.
6. Pulse.ng

Pulse Nigeria is a prominent news and entertainment platform that covers a wide range of topics, including politics, lifestyle, sports, and entertainment. With its fast-paced news updates and engaging content, Pulse Nigeria has established itself as a reliable source for current affairs and trending stories. Leonard Stiegeler, a German entrepreneur, co-founded Pulse. ng in 2011 as part of the broader Pulse brand, which has expanded to include various digital media outlets across Africa.
The domain was registered on 3rd-Jul-2013.
Also read: Top 10 Tech Blogs in Nigeria
7. TheNet.ng

The founder of TheNet.ng is Ayeni Adekunle Samuel. Ayeni Adekunle Samuel, commonly known as Ayeni The Great, is a Nigerian entrepreneur, journalist, and media practitioner. He established TheNet.ng in 2009 as an online platform dedicated to providing news, entertainment, and information about the Nigerian entertainment industry. Nigerian Entertainment Today (NET) is a comprehensive entertainment news platform that covers music, movies, fashion, and celebrity lifestyle. NET offers exclusive interviews, event coverage, and up-to-date news, making it a preferred destination for entertainment enthusiasts.
The domain was registered on 19th-Apr-2013.
8. Miss Petite Nigeria Blog

Miss Petite Nigeria Blog is a popular Nigerian blog that covers celebrity news, fashion, and lifestyle trends. With a focus on Nigerian and international celebrities. Miss Petite Nigeria Blog delivers captivating content and keeps readers updated on the latest happenings in the entertainment world. Misspetitenaijablog.Com was founded by by Stella Dimoko Korkus.
The domain was registered on 18th-Jun-2015
Recommended – Free Domain Age Checker 
9. NotJustOk

NotJustOk is a leading Nigerian music blog that showcases Nigerian and African music artists, releases, and music videos. It serves as a platform for promoting and discovering new talent in the Nigerian music industry, making it a favorite among music lovers. The founder of NotJustOk.com is Ademola Ogundele, commonly known as "Mola OG." Ademola Ogundele is a Nigerian entrepreneur and music enthusiast who started NotJustOk.com in 2006.
The domain was registered on 23rd-Nov-2005
10. YNaija

YNaija is a top Nigerian news and opinion blog that covers politics, current affairs, entertainment, and lifestyle. With its thought-provoking articles and diverse range of contributors, YNaija has positioned itself as a hub for insightful commentary and analysis on various social and cultural issues, making it a go-to platform for thought leaders and readers seeking informed perspectives. The founder of Ynaija.com is Chude Jideonwo and he is one of the Top Nigerian bloggers.
The domain was registered on 24th-Jun-2010
Also read: How to Unhide or Hide Caller ID on Infinix Android Phone
11. Information Nigeria

Information Nigeria is a comprehensive news and lifestyle blog that provides updates on politics, business, sports, entertainment, and more. With its wide-ranging coverage and user-friendly interface, Information Nigeria has gained a significant following among readers looking for diverse content.
Informationng. com was founded. The founder of InformationNG.com is Deolu Adeyanju.
The domain was registered on 9th-Dec-2012
Recommended – Free Domain Age Checker 
12. WapMasTazone

It is a tech blog in Nigeria that publishes tech updates, phone and computer reviews, SEO tips & solutions, freelancing tips, computer tips, business ideas, and startups. WapMasTazone provides highly developed free SEO and web tools to help you track and identify your website's critical SEO issues, and help you take action to improve your website performance and visibility in search engines. 
The domain was registered on 25th-Mar-2015.
13. Nigerian Finder

Nigerian Finder is an informative blog that offers valuable insights into various aspects of Nigerian life, including business, education, finance, and travel. NigerianFinder. com is aimed at helping Nigerians get relevant and valuable information they need from the web on any topic — about Nigeria, Nigerians, or events other things related to Nigeria. Nigeriafinder .com was founded by Abass Toriola in 2013.
The domain was registered on 20th-Apr-2013
Also read: 15 Best Free VPN for Android, iPhone and Computer Users
Recommended – Free Domain Tools – Get your own domain
14. The Guardian Nigeria

The Guardian Nigeria is the online platform of the reputable Nigerian newspaper, The Guardian. It covers national and international news, politics, business, sports, and more. With its well-researched articles and high journalistic standards, The Guardian Nigeria is a trusted source for reliable news and in-depth reporting. Guardian .ng was founded by Alex Ibru and Stanley Macebuh in 1983. However, it's important to note that TheGuardian. ng is the digital platform of the newspaper and does not have a separate founder distinct from the newspaper itself.
The domain was registered on 21st-Jan-2015.
15. Nigerian Infopedia

Nigerian Infopedia is an encyclopedia-style blog that offers a wealth of information on various topics, including history, culture, technology, education, and more. With its informative articles and engaging content, Nigerian Infopedia serves as a knowledge base for readers seeking to learn about Nigeria's rich heritage and contemporary issues. The founder of NigerianInfoPedia. com is Austine Archibong.
The domain was registered on 16th-Nov-2015.