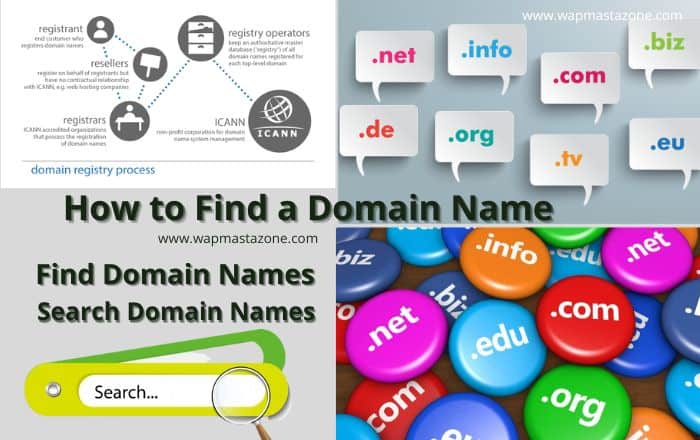 How to find a domain name? How do you get a domain name? Search Domain Names? Choosing a domain name for your startup can be tricky when you are just starting.
The best brand names wander in our subconscious unnoticed, but taking some time to research can help you uncover a well-befitting brand or domain name. There is more to a good domain name than just being memorable. It needs to contain valuable keywords and should be easy to remember. Below are a few details that will guide you in finding and registering your domain name.
Discover: Top Affiliate Programs to Join and Start Earning
Also read: what is a domain name?
 Domain name has become an important part of the internet. Another booming online business is domain flipping and those who engage in domain flipping consider it as online real estate. Because if you get lucky enough, you can buy a domain name for a lower price and resell it for a higher price. The fight for dropping domains in the domain industry has also turned into an epic struggle. Apparently, it's a lucrative business for does who understand the science behind it.
How to Find a Domain Name For a Website
How Can I Generate Domain Names Ideas for my Website?
There are different domain name generators you can use to generate domain name ideas before buying them. Below are a few domain name generators;
Domain Name Generators
 Also read: Importance of Domain name
What Are Top Most Used Domain Name Extensions?
To understand the most used domain name extensions today, let's take a little dive into the beginning of the internet.
At the establishment of the internet age, domain extensions were not many. By 1984, the Internet Assigned Numbers Authority (IANA) established the first six domain extensions which include; .com, .org, .edu, .net, .gov, and .mil. And two years after, the first two-character country code domain extensions (like .uk and .us) were established. However, there are more than 1,500 top-level domains for internet addresses online today.
Out of the 1,500+ top-level domain names, below is a list of some of the most popular domain extensions:
.com, .org, .edu, .net, .io, .org, .me, .app, .co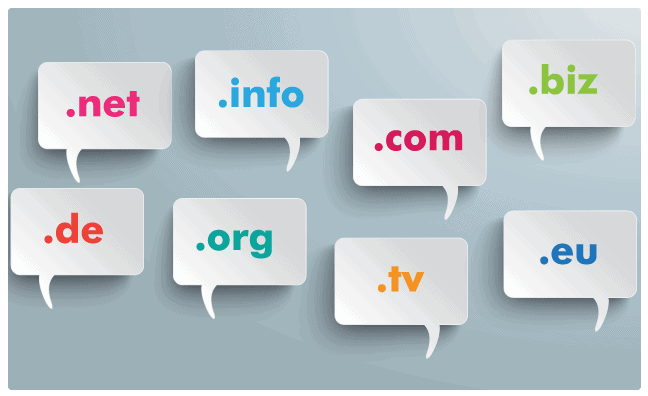 While there are hundreds of domain names on the internet, these extensions are mostly used for different purposes. Take for example,
.com is a generally used domain

.app is mostly used for applications,

.org is mostly used by organizations, non-profit organizations, or companies.

.ai for an AI-based product or service,

.io is mostly used by technology-based companies
Also read: Key Considerations For Choosing a Good Web Hosting
Other Means of Finding a Befitting Domain Name
Analyze your Competitors' Domain Names: You can take inspiration by collecting data from other competitors' domain names.
Take Inspiration from social media: Social platforms like Instagram, Facebook, YouTube, and Twitter are places you can find domain name ideas.
Try different Keyword combinations:
Yes, I must tell you, it's not easy getting a domain name with a high-value keyword. It seems everything has been taken but not yet. You can still find yours. Try different keyword combinations within the niche of your choice until you find the best one.
Also read: How to Choose a Good Web Hosting for your Website or Business
Best Domain Name Practice
When setting up your online business and domain name, below are the best practices you should adopt and never ignore;
It should contain a keyword relevant to your business niche.

It should be short, simple, and easy to remember. Keep the domain name characters as less as possible.

Avoid buying expired domains and if you must buy, ensure it has not been blacklisted or used for spam. You can use Archive.org

to find out.

Avoid using hyphens or numbers as they're difficult to remember, and if you must use it, ensure the two keywords have a clear connection or meaning.

use domain name generator

to get domain name suggestions before you buy one.

Ensure that the domain name is relevant to your business niche. This will help your website to rank easily on search engines.

Avoid tricky or malicious domain name as it could affect your chances of ranking on search engines if shadow banned.

Avoid Copyrighted terms in order not to get into legal trouble in the future.

If a name is already trademarked by a company, then you can't use it. You can tweak the word to another thing.   
Discover: Top Affiliate Programs to Join and Start Earning
Domain Name Registration Process
In order to reserve a domain name in a gTLD, a domain name registrant must register it with an ICANN-accredited registrar. The registrar will check if the domain name is available for registration and create a WHOIS record with the domain name registrant's information. It is also possible to register domain names through a registrar's resellers.
The diagram below illustrates the main functions of the parties that are usually involved in the domain registration process.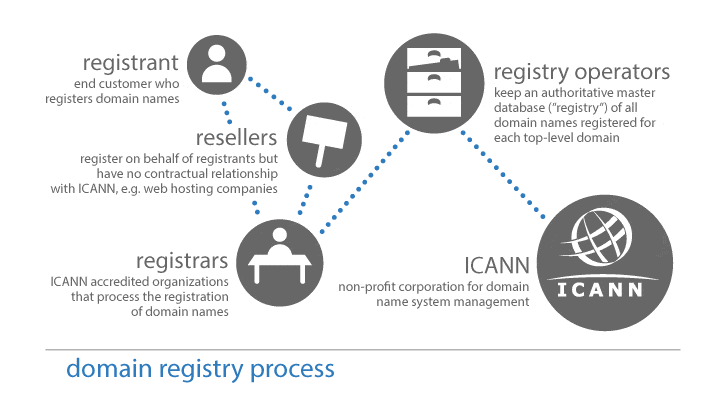 What More? Start Searching –
Visist https://www.domainlista.com