TECH
Top 10 Tech Blogs in Nigeria – 2023
tech blogs in nigeria, Nigerian tech blogs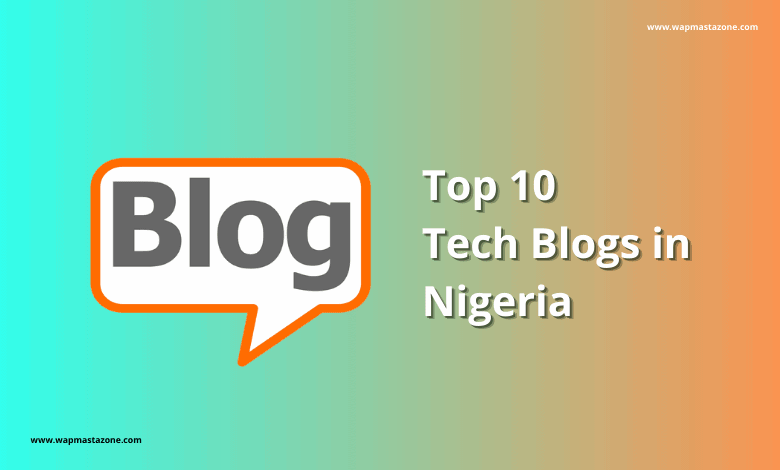 What are the top Tech blogs in Nigeria? there are several tech blogs in Nigeria on different niches.   If by any chance you are reading this post, you are probably a techie person or you are looking for popular Tech blogs in Nigeria.
Also read: Importance of Domain name
Top 10 Tech blogs in Nigeria
1. Techcabal.com
Domain registered: 2012-08-10

TechCabal was Created in 2013. It's a future-focused publication that speaks to African innovation and technology in depth.
In addition to high-quality articles, reports, and expert opinions on the main website, it publishes on the TC Daily newsletter, the most comprehensive roundup of technology around Africa.
The innovative blog is widely known for its keen news on exciting tech startups, gadgets, and across Africa.
Read also: How to Find a Domain Name 
2. Techpoint.africa (Formerly Techpoint.ng)
Domain registered: 2014-11-01

Techpoint Africa is a technology company that amplifies the best innovations out of Africa through its media, data, events, and tech-focused platforms. It was Founded in 2015 and it has grown to become one of the most notable brands across Africa's tech, startup, and business ecosystem, with a growing and dedicated audience of investors, startups, developers, professionals, and African tech enthusiasts.
Recommended – Free Domain Age Checker 
3. Naijatechguide.com
Domain registered: 2011-06-11

NaijaTechGuide publishes on Technology News, Gadget Reviews, Specs, and Tips. Also covers Online Services as well as Prices of Mobile Phones, Laptops, and other Gadgets. NaijaTechGuide is a leading Tech Blog in Nigeria with a sizable audience in Kenya, Ghana, and India. NaijaTechGuide was established in December 2006, by Paschal Okafor.
Also read: How to Unhide or Hide Caller ID on Infinix Android Phone
Recommended – Free Domain Age Checker 

4. Ogbongeblog.com
Domain registered: 2009-09-09

Ogbongeblog.com is a top Nigerian Blog created in 2008 on Blogger platform as www.ogbongeblog.blogspot.com but moved to WordPress in October 2017. 
OgbongeBlog is a Nigerian blog that covers topics on tech, blogging, digital marketing and online business. It also offers tutorials and tips related to blogging, digital marketing, mobile tech and how to make money online. Founded by Jide Ogunsanya.
5. Mobilityarena.com
Domain registered: 2014-12-05

Mobility arena was founded In 2004 by Yomi Adegboye which then later became the pioneer tech blogger for mobile phone reviewer in Nigeria. It offers experiences with mobile phones and prepaid services on various blogs, including Mobile Africa (now Tech Africa).
Mobility arena provides detailed reviews, information about the latest phones, and the best smartphone deals in the country.
Also read: 15 Best Free VPN for Android, iPhone and Computer Users
Recommended – Free Domain Tools – Get your own domain

6. Techrez.com
Domain registered: 2014-02-01

TechRez is a premier technology blog; a geek's resource garage having its core on tech news, gadgets revelation, gaming, science, reviews and startups. The tech category deals with gadgets and gaming. They also provide unbiased ratings about gadgets, smartphones, games, apps and services, while the science section takes you away from conventional tech stories to big-tech.
7. Oscarmini.com
Domain registered: 2011-11-22

Oscarmini is also a tech-blog in Nigeria that writes on tech trends, tech analysis, guides, how-to, game tips etc . It was founded by Oscar frank in 2011.
Also Read: 10 Signs of a Malware Infection on your Computer
Recommended – Free Domain Age Checker 
8. WapMasTazone.com
Domain registered: 2015-03-25

Wapmastazone is a tech blog in Nigeria that publishes tech updates, phone and computer reviews, SEO tips & solutions, freelancing tips, computer tips, business ideas, and startups. WapMasTazone provides highly developed free SEO and web tools to help you track and identify your website's critical SEO issues and help you take action to improve your website performance and visibility in search engines. 
9. Techcityng.com
Domain registered: 2011-11-22

TechCity is Nigeria's premier technology blog that is dedicated to reviews and reporting of Technology News across Nigeria through its blog and online videos, hosted on YouTube.
TechCity is the place where people using technology are entertained/educated and emerging technologies are showcased. 
Also read: Domain Expiration – What Happens when a Domain Expires?
10. 

Gadgetstripe.com
Domain registered: 2016-01-21

GadgetStripe is a gadget-dedicated website featuring a huge number of visitors daily. Founded in 2016, it has been in operation since its opening date. it is updated with latest news from the world of gadgets (Mobile phones, Laptops, VR Headsets, Tablets, Android Wears, and so on.
Also read: Key Considerations For Choosing a Good Web Hosting
Also read: How To Make $100/day on Fiverr – Complete Guide
Want to buy your First Domain?
We recommend this free domaintools – Domainlista.com. You can use it to search for domains and generate different ideas before buying it. 
domain name availability – domaintools – Domainlista.com
Recommended Domain registrar you can Buy From
Namecheap Shared Hosting – Buy your shared hosting plan on Namecheap here
Namecheap VPS Hosting – Buy your VPS Hosting plan on Namecheap here 
Free domain name and Shared Hosting – Buy your Free domain name and Share Hosting on Namecheap
Godaddy domain name – Buy affordable domain name on Godaddy
Godaddy domain name – 50% OFF your hosting on Godaddy- Buy Here
Namecheap domains – Buy affordable domain name on Namecheap
Interserver VPS hosting – Buy your VPS Hosting plan on Interserver here 
Host your website on Hostinger + Free domain – Buy Hosting plan on Hostinger here
Namesilo domain name – Buy a Cheap Domain name on Namesilo
OVHcloud VPS Hosting – Buy your VPS plan on OVHcloud here
OVHcloud dedicated Hosting – Buy your dedicated Hosting plan on OVHcloud here 
Also read: 15 Best Free VPN for Android, iPhone and Computer Users