ANDROID
SMARTPHONE
TECH
How to Download Android Auto Coolwalk Stable Version
Android Auto Coolwalk, Android Auto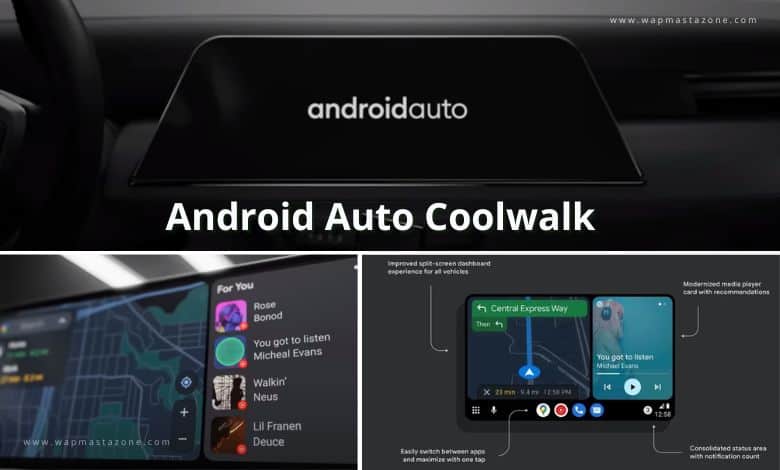 Android auto coolwalk – In 2022, During Google's I/O event, Google unveiled "Coolwalk," a fresh user interface for the Android Auto app. Android Auto allows certain features of Android applications to be mirrored on a car's display. When your device is connected to Android Auto, you can conveniently utilize compatible applications directly on the car's screen while on the move, eliminating the need to interact with your smartphone.
The Android Auto enthusiasts have since then been eagerly anticipating the arrival of the latest version, since its official announcement. The wait is now over as Google has commenced the rollout of the exciting Coolwalk update for Android Auto. This significant redesign will soon be accessible to all users, bringing a refreshed and enhanced experience to the Android Auto platform.
Also read: How to Hide Apps On Android – 4 Easy Ways
Google I/O '22 Recap
What is Android Auto Cool Walk?
The Android Auto Coolwalk is an innovative interface designed to simplify navigation and display essential information on your vehicle's dashboard screen, eliminating the need for complicated menu navigation. The latest update brings a multitude of exciting features and enhancements.
The Android Auto enables you to perform various tasks seamlessly without disrupting your daily routine while driving.
You can effortlessly send or receive messages, navigate through Google Maps, enjoy your preferred music streaming app, and much more.
The user interface of Android Auto is designed to be intuitive and user-friendly. Acting as your intelligent car assistant or companion, it intelligently leverages the capabilities of Google Assistant to assist you in a smart and efficient manner.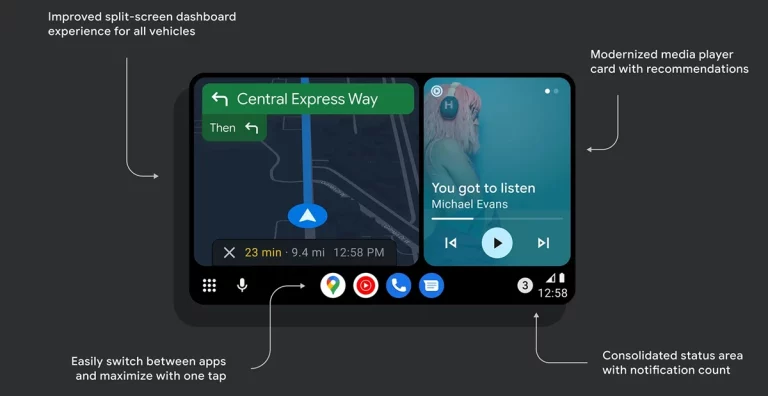 Also read: How to Unhide or Hide Caller ID on Infinix Android Phone
New Features of Android Auto Coolwalk
In the article published on google blog on January 5, 2023, it stated "The new Android Auto is here! Plus, check out a new way to use your digital car key, plus more updates for cars with Google built-in.".
In the latest stable versions of Android Auto, including v8.6.6250 and the incremental v8.9.6306 update, the Coolwalk UI has been further enhanced. This new version was released with numerous changes to the user interface, addressing crucial improvements for a better in-car experience. Below are some of the features and enhancements that come with Android Auto Coolwalk 8.6.6250:
Enhancing navigation by bringing Maps closer to the driver's seat
Quick launcher for easy access to recent apps
Introducing a new split-screen design for Android Auto
On-screen shortcuts enabling single-tap actions
New Media card featuring Material You design, showcasing the user's favorite album art
Adaptable split-screen layout catering to various screen sizes
Seekable progress bar for music and podcasts
Google Assistant offering intelligent suggestions such as missed call reminders, quick arrival time sharing, and instant access to music or podcasts
WhatsApp call support on the horizon, initially for the latest Samsung and Pixel phones (Coming Soon)
Digital Car Key sharing to be available soon for Samsung and Xiaomi phones and Expanding Digital Car Key support to additional car brands are coming soon
Suggested read: How to Block No Caller ID on iPhone – 3 Best Means
Suggested read: How to Know if Someone Blocked your Number on iPhone
How to Download New Android Auto Cool walk Auto 9.2 APK Stable Version?
A new major Android Auto 9.2.6312 stable update has been rolled out to all users. The Android Auto 9.2.6312 stable update comes with some new features, bug fixes, and improvements.
One of the new features allows you to change the layout of the split screen with two options included:
Media closer to driver
Navigation closer to driver
How to download Android Auto 9.2 APK
Download Android auto from Google play store
How to enable Coolwalk Troubleshooting
Follow the steps below to enable cookwalk troubleshooting:
Go to Settings on your smartphone
Then select Apps
Search for Android Auto and click on Force Stop
Select Clear Cache under Storage and Clear Data
Then Search for Google Play Services and Clear Cache under Storage
Then Clear Data under Storage
Next, Search for Google and Clear Cache under Storage
Follow by Clearing Data under Storage
Restart your phone after this. Note that it may take few hours for changes to take effect.
Also read: 16 Best Free VPN for Android, iPhone and Computer Users
Suggested read: 7 Brilliant Ways to Make Money Online