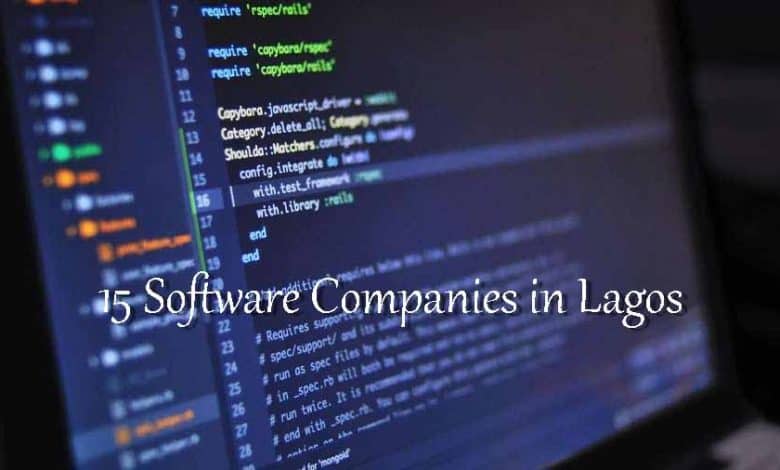 It is no doubt that Lagos is a leading Tech hub in Nigeria and in Africa. The software companies within Nigeria have grown largely with well-established collaborations and investment networks and Lagos is the center of the Tech development.
 Tech startups in Lagos are increasing and are also getting access to local and international funding. Y Combinator, the Silicon Valley-based startup accelerator, held its first and only event in Africa in Lagos in 2016, which also attests to the tech growth and global influence.
An article written by startupgrind also highlighted why Lagos is Africa's Silicon valley owning to the vast development of companies like Andela, Jobberman and the amount of funding they were able to secure. While Lagos is also the economic capital of Nigeria, its growth has continued to attract potential investors around the world
For investors or business person(s) looking for a Software company in Lagos, this article highlights top 15 software companies in Lagos Nigeria.
Also read: How to get Grants And Loans in Nigeria in 2022

1. INITS Limited

INITS Limited is one of Africa's leading software development and IT consulting company, incorporated in 2009 with offices located in Nigeria, Nairobi, Kenya, and Delaware, United States.
They offer innovative custom-made software development solutions, interactive designs, winsome web, and mobile applications, and stellar human resources that meet the needs of our diverse clientèle. NITS Limited consists of a complete team of tested professionals bringing to you the heart and soul of your complete IT needs at the click of a button.
With a software programming team, a design team, a database team an administrative team, a marketing team, and a support team at our disposal, they creatively combine the efforts of all teams to create outstanding results for you and your business.
Address:16 Majaro Street, Onike, Yaba, 100001, Lagos, Nigeria
Website: www.initsng.com

2. CMARIX

CMARIX is a software and technology company based in Ahmedabad, India with a branch in Lagos Nigeria. The company work with clients to design, develop and integrate smart technology solutions. They deliver world-class software development and consulting services with their in-house team of experts for web, mobile, and cloud applications.
They are a leading technology company with more than 170+ employees and 6 offices globally. CMARIX offer a broad range of software development services to clients across different industries such as security, e-commerce, media, healthcare, finance, and education. Other services include startup consulting, IT consulting service product auditing and product development. The CMARIX has branches in India (HQ), USA, Germany, UK, Italy, and Nigeria.
Address: 287A, Corporation Drive, Dolphin Estate, Ikoyi, Lagos, Nigeria
Website: www.cmarix.com
Also read: Top Business Auto Loans in 2022

3. Talosmart Technologies

Talosmart Technologies is a Software & Web Development Company. They offer IT (Information Technology) Services and training, end-to-end development services for web and mobile applications. We work on a wide range of technologies ranging from open source to proprietary and custom-built solutions.
With years of experience, we have perfected the process, system & technologies that enable us to create high-quality, scalable web and mobile solutions. Our goal is to always have our end products reflect our deep engineering skills and elegant progressive design aesthetic.
They fundamentally believe in developing long-term strategic partnerships with clients by exceeding expectations and a great level of transparency.
Address: GP14, Gudway Plaza, Morogbo Road, Agbara Badagry, 103101, Lagos, Nigeria
Website: www.talosmart.com



4. Intelia

Intelia is a software company that has developed products that have impacted people and businesses on different continents while maintaining a local connection. Intelia's expansive experience working with new-age technologies, for diverse audiences over the past decade helps them to craft a fit-for-purpose solution regardless of client's target market.
Intelia is a new paradigm in software development that empowers its client and emboldens the blueprint for success. With Intelia's milestone-based engagement plan, you only pay for one milestone at a time, limiting your investment exposure with honesty being kept.
Address: 2A Adewole Kuku Street, Off Fola Osibo, Lekki Phase 1, Lagos.
Website: www.intelia.io
Also read: Top 15 Business Schools in Nigeria



5. Special Man Global Solution LTD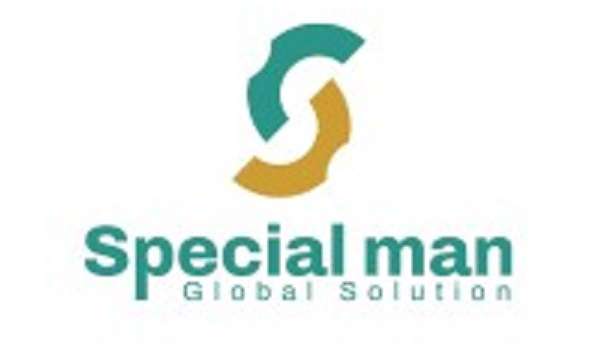 Special Man Global Solution LTD Is a software company that was born out of a desire to see emerging and global businesses grow using technology as a tool. Their passion for software comes from providing solutions that would make business operations easy and seamless.
It also stems from finding exciting things technology can do and the almost limitless boundaries to where it can go. They provide solutions to clients' needs with technological products and services while ensuring that the company grows with a multicultural and diversified team of software developers too.
Service in Nigeria includes mobile app development, web development, promotional video, E-commerce, custom solution, and corporate branding.
Address: 12 Ezekiel St, Allen 100271, Ikeja
Website: www.specialmansolution.com/ng
6. Enyata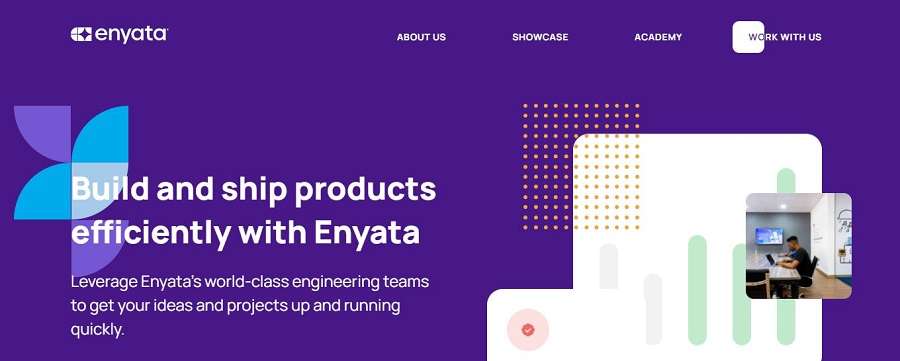 Enyata is a technology company providing engineering as a service solution at scale to organizations across multiple industries. They have expert teams of engineers, data scientists, designers, and product managers aggregate decades of industry experience.
Enyata process is borne out of the need to build tailored solutions for every scenario. They design solutions that work with agile methodology in mind. Enyata engages in product design, product development, product planning, and quality assurance while powering the growth of Africa's technology ecosystem.
Address: 47 Orominike St, Elechi 500001, Port Harcourt, Nigeria
Website: www.enyata.com
Also read: Important Reasons Why you Need Pinterest to Promote your Business



7. Aitechma

Aitechma is a software company in Nigeria that engages in mobile app development, web development, UX/UI design with a strong focus on helping clients develop software that helps them elevate their business.
It is one of the most trusted names in the IT space delivering technology innovation in Africa. Its digital transformation strategies, problem-solving benchmarks, and agile business models enable clients to digitize, scale, and transform into high-performance businesses.
The company partners with product owners and founders by developing products from scratch or growing the existing product.
Address: 2 Anipupo St, Ogba 101233, Lagos, Nigeria
Website: www.aitechma.com
8. Vinecodes Developers LTD
Vinecodes is a software development company in Nigeria and has over 60 years' collective experience working on tailored software solutions for a wide range of companies. They provide services in custom development, mobile app development, website development, E-Commerce, API integration, databse development, blockchain app, backend development, and progressive web apps. They use agile methodology for delivering anything from a minimal viable product to a full-scale enterprise system while helping you to solve problems, achieve your goals, and make your life just a little bit easier.
Address: H11, Road 7, Buena Vista Estate, Lekki Lagos
Website: www.vinecodes.com
Also read: How to Apply For NMFB/AGSMEIS Loan – Up to 3 Million Naira CBN Loan



9. QuickProx Company

QUICKPROX is a software company in Nigeria that builds data-driven, cloud-based applications and quality solutions for customers. The company is well-versed and experienced in the latest technologies and they provide up-to-date solutions to their esteemed customers. They consists of teams of web developers, programmers, graphics designers, analysts, researchers, and project managers. Besides their expertise, they have prove their abilities to work with clients in a wholesome and unifying team spirit. Over the years, QUICKPROX has built, tested, and revised its working tools to match up with the trends and development in technology. These trusted tools and software have proved to be very effective in creating the desired solutions for its customers.
Address: 8 The Providence St, Lekki Phase I 101245, Lekki, Nigeria
Website: www.quickprox.com.ng
10. Sprinble

Sprinble is a software development & design agency for startups to multinationals. They provide tailored design, software & hardware solutions for your business goals. Sprinble services include digital marketing, software design, and engineering. They are building an enabling company that makes it easy for brands & businesses to achieve their goals. They do this by empowering businesses to succeed with innovative technology, digital strategies & implementation. The company are keen on providing solutions for the development of our society most especially, in Africa.
Other services offered by the company include Mobile App Development, Web development, Desktop App development, Network & Security, Data Centre Transformation, and DevOps.
Address: Victoria Island Lagos NG 1 Towry Close Eti-osa, Local Government 101241, Lagos, Nigeria
Website: www.sprinble.com
Also Read: 12 Best Ways to Free Up Storage Space on Windows



11. Weevil Company

Weevil is a purposive technology consulting company focused on data analytics and digital transformation for organisations. It offers solutions driven by intelligent technologies for best-practice business processes that help you run better in the experience economy. The company makes service is built around understanding their client's needs and their objectives. Ever since its inception, they have represented everything from startups to governments and organisations with that same partnership approach and dedication, to accelerate their business growth with bleeding-edge technology and solutions. Their services include; Software & Product Development, Data Analytics, Business Intelligence, Data Warehousing, IoT systems integration, DevOps, Blockchain, Information Security, Data Migration, Robotic process automation, Business Continuity, Hardware Infrastructure, Cloud Services, Chatbot, Web Development, and Mobile App Development.
Address:15A Tiramiyu Bello Osagie Street, Parkview, Ikoyi, Lagos, Nigeria
Website: www.weevilcompany.com
12. Tagdev Technologies Limited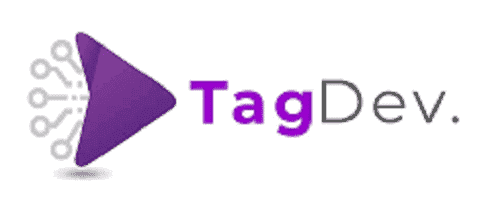 TagDev Technologies Ltd. Is a software company that combines strategic thinking and emerging technologies to provide solutions that consistently break new grounds. TagDev develops long-term relationships with their clients. They deliver high-quality work by being focused on bidirectional communication, responsive customer service, client education, accurate project management, product quality, and an ethical approach to business. TagDev have a well-documented track record of performing work on budget and on time.  
Tagdev understands that nobody understands your business better than you and that is why their team of experts works directly with you to create a professionally written and designed website and our various services. They approach each client engagement using a documented set of policies, processes, and Procedures. Each client is assigned a project manager who acts as the primary point of contact for your organization.
Address:38 Olanrewaju Ninalowo Cres, Lekki Phase I 106104, Lagos, Nigeria
Website: www.tagdev.tech
Also read: Pegasus Spyware – The Most Intelligent Spyware Ever Built



13. Articulate Technologies Concept

Articulate Technologies Concept is an ICT institution that specializes in Mobile Application Development, Web Design and Hosting, Web Development, Software Development, CRM Solutions, ERP Solution, Portal Development, IT Consultancy, Hardware, and Connectivity Solution, Business Solution, and Training. It was established with the mind to dynamically provide professional satisfactory services in a number of IT fields.
The continuous growth in the IT world has taken them further ahead with innovation to deliver IT services with high level of professionalism. As much as they are aware of the market trend and the efficacy of qualitative services, they have human resources, materials, and the skills to provide and meet up with standard services provision.
Address: 3rd Floor, Bus Stop, 161 Herbert Macaulay Way, Adekunle 101212, Lagos, Nigeria
Website: www.articulatetc.com
14. Softclo

SoftClo Web Services LTD is a Software and Cloud company created to help SMEs become more agile in a digital economy. Service includes app development, website development, cloud solutions, security, and workflow management. Their products and services simplify workflows within IT operational processes. SoftClo are driven by a passion to help SMEs across Africa make informed decisions and keep their business secure. They enable businesses to Work Smarter Every day. SoftClo also have offices in United Kingdom and South Africa.
Address: 63 Oduduwa Crescent, Ikeja GRA
Website: www.softclo.com or www.softclo.ng
Also read: 15 Best Free VPN for Android, iPhone and Computer Users



15. DevNode

It is a leading bespoke software development firm with a completely in-house team of developers and technology experts. Devnode designs and builds intelligent, premium, and intuitive web applications, cloud systems, desktop applications, and mobile apps that help start-ups and existing businesses alike streamline processes and generate new revenue streams. The company takes a unique approach to software development by incorporating conventional and modern approaches to deliver high-quality software quickly while preserving its personal touch and careful preparation. They have extensive experience in a variety of sectors, including public and private, customer and business-focused, and non-profit.
Address: 813, Emmanuel Adubifa, Omole Phase 2,
Website: www.devnode.ng
Also read: How to get Tax Identification Number (TIN) Online in Nigeria
web development, software development company in Lagos nigeria, app development,  Software Companies in Lagos, Software Companies in Nigeria, top software companies, leading software companies,IT consulting company, IT consulting company in Lagos,Tech startups, Tech startups in Nigeria, auditing and product development, Web Development Company, technology company,technology company in lagos nigeria,