INTERNET SECURITY
TECH
Pegasus Spyware – The Most Intelligent Spyware Ever Built
pegasus spyware, pegasus spyware download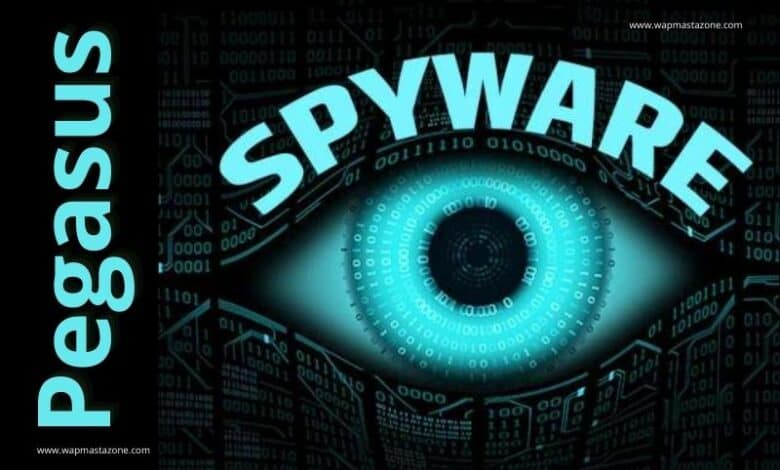 Pegasus spyware, pegasus spyware download – What is Pegasus and why has it become a topic of discussion all over the world!
Pegasus is a spyware developed by the Israeli cyberarms firm NSO Group. Pegasus Spyware was launched by the NSO group in Israel with the primary purpose of counter-terrorism via the internet.
As of 2016, Pegasus spyware was capable of reading text messages, tracking calls, collecting passwords, location tracking, accessing the target device's microphone and camera, and gathering information from applications.
It is recognized as a Trojan horse virus that can be sent "flying through the air" to spy on the targeted users. The spyware is named after Pegasus, the winged horse of Greek mythology.
Also read: How to Prevent Facebook Hack – Complete Guide
Pegasus Spyware – The Most insane and intelligent Spyware ever Built
The 2021 Project Pegasus revelations suggest that the current Pegasus software can exploit all recent iOS versions up to iOS 14.6.
Pegasus has the power to obtain highly accurate GPS coordinates, encrypted messages from apps like WhatsApp, photos, etc. It can control microphones and also eavesdrop on private conversations.
It can attack multiple devices at the same time creating a network of information that keeps feeding data to the host.
The most insane thing about pegasus is the fact that it uses "zero clicking" which doesn't require any interaction of the target. The target is already under surveillance once the malicious link gets to the target's device. It is mostly spread by malicious web links via email or chat applications.
Pegasus has become the world-leading cyber intelligence solution that enables law enforcement and intelligence agencies to remotely and covertly extract data from virtually any smartphone.
In November 2019, a New York City tech reporter snapped an interception device displayed at Milipol, a trade show on homeland security in Paris. The exhibitor, NSO Group, placed the hardware at the back of a van, perhaps suggesting the convenience of portability, and said it would not work on US phone numbers, possibly due to a self-imposed restriction by the firm.
A report on indianexpress reported that In mid-2020, a mobile phone belonging to an Al Jazeera Arabic investigative team was hacked. The reporter Tamer Almisshal and the Canadian research group Citizen Lab investigated Pegasus months after, and to find out why their privacy was invaded. This investigation exposed how Pegasus works. It exposed how governments like Saudi Arabia and the UAE have bought the hugely expensive spyware and how it has been used beyond the stated intentions of the NSO Group of "developing technology to prevent and investigate terror and crime".
Also read: 10 Signs of a Malware Infection on your Computer
Has Pegasus Become a Threat to Human Rights?
If already Pegasus is capable of bypassing our phone's security and gaining complete access to our smartphone – then any person who becomes a target is under security threat.
Who Are the People Using Pegasus to Spy?
An investigation conducted by Guardian revealed the widespread abuse of the Pegasus technology by government clients around the world who purchased the spyware from its Israeli manufacturer — the NSO Group.
Governments, cyber intelligence companies, law enforcement around the world are using Pegasus spyware.
Who Are the Target of Pegasus Spyware?
People who are possible targets include; individuals, journalists, lawyers,  human rights activists,  scammers, important individuals, and even government officials.
What Makes Pegasus Spyware Dangerous?
It is no doubt that pegasus is undefeated. Out of all its capabilities, the "zero clicking" technology makes pegasus the most dangerous spyware.
Also Read: 9 Most Deadliest Computer Viruses that Stood the Test of Time
The Danger of Being Monitored by Pegasus Spyware
Pegasus can gain full control over your smartphone.


Pegasus can access encrypted files and applications. It can gather data like passwords, wallet ID, bank details, etc.

Pegasus can access your text messages and also track your calls.

It can track accurate GPS coordinates and location.

Pegasus can collect your photos, emails, videos, and contact lists.

It can power your microphones and also eavesdrop on private conversations.

It can collect information about other third-party apps on your phone and send it directly to the host. 
How does Pegasus Spyware work?
The Pegasus spyware gains illegal access to your phones through malicious SMS or web links.
It uses "zero clicking" technology which doesn't require any interaction of the target.
How to Know If you Are Being Monitored with Pegasus Spyware
How to detect pegasus spyware
It is almost impossible for you to know if you are being monitored by spyware unless you are vigilant, tech-savvy, or a security expert.
However, below are what you can do in order to detect;
Run a spyware test on your smartphone by downloading the iMazing app on your computer.

iMazing is a mobile device management software that allows users to transfer files and data between iOS devices and macOS or Windows computers. It will help you run a spyware test of your smartphone.
The free version of the iMazing app works fine, so you don't have to buy the paid version unless you can afford it.

Install the iMazing app directly from the iMazing website and install it.
Also read: How to Stay Safe On The Internet
Your phone needs to have enough free space as it is needed for iMazing to backup your files.

Connect your phone to your computer after IMazing installation. input your pin/code and accept the trusted source pop-up on your computer.

Find and click on "Detect Spyware" on the iMazing app.
Accept a license for the tool and then click the Start Analysis button.

Ensure your smartphone remain connected until the completion of the analysis test.

Note that It will take about 20-30 minutes to create a local backup and 5-10 minutes for the test analysis.

Once iMazing finishes the test, it will show you an alert with the files containing your results.

Click the Reveal Report to access the files.
If the test shows that your phone is infected with spyware, then iMazing asks that you send the report to its support team for possible solutions.

We Recommend:
Also read: How to know and What to do if your Phone is Being Monitored by Spyware
Do you find this post informative? do you have questions?. let's engage in the comment section.