FREELANCING
How to Make Money on Fiverr – $100/day, Complete Guide
how to make money on fiverr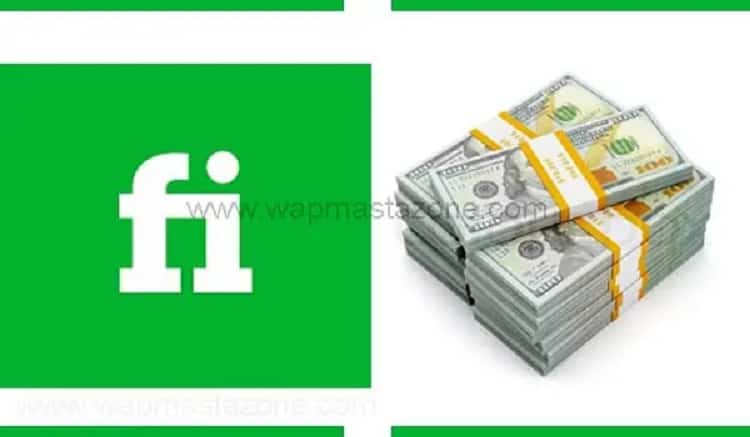 How to make money on Fiverr –
If you are reading this post, then I believe you are seeking financial freedom. How then can you make $100/day on Fiverr? this question is what I am going to answer in this post, so follow me as I walk you through. For you to control money, you must first understand the art of making money, you must create a business of your own either online or offline.
Fiverr is a freelance website where you can sell your skills as a service and get paid once you complete the job. Fiverr has been around since 2010. You can offer services in different categories, such as graphics design, digital marketing, writing, and translation, video and animation, music and audio, business, programming, and so on.
The platform allows buyers and sellers across the world to easily connect and exchange services. Before you consider setting up an account, you should already have skills in a field because the skills are what you would eventually monetize. Don't forget, there is no shortcut to success, you have to put in the effort in order to ascertain the buyer that you know what you are doing, as such, you would attract more buyers.
Fiverr ensures that buyers and sellers maintain a high level of standard to keep the quality of service as satisfactory as possible.
Also read: 7 Brilliant Ways to Make Money Online in Nigeria 2021
How to Make Money on Fiverr – How Does Fiverr work?
The process is all digital but on rare occasions, buyers might request for shipment of the output delivery, e.g (A physical painting). The buyer contacts the seller either through recommendations or by searching for the seller's gigs on the Fiverr search engine. They both engage in discussion, reach an agreement on what needed to be done, then agree on a price and time. The buyer then makes payment in advance while the seller then starts the work.
The service sellers offer on Fiverr are termed "gigs" with a minimum amount of $5/gig. The interest of both buyers and sellers are also protected by fiver rules and terms of use. 
Fiverr takes 20% on every order of the buyer after completion while the seller gets 80%. take, for example, if the buyer and the seller agree on a project for 100usd, after completion, the seller gets 80usd while Fiverr takes 20usd. In the end, the buyer has the privilege to leave a positive or negative review on the seller's gig. The buyer can also open a dispute and request a refund if the buyer is not satisfied with the final result.
1. Why do People Use Fiverr?
The primary aim of Fiverr is to make the exchange of digital services easy, affordable, and hiring easy. Fiverr as an online marketplace eliminates the middleman, as such, the process is flexible for the buyer and the seller.
Also read: Practical guide to Becoming a Successful Freelancer
2. What Do I Need to Join Fiverr?
Actually, the signup is open to anyone, however, you need to have either join as a buyer or as a seller. If you join as a buyer, that means you would only be buying services. If you join as a seller, that means you would be selling a service. Most importantly, you need to have skills as it is important that you know what you are doing in order to thrive in whatever niche you want to sell your skills.
3. Register a New Account
First, you need to sign up for a new Fiverr account by Click Here. You can join with your Facebook account, google account, or apple account. Create a unique username that aligns with your skills, enter a strong password, then continue. A confirmation link will be sent to your email to confirm your account, and you can continue entering your other details from there.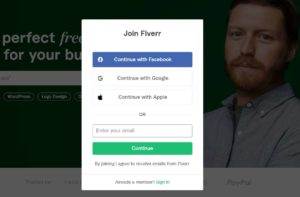 Also read: Ultimate Secrets to Earn more Money on FIVERR in 2021
Once you finish setting up the account, then set up a seller's account. You need to add a profile picture and a profile description of yourself with respect to your skills. The profile description is important because it gives the buyer a first impression of who you are and what you are selling. To further strengthen your credibility, you can link your social accounts, education, and certification.
After this, you can then create your first gig which includes the overview, pricing, description & FAQ, requirements, gallery, and finally publish.
5. How to Start Making Money with Fiverr
If you do not undervalue yourself, you will thrive on Fiverr in no time. As I said earlier, your skills are the fuel to drive your success on Fiverr. You must establish buyer satisfaction very seriously so as to create a long-lasting relationship with them. Now to start making money is not an easy ride to success. You need to put in the effort, you need to create gigs from the niche where you are sound. Fiverr has different categories and subcategories from which you can create gigs. The amount you make on each gig is dependent on your ability to convince the buyer and why the price you are charging is best for the service the buyer seeks.
By now, I am sure you are already asking yourself, how then can I make $100/day on Fiverr? this is a rhetorical question because you need to put in the work before you can start making the money. To start making money, the categories and subcategories below are what you can start exploring.
Graphic & Design Category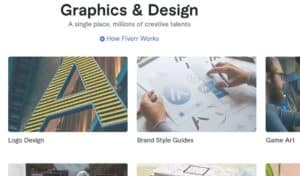 The graphics design category is a diverse category ob Fiverr with many subcategories which include Logo Design, Brand Style Guides, Game Art, Graphics for Streamers, Business Cards & Stationery, Illustration, Pattern Design, Packaging Design, Brochure Design, Poster Design, Signage Design, Flyer Design, Book Design, Album Cover Design, Podcast Cover Art, Website Design, App Design, UX Design, Landing Page Design, Social Media Design, Email Design, Icon Design, AR Filters & Lenses, Catalog Design, Invitation Design, Portraits & Caricatures, Cartoons & Comics, Tattoo Design, Web Banners, Photoshop Editing, Architecture & Interior Design, Landscape Design, Building Information Modeling, Character Modeling, Industrial & Product Design, Trade Booth Design, Fashion Design, T-Shirts & Merchandise, Jewelry Design, Presentation Design, Infographic Design, Resume Design, Storyboards, Car Wraps, Menu Design, Postcard Design, Vector Tracing, Twitch Store, Other, etc. 
Also read: 9 Most Important SEO Guides to Help you Rank First Page on Google
Digital Marketing 

Digital marketing is a category on Fiverr with a broad subcategory that includes; Social Media Marketing, Search Engine Optimization (SEO), Social Media Advertising, Public Relations, Content Marketing, Podcast Marketing, Video Marketing, Email Marketing, Crowdfunding , Search Engine Marketing (SEM), Display Advertising, Marketing Strategy, Web Analytics, Book & eBook Marketing, Influencer Marketing, Community Management, Local SEO, E-Commerce Marketing, Affiliate Marketing, Mobile App Marketing, Music Promotion, Text Message Marketing, Other, etc.

Writing & translation categories also have many subcategories includes; Articles & Blog Posts, Translation, Proofreading & Editing, Website Content, Book & eBook Writing, Brand Voice & Tone, UX Writing, Resume Writing, Cover Letters, Technical Writing, LinkedIn Profiles, Job Descriptions, White Papers, Podcast Writing, Case Studies, Social Media Copy, Ad Copy, Sales Copy, Press Releases, Product Descriptions, Scriptwriting, Book Editing, Email Copy, Speechwriting, Business Names & Slogans, Creative Writing, eLearning Content Development, Beta Reading, Grant Writing, Transcripts, Legal Writing, Research & Summaries, Other, etc.
Also read: The Complete difference between PayPal FnF and PayPal GnS
Video & Animation – how to make money on fiverr

The video & animation industry is becoming wide and wide as many businesses are using intros and animation for their business. The video & animation category also has various subcategories that include; Whiteboard & Animated Explainers, Video Editing, Short Video Ads, Animated GIFs, Logo Animation, Intros & Outros, App & Website Previews, Live Action Explainers, Character Animation, 3D Product Animation, E-Commerce Product Videos, Lottie & Website Animation, Spokespersons Videos, Unboxing Videos, Lyric & Music Videos, eLearning Video Production, Subtitles & Captions, Visual Effects, Animation for Kids, Slideshows Videos, Drone Videography, Screencasting Videos, Game Trailers, Book Trailers, Animation for Streamers, Article to Video, Real Estate Promos, Product Photography, Local Photography, Others

Programming & Tech

The programming and tech categories are for people who are in the field of IT. The subcategories include; WordPress, Website Builders & CMS, E-Commerce Development, Game Development, Development for Streamers, Mobile Apps, Web Programming, Desktop Applications, Online Coding Lessons, Chatbots, Cybersecurity & Data Protection, Support & IT, Convert Files, User Testing, QA & Review, Other, etc.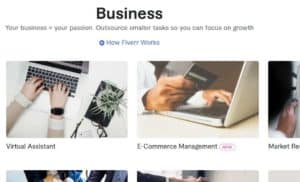 The business category is also diverse on Fiverr but doesn't have many subcategories as the above categories. the subcategories include; the Virtual Assistant, E-Commerce Management, Market Research, Business Plans, Legal Consulting, Financial Consulting, Sales, Customer Care, Business Consulting, HR Consulting, Presentations, Supply Chain Management, Game Concept Design, Career Counseling, Project Management, Flyer Distribution, Other, etc.
Other Fiver Categories 
Music & Audio

Lifestyle

Data
Also read: 10 Best Freelance Websites to Find Online jobs in 2021
6. Optimizing your Fiverr Account
It is important that you know that the competition on Fiverr is very high and you have to put in a good effort in order to maintain a place on Fiverr. So, optimizing your account and gigs is important to your Fiverr success. 
Below are a few things you can do in order to maintain a good place or even get to the first page on the Fiverr search engine;
Write a good profile description about yourself and your skills

link your social media accounts, schools, and certifications

Set up gigs in the right categories and subcategories 

Use a simple and clear gig title, description, FAQ, and related gig images

Use the correct tags and keywords

Stay online 24/7

Respond to messages on time to avoid losing the buyer

Always get a clear understanding of the buyer's request before accepting the order, don't be in a hurry.

Always deliver on time, or communicate with the buyer if you face any challenges

It is important that you read the Fiverr terms and conditions so as to know the DOs and DONT of Fiverr.

Above all, let the buyer's satisfaction be your priority.
Also read: Top 6 Audio-based Social Media Apps for Android and iOS
7. How Can I withdraw my Fiverr Fund?
There are 3 means through which you can withdraw your earnings on Fiverr which are;
I recommend that You create a new Payoneer account then link to your Fiverr account because Payoneer is free and easy to use. 
If you can follow the clear path in this article, then you are on your way to success.
Do you have questions? comment below.