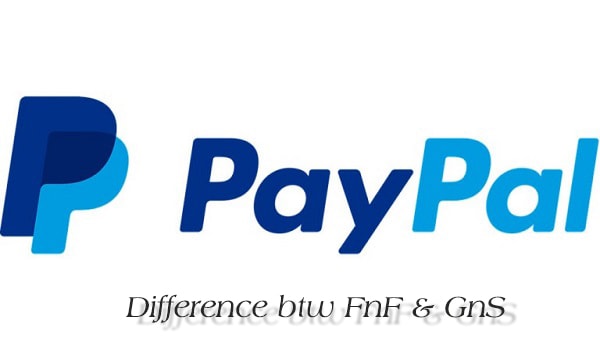 What is PayPal?
PayPal is an American company operating a worldwide online payment system that supports online money transfers and serves as an electronic alternative to traditional paper methods like checks and money orders. PayPal accepts payments in 25 currencies. It offers a range of services from invoicing to payment solutions.
Also read: How To Make $100/day on Fiverr – Complete Guide
PayPal is used around the world for online payment and majorly for payment of goods and services. But obviously, not everyone knows the difference between these two-term general used for PayPal, which are Goods and Services "GnS" and Family and friends "FnF".
I have had a PayPal account since 2009 but I was not using it until recently that I needed to run Facebook ads. I reached out to a friend for a PayPal fund and his next question was "FnF or GnS?. I took a purse as I didn't know the right answer at that point in time. I did know that PayPal has two types, but I never thought about its differences. For that reason, I did a little research and then decided to write about it.
In this post, we shall address the differences between the two types. 
PayPal Goods and Services (GnS)
 PayPal GnS account allows you to buy goods and services online and doesn't allow you to send money as FnF. If at the time of account opening you chose a business account, then your account is regarded as a business account. 
Also Read: What Search Engine did People Use before Google?
PayPal Friends and Family (FnF)
This is the most widely used PayPal method, this allows you to send funds as friends and family. When creating a PayPal account, you are asked to select one of the two account types. If at the time of account opening you chose a personal account, then your account has the features of both  FnF and GnS.
You can Therefore send PayPal funds as friends and family or goods and services.
So, What're the Benefits of these PayPal accounts over another?
1 – Many people prefer to use FnF PayPal Account because FUND sent from FnF PayPal cannot be reversed. The sender can not reverse the fund sent to FnF account, So, you have to be certain before sending it. 
2 – Most PayPal funds buyers only accept FnF because the sellers can send the money and then request a refund even when they have been paid the equivalent into their local bank accounts. In order to avoid this scam, Most PayPal fund buyers tend to buy just FnF funds because FnF doesn't permit fund reverse. 
3 – It is preferable to use GnS PayPal for the purpose of buying goods and services online. Because you have the power to request for refund if you don't receive your goods or services, or for other reasons.
Also Read: 9 Most Deadliest Computer Viruses that Stood the Test of Time
How do I Know If the PayPal Fund is GnS or FnF?
 Actually, it's quite tricky to determine if a fund was sent as FnF or GnS when you receive the fund into your PayPal account. However, it is possible to determine what type of fund it is.
Below are 3 ways you can confirm if payment is FnF or GnS ;
1 – When you receive a payment, firstly check the details, If the transaction fee shows $0.00, it means it was is FnF fund. This may not always be correct because sometimes when people send mass payments, there's usually no fee. So, to be sure it was a gift, click the link that says "Issue a refund".
If it was a gift, under "Refund amount" it displayed these words; (Partial refunds are not available for personal payments or for transactions marked as pending). So far, it's not a pending transaction, it is definitely a gift. If on the other hand, you notice that you can make a refund, then it's not an FnF fund. 
2 –Through PayPal charges, you can also determine if the fund is FnF or GnS. If you received payment and got charged, it just means that it was a GnS fund. If your payment didn't incur any charge, then it's FnF. It is also important to know that With FnF funds, the sender will still be charged but the receiver won't bear the cost of any charges. 
3 – Lastly, through the billing address, you can determine if it is FnF or GnS . Any payment sent as FnF will not include billing address. So, if you receive a payment and it has a billing address, this means that the payment was sent as GnS. 
Also read: Top 6 Online Money Transfer Websites and Comparison
Paypal Frequently Asked Questions (FAQ)
1.   How do I avoid PayPal fees?
You can maybe avoid PayPal fees by trying the following means;
Use a PayPal Alternative.

Ask to Be Paid as a Friend or Family.

Include PayPal Fees as a Tax Deduction

Opt to Be Paid Less Often.

Change How You Withdraw Your Money From PayPal.
Factor PayPal Fees into Your Payment Equation.

Accept Other Forms of Payment. 
2. Who pays the PayPal fee?
The seller pays a PayPal fee at the completion of the payment transaction. The buyer isn't forced to pay any fee. The fee the seller pays is calculated for each transaction and is represented as a percentage of the total transaction plus 30 cents.
3.  How can I put money in my PayPal account?
To put money in your PayPal account;
Click on Wallet.

Click Transfer Money.
Click Add money to your balance.

Then select your bank and enter the amount you want to transfer

Then click Add.
4.  Can I transfer money with PayPal?
You can transfer money once have linked your bank account to your PayPal account, you can transfer money using the PayPal mobile app or a web browser.
Also read: Best Way to Stop WordPress Trackbacks & Pingback Spam Comments
5.  How do I withdraw money from PayPal?
To withdraw money from your PayPal;
Log into your PayPal account, and go to your wallet.
Click Withdraw money option.
Choose the account you want to send money from, and select a linked bank account.
Confirm the amount to withdraw, and click continue.

Be sure you have reviewed the amount and the account details before you finally confirm the transfer.

To withdraw on the PayPal app, simply go to your PayPal balance, and tap withdraws money.
6. How much does PayPal charge for a transfer?
Sending money domestically to friends and family through a PayPal balance or linked bank account is FREE. Sending to friends and family, also domestically, via a credit card, debit card or PayPal credit is subject to a charge of 2.9% of the amount sent through this method, plus a fixed fee of $0.30

7. What are the disadvantages of using PayPal?
Disadvantages of PayPal may include;
PayPal takes charges.
PayPal often freezes users' accounts.
PayPal may hold your fund if the transaction is suspicious.
8.  How much money can you send on PayPal without being verified?
There's a limit on the total amount of money an unverified account can send. however, You can send up to $60,000 but may be limited to $10,000, in a single transaction. (This amount can vary, though, depending on your currency.) 
Also Read: 10 Signs of a Malware Infection on your Computer
We love to hear from you, comment below, and share.