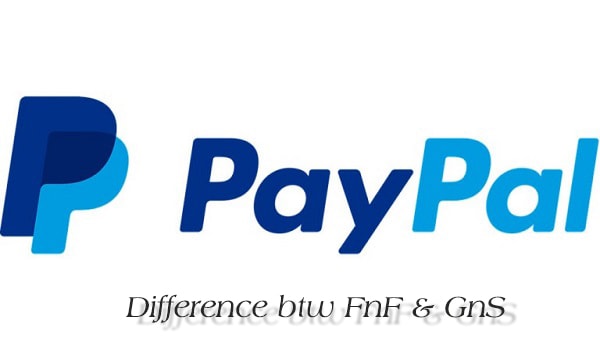 In this article, you will learn about Paypal, PayPal fnf, PayPal gns, benefits and differences, Paypal safety tips, and Paypal frequently asked questions.
What is PayPal?
PayPal is an American company operating a worldwide online payment system that supports online money transfers and serves as an electronic alternative to traditional paper methods like checks and money orders. PayPal accepts payments in 25 currencies. It offers a range of services from invoicing to payment solutions.
PayPal is used around the world for online payment and majorly for payment of goods and services. But obviously, not everyone knows the difference between these two-term general used for PayPal, which are Goods and Services "GnS" and Family and friends "FnF".
In this post, we shall address the differences between the two types.
PayPal Goods and Services (GnS)
PayPal GnS account allows you to buy goods and services online and doesn't allow you to send money as FnF. If at the time of account opening, you chose a business account, then your account is regarded as a business account.
Suggested read: PayPal Goods and Services And How it Works
Also Read: 10 Best Freelance Websites to Find Online Jobs
What are the Pros And Cons of Paypal GnS
| | |
| --- | --- |
| Pros | Cons |
| A complete refund is possible through Paypal GnS | A partial refund is not possible (If the Buyer Used a Coupon or gift certificate for the Paypal Transaction) |
| If offers good transaction safety for both buyer and seller | Charges fees are taken on every transaction |
PayPal Friends and Family (FnF)
This is the most widely used PayPal method, this allows you to send funds as friends and family. When creating a PayPal account, you are asked to select one of the two account types. If at the time of account opening you chose a personal account, then your account has the features of both FnF and GnS.
What are the Pros And Cons of Paypal FnF
| | |
| --- | --- |
| Pros | Cons |
| It is good for sending digital gift cards | Refund is not possible |
| No charges Fees for Domestic Transactions | Charges Fees are taken for International Transactions and Using Debit/Credit Card |
What're the Benefits of Paypal FnF over GnS?
1 – Many people prefer to use FnF PayPal Account because FUND sent from FnF PayPal cannot be reversed. The sender can not reverse the fund sent to FnF account, So, you have to be certain before sending it.
2 – Most PayPal funds buyers only accept FnF because the sellers can send the money and then request a refund even when they have been paid the equivalent into their local bank accounts. In order to avoid this scam, Most PayPal fund buyers tend to buy just FnF funds because FnF doesn't permit fund reverse.
3 – It is preferable to use GnS PayPal for the purpose of buying goods and services online. Because you have the power to request for refund if you don't receive your goods or services, or for other reasons.
Also read: 7 Brilliant Ways to Make Money Online in Nigeria

How do I Know If the PayPal Fund is GnS or FnF?
Actually, it's quite tricky to determine if a fund was sent as FnF or GnS when you receive the fund into your PayPal account. However, it is possible to determine what type of fund it is.
Below are 3 ways you can confirm if payment is FnF or GnS ;
1 – When you receive a payment, firstly check the details, If the transaction fee shows $0.00, it means it was is FnF fund. This may not always be correct because sometimes when people send mass payments, there's usually no fee. So, to be sure it was a gift, click the link that says "Issue a refund".
If it was a gift, under "Refund amount" it displayed these words; (Partial refunds are not available for personal payments or for transactions marked as pending). So far, it's not a pending transaction, it is definitely a gift. If on the other hand, you notice that you can make a refund, then it's not an FnF fund.
2 –Through PayPal charges, you can also determine if the fund is FnF or GnS. If you received payment and got charged, it just means that it was a GnS fund. If your payment didn't incur any charge, then it's FnF. It is also important to know that With FnF funds, the sender will still be charged but the receiver won't bear the cost of any charges.
3 – Lastly, through the billing address, you can determine if it is FnF or GnS . Any payment sent as FnF will not include billing address. So, if you receive a payment and it has a billing address, this means that the payment was sent as GnS.
Also read: Top 6 Online Money Transfer Websites and Comparison
8 Tips to For PayPal Transaction Safely
Here are 8 tips for PayPal transaction safety:
Use a strong and unique password for your PayPal account, and avoid using the same password for multiple accounts.

Enable two-factor authentication on your PayPal account to add an extra layer of security.

Avoid clicking on links or opening attachments in emails from unknown sources, as they may be phishing attempts to steal your PayPal login credentials.

Only conduct transactions with trusted individuals or businesses. Be wary of deals that seem too good to be true or requests for personal information.

Always log in to your PayPal account directly from the official PayPal website or app, and avoid using public Wi-Fi to access your account.

Review your PayPal account regularly to ensure all transactions are authorized and legitimate. Report any suspicious activity to PayPal immediately.

Use PayPal's "Goods and Services" option for purchases, which offers buyer protection and ensures that you receive the product or service you paid for.

Familiarize yourself with PayPal's policies and guidelines for transactions, as well as how to report scams or fraudulent activities.
Discover: Top Affiliate Programs to Join and Start Earning
Paypal Frequently Asked Questions (FAQ)
1. How do I avoid PayPal fees?
You can maybe avoid PayPal fees by trying the following means;
Use a PayPal Alternative.

Ask to Be Paid as a Friend or Family.

Include PayPal Fees as a Tax Deduction

Opt to Be Paid Less Often.

Change How You Withdraw Your Money From PayPal.
Factor PayPal Fees into Your Payment Equation.

Accept Other Forms of Payment.
2. Who pays the PayPal fee?
The seller pays a PayPal fee at the completion of the payment transaction. The buyer isn't forced to pay any fee. The fee the seller pays is calculated for each transaction and is represented as a percentage of the total transaction plus 30 cents.
3. How can I put money in my PayPal account?
To put money in your PayPal account;
Click on Wallet.

Click Transfer Money.
Click Add money to your balance.

Then select your bank and enter the amount you want to transfer

Then click Add.
Also read: How to Make Money on Fiverr
4. Can I transfer money with PayPal?
You can transfer money once have linked your bank account to your PayPal account, you can transfer money using the PayPal mobile app or a web browser.
Suggested read: Top 10 Tips on How to Identify Phishing Emails and Links
5. How do I withdraw money from PayPal?
To withdraw money from your PayPal;
Log into your PayPal account, and go to your wallet.
Click Withdraw money option.
Choose the account you want to send money from, and select a linked bank account.
Confirm the amount to withdraw, and click continue.

Be sure you have reviewed the amount and the account details before you finally confirm the transfer.

To withdraw on the PayPal app, simply go to your PayPal balance, and tap withdraws money.
6. How much does PayPal charge for a transfer?
Sending money domestically to friends and family through a PayPal balance or linked bank account is FREE. Sending to friends and family, also domestically, via a credit card, debit card or PayPal credit is subject to a charge of 2.9% of the amount sent through this method, plus a fixed fee of $0.30
Also read: How to Choose a Good Web Hosting for your Website or Business
7. What are the disadvantages of using PayPal?
Disadvantages of PayPal may include;
PayPal takes charges.
PayPal often freezes users' accounts.
PayPal may hold your fund if the transaction is suspicious.
8. How much money can you send on PayPal without being verified?
There's a limit on the total amount of money an unverified account can send. however, You can send up to $60,000 but may be limited to $10,000, in a single transaction. (This amount can vary, though, depending on your currency.)
Also Read: 10 Signs of a Malware Infection on your Computer
9. Can I Be Scammed through PayPal?
Yes because fraudulent activities still take place on PayPal. Nevertheless, you can prevent them by familiarizing yourself with the distinctions between PayPal FNF and GNS. By understanding when to utilize each method and how they vary from each other. It is important to also know who you are dealing with when using PayPal.
10. What are the Alternatives to PayPal for Payments?
There are several alternatives to PayPal that offer similar services for online transactions. Here are a few popular ones:
Stripe: A popular payment gateway for online businesses that enables users to accept credit and debit card payments.
Payoneer: Payoneer is a financial services company that provides online money transfer and digital payment services. It was founded in 2005 and is headquartered in New York City.

Square: A mobile payment processor that allows users to accept payments using a mobile card reader or virtual terminal.

TransferWise: A global money transfer service that offers low fees and competitive exchange rates for international transactions.
Skrill: A digital wallet service that allows users to send and receive money online, as well as make payments for online purchases.

Google Pay: A digital wallet platform that enables users to send and receive money, pay for online purchases, and store loyalty cards and other payment information.

Amazon Pay: A payment service that enables users to pay for products and services on participating websites using their Amazon account information.

Venmo: A mobile payment app that allows users to send and receive money from friends and family, as well as make purchases at participating merchants.
Suggested read: Top 6 Online Money Transfer Websites
Also read: 6 Ultimate Dangers of Using Free Public WiFi
10 Tips to Help you Avoid Paper Scams
Paypal can cause you great loss if you are not very careful. Below we have highlighted tips to help you avoid Paypal scams and use Paypal safely.
1. Verify the Buyer or Seller:
Before engaging in a transaction, verify the identity of the buyer or seller. Check their PayPal account details, including their email address, and ensure they have a positive transaction history. Be cautious if the account is new or lacks sufficient activity.
2. Use Trusted Platforms:
When making purchases or selling items, use reputable online marketplaces or platforms that offer buyer and seller protection. These platforms often have their own safeguards in place to minimize the risk of scams.
3. Be Wary of Overpayment Scams:
Scammers may send fraudulent payments that exceed the agreed-upon amount and request a refund of the excess. Avoid refunding any additional funds until you have confirmed that the original payment is legitimate and cleared.
Be cautious of emails or messages that appear to be from PayPal but contain suspicious links or ask for personal information. Scammers may attempt to trick you into providing login credentials or financial details. Always access PayPal directly through their official website or app.
Suggested read: Top 10 Tips on How to Identify Phishing Emails and Links
5. Insist on Secure Payment Methods:
While PayPal GNS offers some protection, scammers may try to convince you to use alternative payment methods that lack buyer protection, such as wire transfers or gift cards. Insist on using PayPal GNS for added security.
6. Review Transaction Details Carefully:
Check the transaction details, including the item description, price, and shipping address, before proceeding. Report any discrepancies or suspicious activity to PayPal immediately.
Also read: 6 Ultimate Dangers of Using Free Public WiFi
7. Keep Communication within the Platform:
Use PayPal's messaging system to communicate with the buyer or seller. Avoid sharing personal contact information or completing transactions outside of the PayPal platform. This helps ensure that you can access PayPal's dispute resolution process if needed.
Protect your PayPal account with a strong, unique password and enable two-factor authentication. Regularly monitor your account for any unauthorized activity and report any suspicious incidents promptly.
Also read: 6 Password Safety Tips you Should Never Ignore
9. Educate Yourself:
Stay informed about common scams and fraud techniques used in online transactions. PayPal provides resources and educational materials to help users recognize and prevent fraudulent activity.
10. Trust Your Instincts:
If something feels off or too good to be true, trust your instincts and proceed with caution. If a deal seems suspicious or a buyer or seller is exhibiting questionable behavior, it's best to err on the side of caution and avoid the transaction.
Also read: Internet Security Threats to Watch for