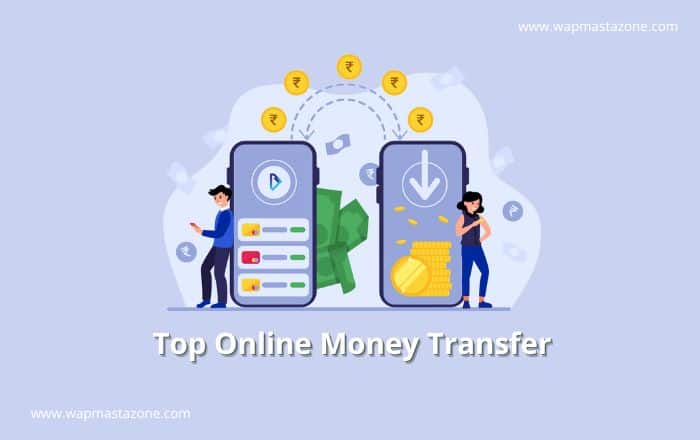 What are the top online money transfer websites? In this post, I will discuss the online money transfer methods which have become widely used today.
You will agree with me that most of the time it takes a longer time to transfer money from one country to another using bank services or even transferring money from one bank to another. In some cases when you transfer money it can take 3 – 5 days for the money to reflect. It becomes even more frustrating when you want to transfer large amounts of money between banks, this mostly takes up to a week or more.
Today people prefer using online services to transfer their money locally or worldwide because they are faster and most times cheaper depending on bank rate.
Also Read: The Complete difference between PayPal FnF and PayPal GnS
The few I will address in this article are Payoneer, Wordfirst, Skrill, Paypal, Neteller, and TransferWise.
Top 6 Online Money Transfer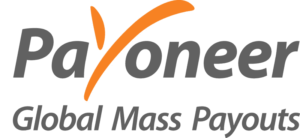 Payoneer was founded in 2005 and it is one of the best ways to get paid or pay others across the world.
Also Read: 10 Best Freelance Websites to Find Online Jobs
Payoneer is aimed at international payments for businesses, professionals, digital marketers, product/service marketplaces, and freelancers. Just the way we run local bank accounts in USD, EUR, CAD, AUD, etc to perform money transactions.
But when we talk about comparison, can we say Payoneer is better than other payment platforms?
A good place to start is from the comparison table below. They, however, have advantages over one another.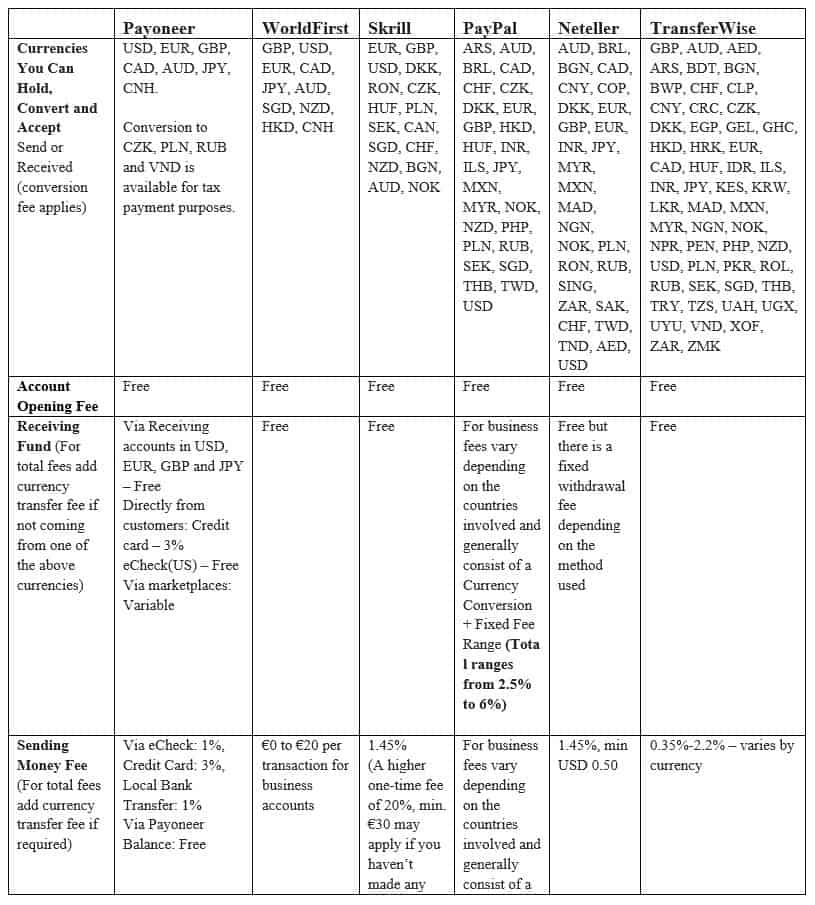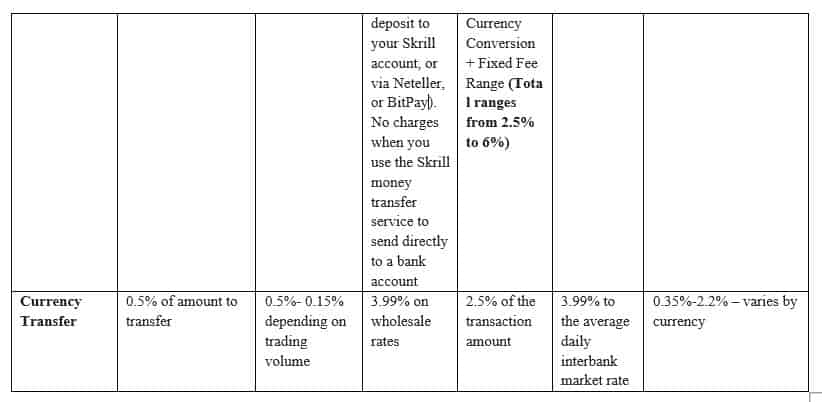 Payoneer offers foreign payments, services including multi-currency virtual accounts, and also allows you to receive funds into your local bank account via a pre-paid Mastercard. Payoneer allows transactions in over 150 currencies across more than 200 countries in the world.
Merit
Access to Prepaid Mastercard

Currency exchange rate fees are very competitive

Easy transfer locally and globally
Demerit
Direct debit is not available

High card transaction fees

Annual Card maintenance fee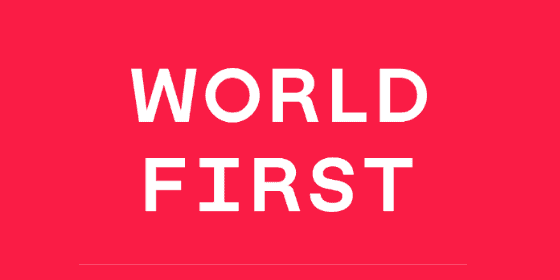 WorldFirst was founded in 2004 and its headquarter is located in London, United Kingdom. They allow for easy collection, conversion, and payment globally.
WorldFirst (enables "World Account") for receiving payments with local accounts offered in GBP, EUR, USD, CAD, CNH, HKD, JPY, NZD, SGD & AUD. Their multi-currency accounts for international businesses (like FBA for Amazon, Shopify) and international import/export businesses.WorldFirst focuses on larger transfers with a minimum transfer amount being $1000 USD. If you need to transfer smaller funds, you might want to look for other alternatives.
They do not charge any fees on personal transfers, but they do charge between $10 – $30 on business transfers. However, they also offer a very competitive markup on the exchange rate.
With WorldFirst, you can send and receive funds only through your bank accounts. They also support online payment and phone call transactions.
Merit
The "World Account"allows online sellers and businesses to receive and make payments in different currencies using matching currency accounts

No fees on personal transfers

Competitive exchange rates, particularly on larger transactions

Both online and phone support

Choose from receiving accounts in USD, EUR, GBP, CAD, JPY and CNY

Transparent margin on interbank/mid-market rates
Demerit
The minimum transfer amount is $1000 (Personal Accounts)

Money transfers only to bank accounts

You cannot use WorldFirst to send money from the U.S.

May not always be the cheapest option for smaller amounts
Also read: 7 Brilliant Ways to Make Money Online in Nigeria 

          Can we say Wordfirst is better than others?
Here is what I think, for larger businesses who need to transfer funds (to a bank account)
WorldFirst (see "World Account") might well be your best option given the extremely low transfer fees and their roots in money transfers. WorldFirst can most effectively handle large amounts (above $6000 USD) and have excellent customer support.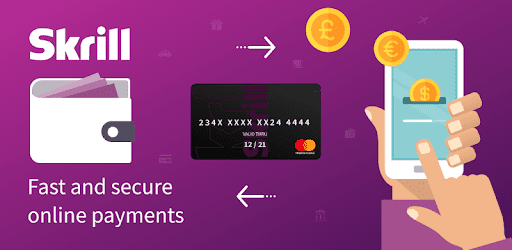 Skrill is an e-commerce business that allows payments and money transfers to be made through the Internet, with a focus on low-cost international money transfers. It was founded in 2001 Previously known as MoneyBookers, Skrill is very similar to PayPal in having a digital wallet feature as well as merchant processing services. It is available in 200 countries and accepts payments in 40 currencies. It also offers its users a debit MasterCard that can be used to withdraw cash. It lets you withdraw funds from your Skrill account into your bank account. You can get the Skrill debit MasterCard in GBP, USD, PLN, and EUR.
Skrill recently ventured into the cryptocurrency space by allowing its users to buy and sell coins via their account.
Merit
Easy to Use

Integrates with third-party shopping carts

Cryptocurrency Options

Offers Debit Card

Supports in-app payments
Demerit
High fees for currency conversion

Basic reporting
Can we say Skrill is better than others?
Because of its simplicity and ease of use, skill is however a convenient way to receive and manage money including crypto. Although the fees for currency exchange are on the high side receiving money is free which can still mean they are a great choice.
Discover: Top Affiliate Programs to Join and Start Earning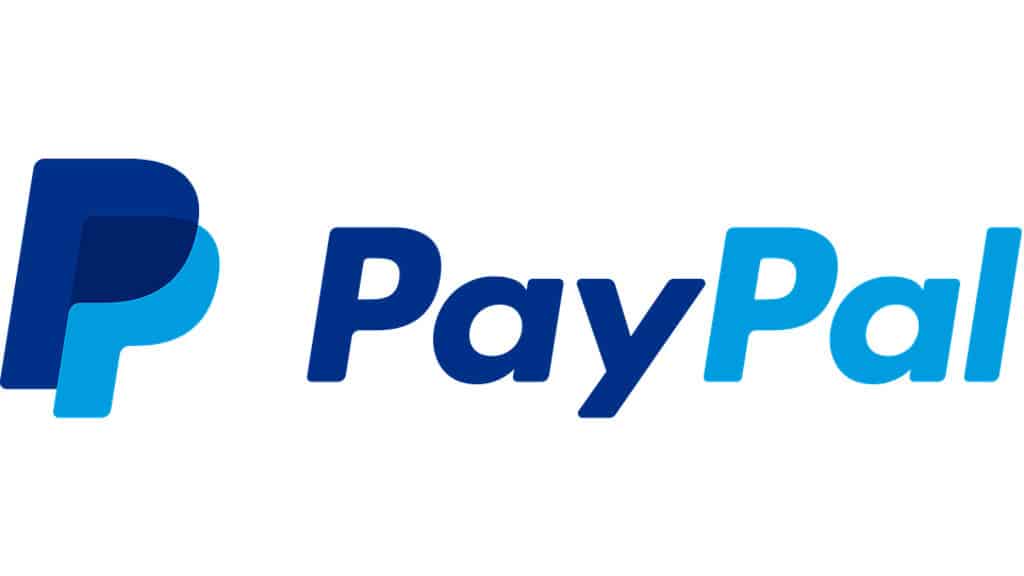 PayPal is an American company operating a worldwide online payment system that supports online money transfers and serves as an electronic alternative to traditional paper methods like checks and money orders. The beauty of it is almost everyone has a PayPal account and it is simple to make and request payments. You can receive money simply via your email address or merchant payment solution, although this usually comes at a comparatively steep cost.PayPal accepts payments in 25 currencies. It offers a range of services from invoicing to payment solutions.
It also offers a PayPal card to its US customers. This card can be used to access funds in PayPal account. This card can be topped up using PayPal account or through direct deposits. However, when it comes to international payments, the cost could be significantly higher compared to other services.
Merit
Globally recognized and accepted

Serves businesses, individuals, online buyers, sellers, and freelancers

recurring payments made easy (direct debit)

Allows easy integration with products for e-commerce industry
Demerit
Sometimes takes longer time before payment is confirmed

With business accounts, you need to pay 2.9% when receiving money for goods or services

Transfer is only possible between Paypal Account users

PayPal is limited in some Countries
Can we say Paypal is better than others?
For individuals who have a PayPal account and are happy to pay a few extra percent in fees in the short term the convenience of PayPal might win out.
Long term, Payoneer will most certainly be a better option in more ways than just costs.
For some small business owners setting up recurring payments from their customers reduces the need for invoicing and "payment requests". Payoneer also supports payments from PayPal which could be a way to to use the recurring payments part of PayPal and then manage the funds better through Payoneer.
Also read: How to Make Money on Fiverr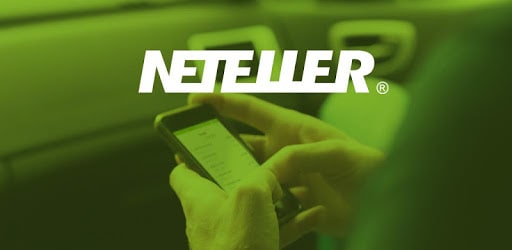 Neteller is an e-money transfer service used to transfer money to and from merchants, such as forex trading firms, and social networks firms. It can withdraw funds directly using the Net+ card or transfer the balance to their own bank accounts. Neteller's offers a suite of products that is similar to Payoneer. It provides both online payment processing and international transfer services. A virtual Neteller account lets you pay anyone with just an email address. You can send money to anyone even if they do not have a Neteller account.
Neteller charges a fee of 1.45%, a minimum USD 0.50 for sending money. If you have not made any deposit to your Neteller account or have made a deposit using Paysafecard, Skrill, or BitPay, you may need to pay a one-time fee of 20%, minimum $30 USD.
For all money transfers involving currency conversion, you pay 3.99% over and above the average interbank rate. However, VIP members pay only 1%.Today, Neteller is popular as a payment method for casinos and placing online bets.
Merit
Quick withdrawals, usually within 24-48 hours

Neteller account can be funded using over 40 payment methods

Available in more than 200 countries and 22 currencies
Demerit
A complex system of fees

High costs of account loading fees and withdrawal fees
Can we say Neteller is better than others?
The awesome number of payment methods and quick withdrawals makes Neteller a winning option.
Also read: How to Choose a Good Web Hosting for your Website or Business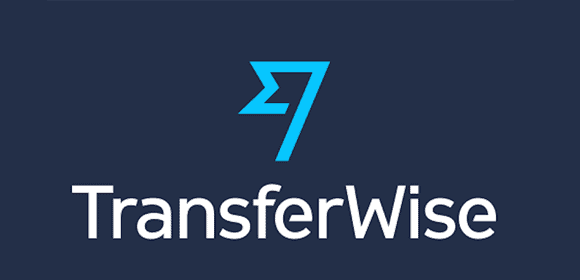 TransferWise is a British online money transfer service founded in January 2011 by Estonians Kristo Käärmann and Taavet Hinrikus and is based in London. The company supports more than 750 currency routes across the world including GBP, USD, EUR, AUD and CAD, and provides multi-currency accounts.
TransferWise gives you the flexibility to either have your client pay you in their local currency which you can then receive for free into your TransferWise local bank account details.
It allows Funds to be sent directly to your bank account as a local transfer. 
You can then hold those currencies and convert them between over 50 other currencies.
When you have money in your borderless account, you can send and receive payments easily in any of these currencies. You can then quickly and inexpensively withdraw money into your bank account. you simply pay into a local bank account in one country and receive it from a bank account in another country.
TransferWise offers mid-market rates on all transfers with a small upfront fee based on the amount you are transferring.
Merit
Transferwise Supports a large number of currencies

Receiving accounts in the US and Aussie Dollars, Pound Sterling, Euros and Polish Zloty

Offers prepaid Mastercard which you can use anywhere in the world.
Demerit
Not the best choice for large transactions

Only support bank to bank transfers
Can we say Transferwise is better than others?
TransferWise is a money transfer company (full review) and a very good one at that. Receiving accounts in different countries is often a huge bonus. For receiving or sending smaller amounts (less than $7000 USD) we recommend them in their own right. If money transfers (to a bank overseas) are going to be a big part of what you do and they meet your needs in all the other important ways, they could be an excellent option. Compared to Payoneer however, the service is minimalist.
Conclusion
It is, however, hard to say one is better than the other because they all have their merits and demerits. So, one may not be the best option in all situations, but you have the liberty to choose whichever suits your needs.
They will surely be around for decades if not century and competition amongst them will continue.
We love to hear from you, comment below, and share.