DOMAIN
Top 15 Most Costly Domain Name
Costly Domain Name, Most expensive Domain Name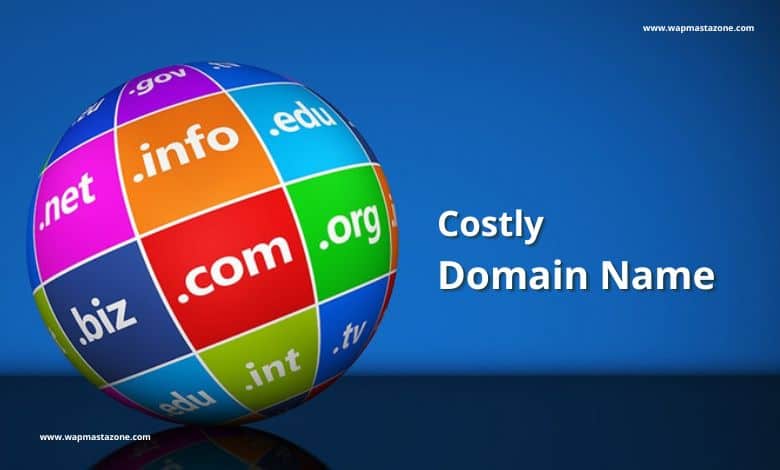 What is the Most Costly Domain Name or most expensive Domain Name? As the internet continues to grow and expand, the value of a domain name has become increasingly important. domain names can also be a good investment if they contain generic or common keywords with popular extensions. The process of investing in domain names is similar to any other investment. It involves purchasing domain names at a low price and then selling them at a higher price.
In this article, we'll explore the top 15 most costly domain names of all time, and what makes them so valuable. We have also written several articles on domain names that can guide you if you are willing to go into the domain name business. We recommend the articles below:
Suggested read: 6 Reasons Why you Should buy a Custom Domain
Suggested read: How to Find a Domain Name
Also read: Importance of Domain name
Also read: Domain Expiration – What Happens when a Domain Expires?
Top 15 Most Costly Domain Names
| RANK | DOMAIN NAME | SALE PRICE | DATE SOLD |
| --- | --- | --- | --- |
| 1 | lasvegas.com | $90,000,000 | first payment in 2005 |
| 2 | carinsurance.com | $49,700,000 |  2010 |
| 3 | insurance.com | $35,600,000 |  2010 |
| 4 | vacationrentals.com | $35,000,000 | 2009 |
| 5 | privatejet.com | $30,100,000 |  2012 |
| 6 | voice.com | $30,000,000 | May 30, 2019 |
| 7 | internet.com | $18,000,000 | 2009 |
| 8 | 360.com | $17,000,000 | 2015 |
| 9 | insure.com | $16,000,000 | 2009 |
| 10 | sex. com | $14,000,000 | January 1, 2005 |
| 11 | tesla.com | $11,000,000 | December 6, 2018 |
| 12 | hotels.com | $11,000,000 | September 1, 2001 |
| 13 | fund.com | $9,999,950 | March 11, 2008 |
| 14 | porn. com | $9,500,000 | June 5, 2007 |
| 15 | porno.com | $8,888,888 | February 4, 2015 |
1. Lasvegas.com – $90 Million
LasVegas.com was bought at the cumulative price of $90,000,000. Vegas.com LLC, the buyer, signed a contract to pay for exclusive domain ownership under this agreement;
Initial one-time payment of $12 million in 2005.

$83,000 monthly for 36 months after that.

$125,000 monthly for the next 60 months.

$208,000 monthly for the next 36 months.
After completing 132 months of payment, Vegas.com LLC may terminate the domain ownership. If not, they can continue paying $208,000 every month until 2040 to keep its status as the domain owner. By then, Vegas.com LLC will finally obtain full ownership of LasVegas.com with an estimated domain value of up to $90 million.
Until now, LasVegas.com is accessible as a functional website that displays information about hotels and tourist attractions in Las Vegas. 
Also read: Key Considerations For Choosing a Good Web Hosting
2. Carinsurance.com – $49.7 million
The second most costly domain name is carinsurance.com. CarInsurance.com offers comparable functionalities to the two other domain names that are also owned by QuinStreet. The company acquired the domain name for $49.7 million as part of their strategic investment in the automotive insurance sector.
3. Insurance.com – $35.6 million
QuinStreet Inc. owns yet another costly domain name called Insurance.com. QuinStreet made a strategic investment of $35.6 million to acquire this domain name and take over premium domain names in the insurance industry. Insurance.com is a highly popular and generic keyword in search engines, and it was originally used as an insurance agency's website.
Also read: Maximizing Your Startup's Potential with a Premium Domain Name
4. Vacationrentals.com – $35 million
In 2009, HomeAway, which is a company that specializes in travel and leisure, acquired the domain name VacationRentals.com for a sum of $35 million. The primary motivation behind this purchase was to prevent their rival company, Expedia, from acquiring the same domain name.
The domain VacationRentals.com now redirects to Vrbo.com, which is a division of HomeAway's business. Vrbo.com offers a service where tourists can find host families who will provide them with accommodation during their vacation.
Suggested read: Complete Guide to Domain Flipping
Suggested read: Ultimate Guide to Domain Backorder
5. Privatejet.com – $30.1 million
In 2012, Nations Luxury Transportation, LLC, which operates under the Don't Look Media Group, purchased the domain name PrivateJet.com for $30.1 million. The primary objective behind this acquisition was to target high society clients as the leading provider of jet charter travel services. The website's goal was to offer comprehensive coverage of luxury lifestyles, particularly for those who use private jets around the world, with a 24/7 availability.
However, today if you enter the PrivateJet.com domain name into your browser, it will redirect you to an article on JustLuxe.com. JustLuxe.com is a website that provides the latest news, products, and services related to luxury, rather than exclusively focusing on private jets.
6. Voice.com – $30 million
Voice.com was acquired by Block.one in 2019, for $30 million from MicroStrategy, an American software company.  Block.one had offered $150,000 for the domain name, but Michael J. Saylor, the CEO of MicroStrategy, rejected the offer, stating that Voice.com was worth at least $10 million.
Voice.com domain name is now available to the public as an NFT (non-fungible token) platform that promotes sustainability through the use of blockchain technology. It indicates on its website that Voice is a team of technologists, artists, and curators using the transformative power of NFTs to make digital art collectible.
Also read: Domain Auction and Domain Bidding Process
7. Internet.com – $18 million
QuinStreet Inc. acquired the valuable domain name Internet.com in 2009 after it was sold by its previous owner, WebMediaBrands, for a hefty $18 million. This investment was part of the company's strategy to enhance the value of their business.
8. 360.com – $17 million
The China-based company Qihoo 360 purchased the domain name 360.com in 2015 from Vodafone Group, a UK-based telecommunications company, for a record-breaking $17 million. Qihoo 360 specializes in developing antivirus software programs to safeguard electronic devices. The 360.com domain redirects to the company's original Chinese product page, while customers from other countries can utilize their services by visiting the website 360totalsecurity.com.
 Also read: Valuable Domain Name Keywords
9. Insure.com – $16 million
QuinStreet bought the domain name Insure.com for $16 million in 2009, following an economic downturn the previous year. QuinStreet has achieved success in the banking and insurance industries The acquisition was intended to attract more customers to their offerings, providing news, quotes, and articles on choosing the best insurance, as well as allowing visitors to gather information and compare prices from various insurance providers on the site.
10. Sex.com – $14,000,000
The domain name "sex.com" is one of the most controversial and highly sought-after domain names on the internet. It was first registered in 1994 by Gary Kremen, but it was stolen a year later by a notorious con man named Stephen Cohen, who made millions from its traffic and content.
In 2000, the domain name was finally recovered by Kremen in a court settlement with Cohen, and he put it up for auction in 2006. The winning bid of $14 million came from a company called Escom LLC, owned by a businessman named Anil Dhirubhai Ambani, who is the younger brother of one of India's richest men.
Ambani's purchase of "sex.com" was considered a strategic move to help his company expand its internet and media businesses. However, the acquisition was not without controversy, as it was discovered that the winning bid was made by a former Escom employee who was later fired for embezzlement.
Why these Domain Names Are So Expensive
So what makes these domain names so valuable? There are several factors that contribute to the high price tags. First, they are all short and memorable. A short and catchy domain name is easier for people to remember and type into their browser, which makes it more valuable.
Second, they are all in high-demand industries. Car insurance, private jets, and vacation rentals are all lucrative industries, and having a domain name that matches the industry can be a major advantage. Third, they are all easy to monetize. These domain names are all related to businesses that can generate significant revenue, either through direct sales or through advertising.
Also read: Most Expensive Domain Names – Top 500+
What Are the Benefits of Owning a Premium Domain Name?
Owning a premium domain name can be a major advantage for any business. It can help establish credibility and trust with customers, make it easier to rank in search engines, and increase brand recognition. Additionally, it can be a valuable asset that can be sold or leased to other businesses.
Also read: How to Choose a Good Web Hosting for your Website or Business
Want to Buy your First Domain?
We recommend this free domaintools – Domainlista.com. You can use it to search for domains and generate different ideas before buying it. 
domain name availability – domaintools – Domainlista.com
domain name buy – domaintools – Domainlista.com
Recommended Domain Name Registrar 
– Namecheap Shared Hosting – Buy your shared hosting plan on Namecheap here
– Namecheap VPS Hosting – Buy your VPS Hosting plan on Namecheap here 
– Free domain name and Shared Hosting – Buy your Free domain name and Share Hosting on Namecheap
– Godaddy domain name – Buy affordable domain name on Godaddy
– Godaddy domain name – 50% OFF your hosting on Godaddy- Buy Here
– Namecheap domains – Buy affordable domain name on Namecheap
– Interserver VPS hosting – Buy your VPS Hosting plan on Interserver here 
– Host your website on Hostinger + Free domain – Buy Hosting plan on Hostinger here
– Namesilo domain name – Buy a Cheap Domain name on Namesilo
– OVHcloud VPS Hosting – Buy your VPS plan on OVHcloud here
– OVHcloud dedicated Hosting – Buy your dedicated Hosting plan on OVHcloud here