MTN
NETWORK PROVIDER
What do MTN Numbers Start with? – MTN Number Prefixes
mtn numbers start with, MTN Number Prefixes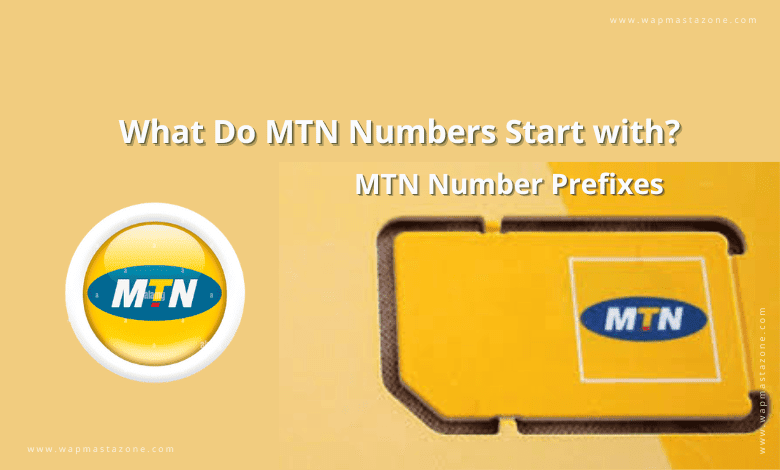 What do mtn numbers start with? OR What are MTN Number Prefixes? The earliest MTN phone numbers in Nigeria typically start with the numbers "0803," "0806," or "0703."
MTN Nigeria Communications Limited is a subsidiary of the South African multinational telecommunications company MTN Group. It provides a wide range of telecommunications services, including mobile voice and data services, internet connectivity, digital services, enterprise solutions, and other related telecommunications offerings. They have a significant market share in Nigeria and have played a crucial role in the development and expansion of the telecommunications sector in the country.
Also read: How to Activate MTN Keep My Number
MTN Nigeria has extensive network coverage, innovative products and services, and a large customer base across Nigeria. They have contributed to the growth of mobile telephony in Nigeria, offering affordable and accessible communication services to millions of Nigerians.
MTN phone number prefix has changed over the years and by recognizing the phone number prefix, you can determine which network the phone number belongs to since all the Telecommunication providers have different prefixes.
What is a Phone Number Prefix?
A phone number prefix refers to the set of digits that appear at the beginning of a phone number. It helps identify the specific telecommunications carrier or service provider associated with the number. Phone number prefixes are used to identify the network operator or service provider of a mobile phone number. Each network operator has its own unique prefix that follows the country code.
For instance, in Nigeria, the country code is "+234.
MTN number starts with +2348033….,
What does MTN number Start with?
Here's a breakdown of the MTN number prefixes in Nigeria:
"0703": This prefix is used for MTN Nigeria's mobile numbers.
"080": This prefix is also used for MTN Nigeria's mobile numbers and is the most common prefix for MTN mobile phone numbers in Nigeria.
"090": This prefix is used for MTN Nigeria's mobile numbers that utilize the 4G/LTE network.
Also read: How to Contact MTN Customer Care in Nigeria
Also read: MTN Data Plan and Internet Bundles Prices in Nigeria
How do you identify MTN Number?
You can identify an MTN number by checking its prefix. MTN number mostly starts with 0803, 0703, and so on. An Example of MTN Number is 08033000000 or 07065000000
You can also dial *123# on your phone to check your MTN Number
Also Read: How to Check MTN, Glo, 9mobile and Airtel Number in Nigeria
Complete List of MTN Phone Number Prefixes in Nigeria
| | |
| --- | --- |
| Network | MTN Number Prefixes |
| MTN | 0803 |
| MTN | 0806 |
| MTN | 0703 |
| MTN | 0706 |
| MTN | 0903 |
| MTN | 0906 |
| MTN | 0913 |
| MTN | 0810 |
| MTN | 0813 |
| MTN | 0814 |
| MTN | 0816 |
Also read: How to Check MTN Data Balance
Also Read: How to Check SIM Registration Status for All Networks in Nigeria
List of Telephone Operating Companies in Nigeria
Below is a list of Nigeria telecommunication and service-providing companies
MTN Nigeria
Glo or Globacom
9mobile (Formerly Etisalat Nigeria)
Airtel Nigeria
Ntel
Multi-Links Telkom
Smile
ZoomMobile (formerly Reltel)
Starcomms
Prefix of All other Network Numbers in Nigeria
Glo Number Prefixes – GLO numbers start with
| | |
| --- | --- |
| Mobile Network | Prefixes |
| GLO Nigeria | 0805 |
| GLO Nigeria | 0905 |
| GLO Nigeria | 0807 |
| GLO Nigeria | 0811 |
| GLO Nigeria | 0705 |
| GLO Nigeria | 0815 |
| GLO Nigeria | 0915 |
Airtel Number Prefixes – Airtel numbers start with
| | |
| --- | --- |
| Network Provider | Airtel Number Prefixes |
| Airtel ng | 0701 |
| Airtel ng | 0708 |
| Airtel ng | 0808 |
| Airtel ng | 0802 |
| Airtel ng | 0812 |
| Airtel ng | 0901 |
| Airtel ng | 0902 |
| Airtel ng | 0904 |
| Airtel ng | 0907 |
| Airtel ng | 0911 |
| Airtel ng | 0912 |
9mobile Number Prefixes (Formally Etisalat) – 9mobile numbers start with
| | |
| --- | --- |
| Network Provider | 9mobile Number Prefixes |
| 9mobile | 0809 |
| 9mobile | 0817 |
| 9mobile | 0818 |
| 9mobile | 0908 |
| 9mobile | 0909 |
Starcomms Number Prefixes – Starcomms numbers start with
| | |
| --- | --- |
| Network Provider | Starcomms Number Prefixes |
| Starcomms | 07028 |
| Starcomms | 07029 |
| Starcomms | 0819 |
Visafone Number Prefixes
| | |
| --- | --- |
| Network Provider | Visafone Number Prefixes |
| Visafone | 07025 |
| Visafone | 07026 |
| Visafone | 0704 |
For more information, Visit MTN Official Website