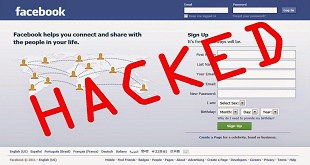 Facebook is probably the most popular social networking site in the world and with millions of people logging in and creating their profiles everyday, real life friends and total strangers alike adding you to their lists. It's worth mentioning that even though the website has been up for a number of years, you still get to hear about hacked profiles and other security breaches.
It is always better to be safe than sorry and here are some tips you should keep in mind when using your Facebook profile or page.
Be careful who you add: Adding new friends is fun on a social networking site but remember whoever you do add on your list has access to all your background information. Sometimes it's better to trim down the number of friends as you do not want your private information falling into the wrong hands. It's always advisable not to add those you really don't know.
A smart password: Like most websites, you should really use a smart password. Avoid using your birth date or name as the password and of course not a series of numbers like "123456", they are the easiest to hack. Use a lot of numbers and characters in the password and make sure you never share it with anyone.
Signing in from where? : A lot of us use smartphones, tablets and laptops to log onto Facebook but we must be careful and not click on the "remember me" option. This should be especially avoided in case you are using a shared resource.
Not that smart a phone: A lot of us use smartphones where a gazillion apps are present. We naturally use a lot of these apps to automatically sign in to Facebook and use information present there to update posts and spread news, it's best to make sure they do not have access to your Facebook account if the application isn't a trusted.
Check your settings: Facebook has revamped its privacy settings,  giving you more control over what a friend can and cannot see. It is worth spending sometime checking out the restrictions and features of the privacy setting because this can be really helpful in the long run.
Be Careful of what you publish: Whatever you post on your profile can be seen, shared and posted again. So please be careful of what you post online and think twice before posting something you may regret later on.
Be Careful of Phishing attacks: Be careful when fake messages that seem to originate from Facebook are sent to you, it may be a trick by someone to steal your login details. Remember if you need to change or reset your password you should only do it from the settings option on the Facebook site and not from other websites.
Act fast: If your friends complain they are receiving news feeds or spam from your profile and you are not aware of it, change your password as soon as possible. If you can't log into your account, go to the Help link at the bottom of any Facebook page and click on Security to notify regarding your account.
Above all, be smart and aware of what you do online and whom you add into your friend list. This simple advice is often the best advice one can use and give.