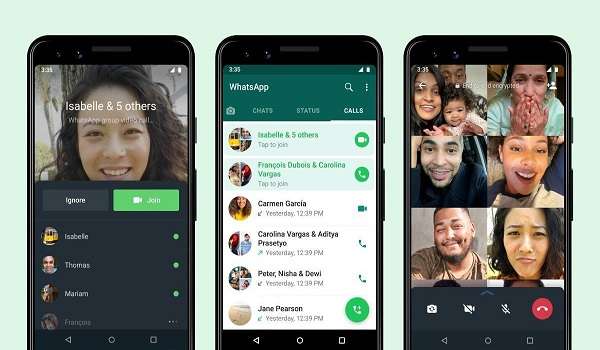 The Whatsapp latest update as seen on App Store changelog as well as on the FAQ page of Android and iPhone on the WhatsApp site shows that WhatsApp will now allow up to 32 people to engage in a group call. WhatsApp's limit for group voice calls was 8 users until the recent update. The new update also comes with an updated interface with a social audio layout, speaker highlight, and waveforms.
WhatsApp also plans to roll out more features that will allow users to share up to2GB files, reactions to individual messages, and so on.  Users will have to update to the latest version in order to use the new feature. 
Also read: How to Hide Chats on WhatsApp Messenger – Easy Steps
How to Make a Group Call on Whatsapp
To make a group call on WhatsApp;
Open your WhatsApp application 

click and open the group then tap the CALLS tab.
Tap New call, then New group
find and select the contacts you wish to add to the group call, then tap Voice call.
Also, note that only all users cannot join at thesame time. Some will join immediately, some will join late while some might not join, depending on their availability or internet access. Unless they are all well aware.
Also read: WhatsApp Soon to Allow you Hide Last Seen From Individual Contact
How to Start Whatsapp Group Call from an Individual Chat
Follow the steps below to initiate a group voice call from an individual call ;
Open your WhatsApp application 

Open the chat of the individual you wish to start the voice call with.

Tap Voice call.
Once the contact accepts the call, tap Open > Add participant.
Find and select other contacts you wish to add to the call, then tap ADD.
What more?
WhatsApp has also updated the designs for voice message bubbles and information screens for contacts and groups. 
Also read: WhatsApp Unveils In-App Business Directory
whatsapp, WhatsApp Group Calls,whatsapp voice call, how to start whatsapp group call, where can i make whatsapp group call, voice call, how to voice call on whatsapp,