MTN
NETWORK PROVIDER
Everything you Should Know About MTN Do Not Disturb Mode
How To activate &Deactivate MTN Do Not Disturb Mode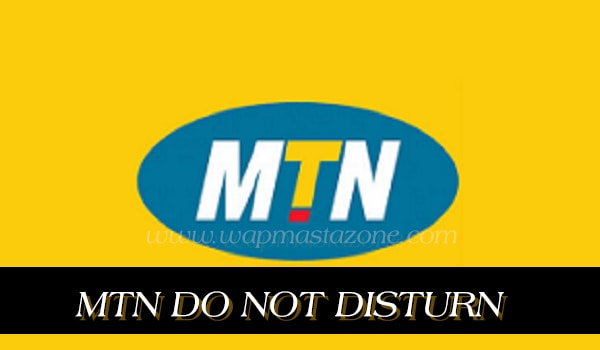 The MTN Do not disturb mode (DND) was introduced by MTN as directed by Nigeria Communication Commission (NCC) so as to allow MTN subscribers to block or opt out of receiving promotional messages and other third party SMS.
Reasons why you might want to active the Do not Disturb mode could be becuase you receive unecessary messages from MTN customer care, auto product subscription and sometimes deduction of airtime. 
In this light, Enabling the MTN DND will help you curb all the aformentioned.
Also Read: How to link NIN to GLO and Airtel Phone Number
How To Activate  MTN Do Not disturb Mode
To activate the service,
For full blocking mode, Simply send STOP to 2442 . This will stop all unwanted messages.
To activate partial blocking, Send SMS X to 2442. Where X is the service category to be allowed/whitelisted, as listed above.
However, It appears that MTN has automatically activated the DND Service on many customers lines  without their consent. to check your status
 send STATUS to 2442  after to confirm if the Do not disturb mode service has been activated.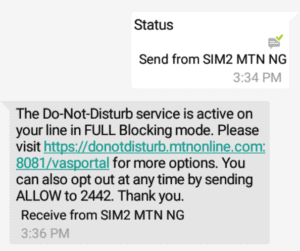 You would then get a confirmation if the DND service is active on your line or not.
If you wish to continue receiving the promotional messages and calls,
Simply send ALLOW to 2442.
Also Read: How to Call or Contact MTN Customer Care in Nigeria
To explore other features of MTN do not distub,
simple send HELP to 2442 and will receive a notification showing the available categories below; 

To receive all SMS and IVR Messages: ALLOW

Banking/Insurance/Financial Products: 1

Real Estate: 2

Education: 3

Health: 4

Consumer goods and Automobile: 5

Communication/Broadcasting/Entertainment/IT: 6

Tourism and Leisure: 7

Sport and IVR: 8

Religion: 9

Information on new products and services: 10

News Alerts: 11

Christianity: 91

Islam: 92

Others: 93
e.g if I want to continue receiving SMS about education , you will respond to the step above by pressing 3 or sending 3 to 2442.
I hope you find this post useful.
Also Read: How to Check SIM Registration Status for All Networks in Nigeria
We love to hear from you, comment below and share.