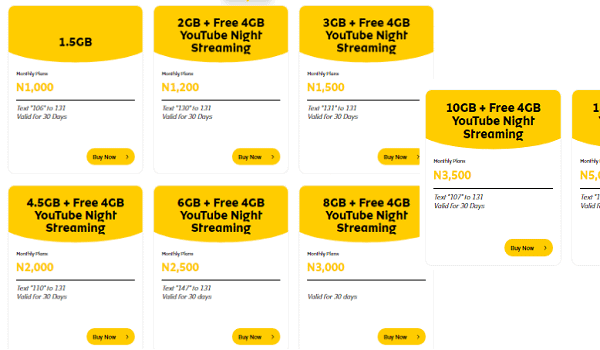 How can I get Free MTN 4GB Extra Data for YouTube Night Streaming? As MTN intends to add more value to their customers, they have expanded the free 4GB YouTube Night streaming pack to some of its monthly data plans. before now, the offer was only available to 2GB for N1200 monthly data plan.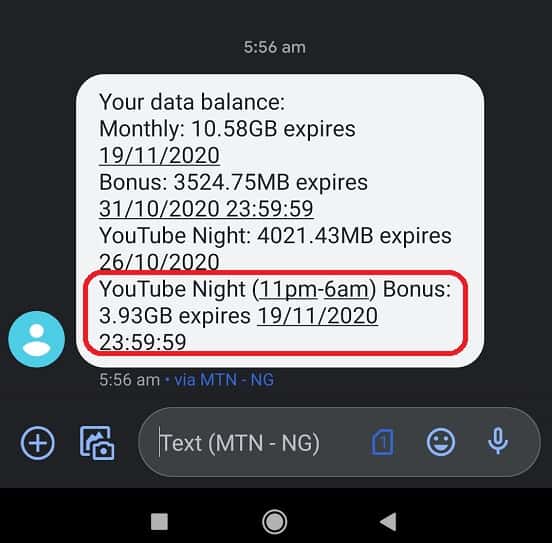 Now, upon activation of any MTN monthly data plans ranging from N1200 to N5,000, MTN Customers would automatically get the Free MTN 4GB Extra Data YouTube Streaming Night Pack as an "add-on", which would only be useable between 11 pm to 6 am as you can see in the image above.
Also Read: Steps on How To Migrate To Glo Berekete Plan
By subscribing to any of the below Data Plan, you would get the package for free;
N1200 for 2GB

N1500 for 3GB

N2000 for 4.5GB

N2500 for 6GB

N3000 for 8GB

N3500 for 10GB

N5000 for 15GB
How do I Check My YouTube Night Streaming Bonus and Data Balance?
You can check your YouTube Streaming data bonus and normal data after the subscription, by dialing *131*4#.
Also Read: How to link NIN to GLO and Airtel Phone Number
What to NOTE!
You cannot share the data nor roll over.

The 4GB is splitted into 4weeks (1GB for 7days)
The 4GB YouTube data bonus can only be received once in 30days even with multiple activations of the monthly data bundle.
YouTube Streaming Night Pack can only be used between 11 pm to 6 am
You can only use the YouTube Streaming Night Pack on the YouTube App.
Also read: The Complete difference between PayPal FnF and PayPal GnS
We love to hear from you, please comment below and share.