TECH
AI and Human Intelligence – For and Against AI Taking Human Jobs
AI and Human Intelligence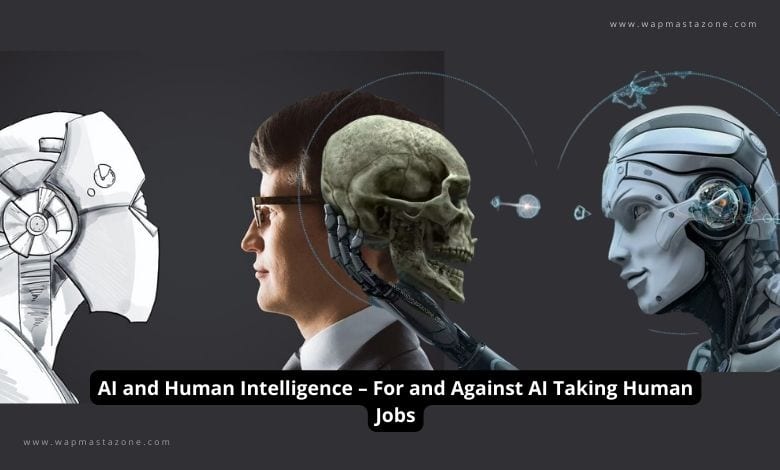 In this article, I discuss the topic AI and Human Intelligence and I argue for and against AI taking the Jobs of Humans and for you to gain a deeper understanding of the complex relationship between AI and human employment.
You would agree that the rise of artificial intelligence (AI) has sparked concerns about the potential loss of jobs to automation. While it's true that AI is transforming industries and the workplace, there are compelling arguments both for and against the notion that AI will take the jobs of humans.
Suggested read: 13 Types of Hackers and How to Prevent Hacking
Arguing Against AI Taking Human Jobs:
1. Complementary Role of AI:
One of the most compelling reasons why AI is unlikely to take human jobs is the complementary role it plays in the workplace. AI systems are designed to enhance and augment human capabilities rather than replace them. These technologies excel at repetitive, data-driven tasks and can handle massive amounts of information quickly and accurately. This allows human workers to focus on tasks that require creativity, critical thinking, emotional intelligence, and complex decision-making-skills that machines lack.
For example, in healthcare, AI can assist doctors by analyzing medical records, making diagnoses, and suggesting treatment options based on vast datasets. However, the human doctor's role in patient care, empathy, and ethical decision-making remains irreplaceable. AI complements human skills, making processes more efficient and allowing professionals to focus on higher-level tasks.
Also read: 11 Top Tech YouTubers 2023
2. Job Creation in AI Industry:
The growth of AI has led to the creation of entirely new job categories and industries. As AI technologies advance, there is a growing demand for professionals skilled in AI development, machine learning, data science, and related fields. Companies are actively hiring data scientists, AI engineers, and AI trainers to develop, implement, and manage AI systems.
Moreover, the AI sector has fostered innovation and entrepreneurship, leading to the establishment of startups and small businesses focused on AI applications. These enterprises generate job opportunities for a wide range of professionals, from software developers to sales and marketing specialists.
3. Humans and AI Working in Tandem:
In many industries, AI and Human Intelligence are working in tandem to achieve superior results. AI systems can handle monotonous and data-intensive tasks, while humans provide context, creativity, and judgment. This collaboration enhances productivity and allows companies to deliver better products and services to customers.
For instance, in the financial sector, AI algorithms can analyze vast financial datasets to identify patterns and trends. However, financial analysts interpret the results, make investment decisions, and communicate with clients. This partnership between humans and AI amplifies the overall effectiveness of financial services.
Also read: 15 Top Tech Companies to Work For
Arguing For AI Taking Human Jobs:
1. Automation of Routine Tasks:
AI excels at automating routine and repetitive tasks, which can lead to the displacement of human workers in certain industries. Jobs that involve data entry, basic data analysis, and rule-based decision-making are susceptible to automation. While AI may not completely replace human workers, it can significantly reduce the demand for such roles, leading to job displacement.
For example, customer support chatbots can handle basic customer inquiries and issue resolution, reducing the need for human customer service representatives in some cases. While humans are still necessary for complex or emotionally sensitive customer interactions, AI can handle a substantial portion of routine queries.
2. Efficiency and Cost Reduction:
From a business perspective, AI can offer cost-effective solutions by reducing labor costs. Businesses may turn to automation to streamline operations, increase efficiency, and cut expenses. This can result in job cuts, especially in industries where repetitive tasks dominate.
Manufacturing is a prime example of this trend. Industrial robots and automated assembly lines have replaced many manual labor positions, resulting in a more efficient production process but also fewer jobs for human workers.
Also read: 25 Biggest Tech Companies in the World
3. Rapid Technological Advancements:
AI technologies continue to evolve at an astonishing pace. As AI systems become more sophisticated and capable, they are encroaching into areas previously thought to be exclusive domains of human expertise. Advanced AI models, such as GPT-3, are capable of generating human-like text, raising concerns about the potential displacement of content creators and writers.
For instance, AI-generated news articles and reports are becoming more prevalent, and while human editors are still involved, there is a growing reliance on AI for content production. This trend raises questions about the long-term impact on journalism jobs.
Finding a Balance Between AI and Human Intelligence
The debate over whether AI will take human jobs is not a simple dichotomy. Instead, it's a nuanced issue that requires careful consideration and strategic planning.
Below are some ways to find a balance between AI and human employment:
1. Skill Enhancement:
We have ot encourage the acquisition of skills that are less susceptible to automation, such as creativity, problem-solving, emotional intelligence, and adaptability. Lifelong learning and upskilling programs can help workers stay relevant in an AI-driven workforce.
2. Ethical AI Use:
We must ensure that AI technologies are deployed ethically and responsibly. This includes addressing bias in AI algorithms and implementing guidelines that prioritize human well-being and job preservation.
Also read: Top 10 Tips on How to Identify Phishing Emails and Links
3. Government and Industry Collaboration:
Governments, industries, and educational institutions should collaborate to anticipate future workforce needs, create policies that support job creation in AI-related fields, and provide transition assistance for workers whose jobs are displaced by automation.
4. Hybrid Roles:
We must promote the development of hybrid roles that combine human and AI capabilities. This approach can maximize the strengths of both and lead to innovative solutions and job opportunities.
While AI has the potential to automate routine tasks and displace certain jobs, it also offers opportunities for collaboration, job creation in AI-related fields, and the enhancement of human skills. The key to a harmonious coexistence of AI and humans in the workforce lies in proactive adaptation, ethical deployment of AI technologies, and a commitment to fostering a balance that benefits both workers and businesses.
Also read: How to Access Blocked Websites – 9 Best Ways
What is your thought on this argument for and against AI and Human Intelligence ? Let us know in the comment section