Games
Top 5 Best Lap Desks For Gaming in 2022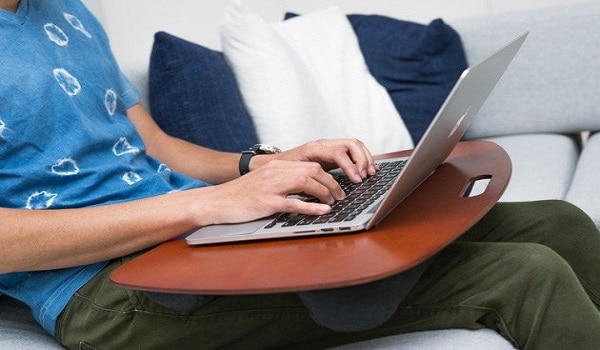 As a gamer who does not have an exact spot where you play or you just want gaming and not from your desk, gaming lap desks are reasonable products you can buy. It does not only let you enjoy long gaming sessions with comfort on your couch, they as well let you have a beautiful gaming experience on bigger displays than your usual gaming monitor or laptop screen. So below are the Top 5 Lap Desks for Gaming you can get in 2020:

Corsair K63 Wireless Gaming Lapboard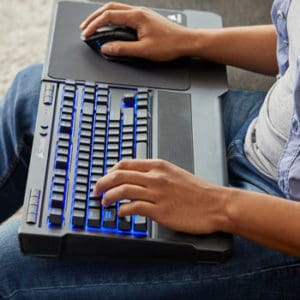 Also read: 12 Best Ways to Free Up Storage Space on Windows
When you want a couch-based gaming lap desk for your home theater system, then the Corsair K63 Wireless Gaming Lapboard will be nice. It was designed to work perfectly with the Corsair K63 mechanical keyboard clipped into the lap desk with a full-size mouse pad with no wrist slip rest.
Corsair K63 Wireless Gaming Lapboard is unique in the sense that owners can effortlessly move their wireless keyboard from their desk to their couch and not damage any device.

Lap Gear BamBoard Pro Lap Desk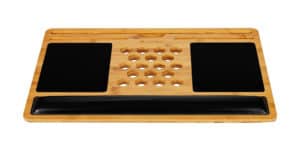 As a gaming laptop owner who wants to buy a cheap lap desk to use far from the desk then the Lap Gear BamBoard Pro Lap Desk is what you can invest in with its bamboo design you get a lap desk which fits your laptop as far as it is not more than 17.3inches. It also cools off your laptop as it has some ventilation holes at the center of the board. It's built simple and it does not withhold on extras such as a smart wrist rest, slots for more devices like smartphones & tablets, and 2 inbuilt mousepads to maintain both left- and right-handed gamers.
Also read: 9 Most Deadliest Computer Viruses that Stood the Test of Time

Logitech Speaker Lapdesk N550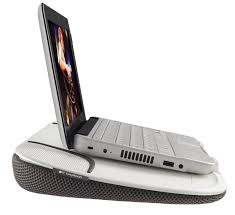 If you're a fan of only retro games with a Bluetooth controller and not a mouse and keyboard, you do not need a big gaming lap desk to play your games while on the couch.
Why not invest in the Logitech Speaker Lapdesk N550 and benefit from its 2 built-in speakers at an incredible value. Apart from its speakers, there are no exclusive features to be expecting from it.
Also read: Pegasus Spyware – The Most Intelligent Spyware Ever Built

CYCON Couch Gaming Lap Desk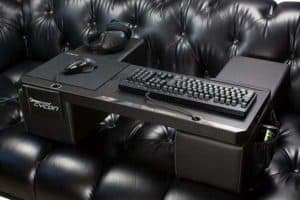 This gaming Lap Desk arrives with 2 heavy cushions on each side to present fitted support for utmost ease while gaming on a couch, even if it is pretty costly.
You will be required to get a separate mouse and keyboard for this lap desk, and there are spaces to keep wires from getting too untidy. Additionally, it has a 3-port USB hub.

Roccat Sova Mechanical Gaming Lapboard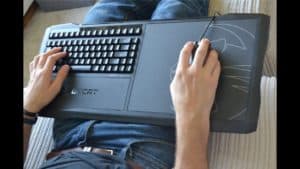 Roccat is a radiant gaming lap desk for a nice gaming experience; it comes with an incorporated keyboard that is a lot easier on the case. This Lapboard holds a packed in mechanical keyboard and a full-size mouse pad; however, it has no wireless capabilities.
Also read: How To Make $100/day on Fiverr – Complete Guide

More Information On Mobile Games
A mobile game is a game played on a mobile phone (feature phone or smartphone), tablet, smartwatch, PDA, portable media player, or graphing calculator. The earliest known game on a mobile phone was a Tetris variant on the Hagenuk MT-2000 device from 1994. In 1997, Nokia launched a very successful Snake. Snake (and its variants), which was preinstalled in most mobile devices manufactured by Nokia, has since become one of the most played games and is found on more than 350 million devices worldwide. Today, mobile games are usually downloaded from an app store as well as from mobile operator's portals, but in some cases are also preloaded in the handheld devices by the OEM or by the mobile operator when purchased, via infrared connection, Bluetooth, or memory card, or sideloaded onto the handset with a cable. Downloadable mobile games were first commercialized in Japan circa the launch of NTT DoCoMo's I-mode platform in 1999, and by the early 2000s were available through a variety of platforms throughout Asia, Europe, North America, and ultimately most territories where modern carrier networks and handsets were available by the mid-2000s. However, mobile games distributed by mobile operators and third-party portals (channels initially developed to monetize downloadable ringtones, wallpapers, and other small pieces of content using premium SMS or direct carrier charges as a billing mechanism) remained a marginal form of gaming until Apple's iOS App Store was launched in 2008. As the first mobile content marketplace operated directly by a mobile platform holder, the App Store significantly changed consumer behavior and quickly broadened the market for mobile games, as almost every smartphone owner started to download mobile apps.
Also read: Top Business Auto Loans in 2022
We love to hear from you, please comment and share.