NETWORK PROVIDER
NIGERIA
Nigeria NIN and SIM linkage-Nigeria National Identification Number
Nigeria National Identification Number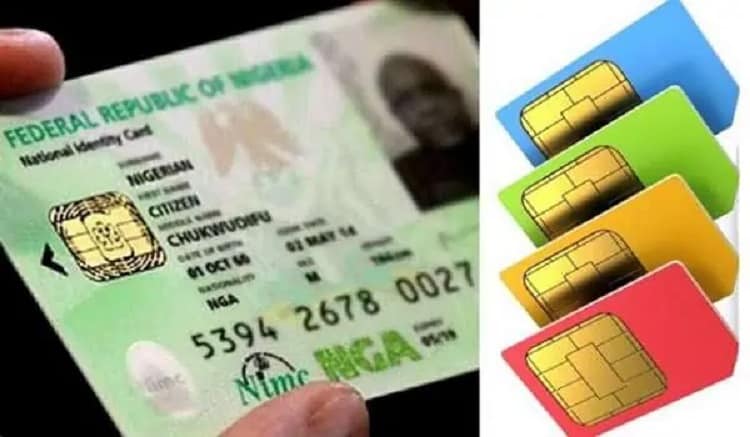 Nigeria National Identification Number
Since the authorization by the Nigerian president for the implementation of the NIN-SIM policy and all Network providers directed to ban all outgoing calls on all SIMs that are yet to link their NIN, many citizens have expressed their dissatisfaction as they are affected. Remember that sometimes last year, FG Extended NIN Registration Deadline Until April 6 and again during the year in 2021. 
However, Since the 4th of April 2022 that network providers in Nigeria were instructed, Nigeria telecommunications companies have blocked nearly 73 million users that are yet to link their NIN to their SIM. 
If the data from the Nigerian Communications Commission (NCC), as of January this year from the four network providers  (MTN, Globacom, Airtel, and 9mobile) stated that around 198 million users have their lines active and the statement from the Nigeria government on Monday affirmed that over 125 million lines have been connected, then this means that over 73 million lines were yet to be connected.
With the given instructions, users who are yet to complete the process of linking their NIN to SIM  will no longer enjoy the full benefits of their lines such as the inability to make calls, but will however be able to receive calls.
Nigeria National Identification Number
How to Get Pass the Ban on Non-NIN & SIM Linkage in Order to Continue Making Calls
Apparently, there is only one way to get your sim activated again in order to continue enjoying the full service. While many Nigerians are unbothered, affected users should register for their NIN at authorized centers.
Also read: Verified MTN NIN Enrolment Centers in Nigeria 2021
How Can I Register for NIN?
To register for your NIN, you need to visit your nearest NIMC registration center and you can as well do the NIMC pre-enrolment by visiting the NIMC Pre Enrolment Page. Doing the pre-enrolment before visiting the NIMC center makes the process less easy for you. 
Note: that the enrolment of every Nigerian and Legal Resident is only from the age of 16 years and above.
What are the Documents Required for Nigeria NIN Registration?
For you to complete the NIN registration successfully, you will need to go to your Nearest NIMC enrolment center with your BVN and a supporting document. The supporting document can be ;
Old National ID Card

Driver's License

Voter's card (Temporary or Permanent)

Nigerian International passport

Birth certificate

Declaration of age

Certificate of Origin

Attestation letter from a prominent ruler in your community

Valid immigration documents

Registered/recognized private organization staff ID card

Attestation letter from religious/traditional leader

NHIS ID card

Government staff ID card

School ID Card (private/public)

Tax Clearance certificate

Nigerian Commission for Refugees (NCFR) Refugee Certificate

Refugee Factsheet

Refugee ID card
Also read: Top 15 Business Schools in Nigeria
How to Complete the Nigeria NIN Pre Enrolment Online
To start the process yourself;
Visit the NIMC online enrolment website via this link to read the details
Then visit the Pre-Enrolment Portal: https://penrol.nimc.gov.ng and fill out the online Enrolment Form

download and print the confirmation pdf once you complete the online pre-enrolment. the confirmation contains a bar code which you much keep safe and take along with you when you go to the NIMC center.

then go to the nearest center with your BVN, printed pre-enrolment confirmation and a supporting document

Your documents will be checked and verified 

your biometric will then be taken 

you will be asked to re-confirm all your details before a submission is done

A NIMC slip will then be printed for you instantly or you may be asked to come back for it. 
Now that you have your NIN, What is the next step? Now you need to link your NIN to your SIM to complete the process.  The articles below will help you through the process of linkage 
Also Read: MTN Setup New Portal For NIN and SIM Card Linking
Also read: How to link NIN to GLO and Airtel Phone Number
NIN Frequently Asked Questions (FAQ)
Below are some of the NIN FAQ; 
What is NIMC (National Identity Management Commission)?
The NIMC (pronounced as "Neem-See") is the primary legal institution in Nigeria mandated by law to institutionalize identity management system and regulate the identity sector. (NIMC Act 2007; Sections 1, 2, 5 and 6).
What is NIMC set up to do (Mandate)?
To operate and manage the National Identity Management System (NIMS).

Carry out enrolment of citizens and legal residents and issue a unique National Identification Number (NIN).

After enrolment, issue a National e-ID Card which is also called a Smart General Multi-Purpose Card (GMPC).

Manage the National Identity Database (NIDB).

Harmonize and integrate all databases in the country into one centralized identity (The NIMC database).

Verification and authentication of citizens' identity via the platform to be provided by NIMC.
What is National Identity Management System (NIMS) ?
National Identity Management System (NIMS) is the infrastructure that is responsible for the management of the NIMC mandate.
What are the benefits of the NIMS?
Uniquely Identifying Individuals

It provides a platform where no one is excluded socially or financially

Transforms the delivery of social welfare programs, especially those cut off from such benefits.

It enables people to claim their entitlement

It helps to eliminate duplicate identity

It helps to eliminate fraud

Reduces cost of resources as infrastructures are shared
Also read: CAC of Nigeria 2021 Requirements, Fees and Process of Registration
What is the National Identification Number (NIN)?
The National Identification Number-NIN (pronounced as "Neen") is a unique number issued to a successful enrolled individual This number is randomly generated and it is issued for life.
Who should register and get a NIN?
All citizens and legal residents are eligible to enroll for their National Identification Number (NIN).
What is the NIN used for?
The NIN is used to tie all records about an individual into the National Identity Database and is also used as a valid means of establishing or verifying individual identity.
How long does it take for the NIN to be ready?
It usually takes between 1-5 working days for your NIN to be ready after registration.
Also read: How to get Tax Identification Number (TIN) Online in Nigeria
Do you find this post informative or have questions, comment below and share.