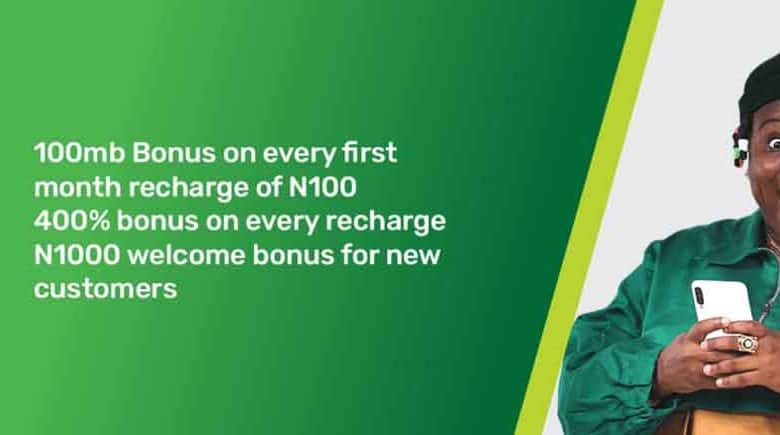 Glo berekete code.
The Glo Berekete Plus Plus comes fully loaded with bountiful voice and data benefits that will keep you feeling like every day is Christmas. With Glo Berekete Plus Plus, customers can speak to friends, loved ones, and business colleagues endlessly. With the same recharge, consumers have more browsing time, larger downloads, and the ability to watch movies on Glo TV.
It also gives a 700% bonus on every recharge, including 400% for voice and 300% for data, to call all Nigerian networks.
Also read: How to Transfer Airtime on Glo in 2022 – Easy Steps
"With the offer," Globacom says, "every new subscriber gets a N1,000 welcome bonus upon successful activation and linking of their lines with NIN, which includes registering the SIM, recharging with a minimum of N100, and making a first call." The N800 welcome bonus can be used to call all networks at 75 kbps, while the N200 data bonus can be used to download 200MB of data. The welcome bonus, on the other hand, is a one-time benefit."

"All N100 recharges come with an N400 voice bonus for calls to all networks, as well as a 100MB data bonus for surfing on the first recharge of the month." Similarly, a N500 recharge offers a 550MB data bonus on the first recharge of the month and a N2,000 voice bonus on all network calls. Customers who recharge with N1,000 or more will receive an N4,000 voice incentive for calls to all networks and a 1,100MB data bonus on their first recharge of the month." The statement went on to explain more.
New customers on the plan will also receive a monthly data bonus on their initial recharge for the next six months. Customers who sign up for the Berekete Plus Plus package will receive a 100% bonus on any data plan they buy for the next four months.
Also read: Different Ways to Check Glo Bonus Balance in 2022
Benefits of Glo Berekete Plus Plus Voice and Data Offer
It is available to all new and existing prepaid customers.

Special Extra Data Bonus on the first recharge of the month (N100 and above) for 6 months from the date of joining Glo Network.

N1,000 Welcome Bonus for all New Customers, which can be used for ALL-NET calls and data.

The bonus is given one-off after activating a new Glo SIM with a minimum of N100 recharge and making your first call.

Gives up to 100% Bonus on Data Plan Purchases for 4 months.

Whopping 700% Bonus (400% for Voice & 300% for Data) on all recharges, this can be used for ALL-NET calls and data.
"New subscribers on the Glo network are automatically assigned to the Berekete Plus Plus platform," the statement ended, "while current prepaid customers can subscribe to the plan by dialing *777# and immediately receive a 700% bonus on all recharges." They will not, however, be eligible for the one-time welcome incentive."
Also Read: Steps on How to Contact Glo Customer Care in Nigeria
Glo Berekete Plus Plus FAQ
What is the GLO BEREKETE++ TARIFF PLAN?
BEREKETE++ is a prepaid tariff plan which rewards customers with amazing voice and data benefits every time they recharge their Glo lines with a minimum of N100. With BEREKETE++, customers can satisfy their browsing and talking needs from the same recharge.
How is my Account Balance Depleted when I Make National Voice Calls?
Your account balance will be depleted in the following order:
• One-off welcome bonus account
• Voice recharge bonus account
• Main account
Can I Use my Bonus for SMS

?
No, all SMS will be charged from your main account at standard SMS rate of N4
Can I Use my Bonus for International Calls?
No, international calls and SMS will be charged from your main account at the applicable rates per destination
To know about the package, visit here
GLO,Glo Nigeria, Glo Berekete Plus Plus, Glo Berekete Plus, Glo Berekete, how to check glo bonus, glo berekete Nigeria, glo airtime bonus code, how to migrate to glo berekete, glo tariff plans (10 of 10)glo tariff plans, glo berekete code