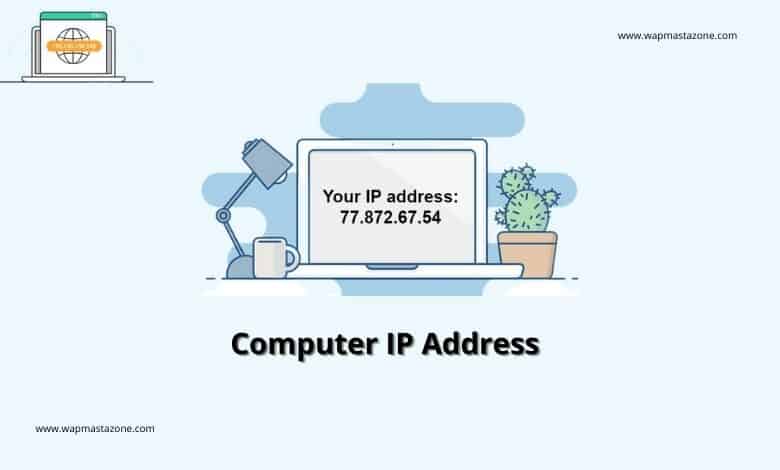 If you are a regular internet user then you might have come across the term "IP address" many times. To a layman, an IP address might mean nothing, but this post will give you a brief understanding. we shall look into different ways you can hide and change your IP address. This post will answer questions related to how to change my IP address? Or how to hide my IP address
Free tool – What is my IP Address? 
Also check: Top Affiliate Programs you can join and Start Earning
IP address stands for Internet Protocol address. In a computer network, each and every device is normally assigned a particular numerical address that is used for communication with that device. Even all the computers that are connected to the internet will also have an individual IP address. This IP address can be compared to the Mobile number of a mobile phone. To communicate with the mobile phone from another mobile phone you need to have its mobile number. Similarly for the computer to receive and send data on the internet it will have a specific numerical address called IP address.
This is how any IP address looks like
189.34.32.2
180.64.56.0
Also read: What is My IP Address? – IP FAQ
How to Check your IP Address
There are many ways to find the IP address of your computer,
Finding Internal IP Address Using IPCONFIG command on Windows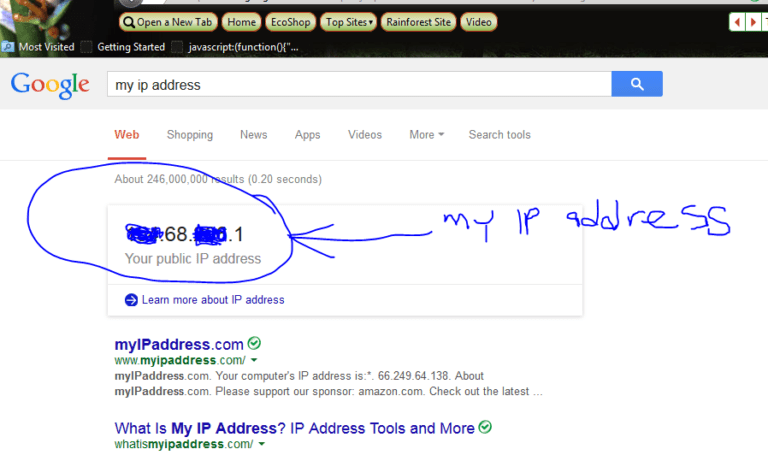 Press Windows Key + R and type CMD command prompt will open.
In the command prompt enter IPCONFIG and hit enter.

It will get you a list of various details, You should see something like IPv4 that will be your internal IP address
Also Read: What Search Engine did People Use before Google?
Finding External IP Address Using Google
visit  Google and type "My IP address". Google will show your IP address as seen in the image below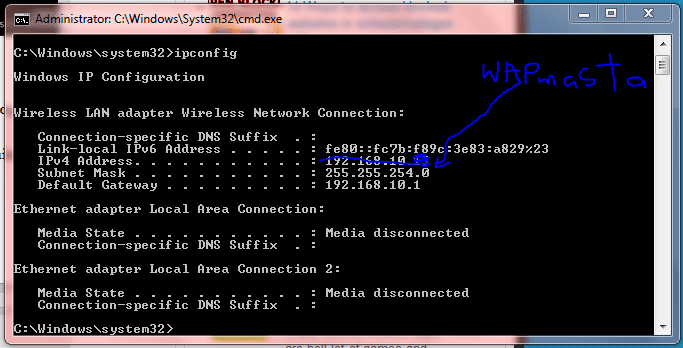 Also read: 6 Ultimate Dangers of Using Free Public WiFi
Why do I Need to Change my IP Address?
1. To get out of Country-based restrictions.
Content in a few websites is restricted in such a way that people from particular countries cannot read it. In such cases, we can change our IP address to the IP address of other countries and visit that content without having any issues.
2. To stay anonymous without being tracked or monitored
Being anonymous on the internet is only possible by hiding or changing our IP address so that others can't track us. Few websites will normally list out the IP address of the computers or devices that visited their site. By changing our IP address we save our IP address from being tracked.
3. To stay away from attacks
Attackers or hackers Attack our PC using RAT's and Trojans by connecting to our IP address, By changing our IP address we can stay away from their attacks.
4. To get Out of IP bans
If your IP address is being banned by any website or service on the internet then, by connecting their websites using the different IP addresses you can get out of those Bans
5. To create multiple accounts on a site.
In few Forums and Social networking sites, only a limited number of accounts are permitted per IP address. To get out of this restriction you can follow any of the below IP changing tricks and create multiple accounts on any website.
Also read: Practical guide to Becoming a Successful Freelancer
Different Ways to Change your IP Address
1. Using online proxy websites to hide IP address
There are hundreds of online proxy websites available on the internet. Many of them are paid but there is also a good number of free proxy websites. When you browse through these websites they will hide your IP address and expose the IP address of their server to the websites, you browse. This way you can hide your IP address.
Here is the list of Free Online Proxy websites.
ProxySite.com 

Proxify.com

Anonymouse.org

Ninjacloak.com 

ZendProxy.com
First, go to readmyip.com , find and note your IP address.
From the above list of the online proxy website, select any website. For example, select VProxysite.com.

You can enter any of the website's URLs in the provided input Box there and you can browse it with a different IP address.

To check it go to my IP address URL there and now you will find a change in your IP address there.
2. Using VPNs to change IP address
VPN stands for Virtual Private network. You have to install these software's called VPN's on your computer so that they will alter your external or public IP address. Most of the VPNs are paid software. Though there are many free VPNs available they don't work as effectively as paid VPN's. You can buy a VPN by paying few bucks as it doesn't cost much if you want to use them for the long run.
List of Paid VPN's to download and change your Public/external IP address
– NordVPN
– AVG VPN
Find my IP Address – What is my IP Address? 
List of Free VPN's to Hide or change your Public IP address on Windows
Suggested read: 16 Best Free VPN for Android, iPhone and Computer Users
3. Manual settings to change your external IP Address
In this method, we are going to tweak the browser settings in order to browse through a proxy. Here we will pick an IP address of a proxy server and will make settings in the browser in such a way that no matter what we browse through that browser we will connect to the other websites only via the Proxy server.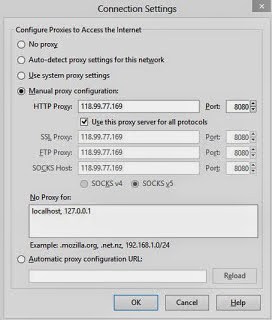 For this, we need a good list of Proxy IP addresses to try them out. You can get the list from HERE (http://hidemyass.com/proxy-list/). Now open your Mozilla Firefox and go to OPTIONS > ADVANCED > CONNECTIONS > SETTINGS and click on MANUAL PROXY SETTINGS there enter the PROXY IP ADDRESS and set the port to 8080 and save the settings. That's it now you can go to myipaddress.com and can find different IP addresses there.
Also Read: How to Unhide or Hide Caller-ID on Infinix Android Phone
4. Browser extensions to hide IP address
There are few browser extensions that will let you browse websites and surf the internet with a different IP address, all you need to do is, just install the browser extension and you are ready to go.
If you are using Chrome you can get this extension hidemyass  and hola

If you are using Mozilla Firefox you can use anonymoX and Hola extensions
5. Proxy Software to change the IP address
Proxy software is different from VPN software. Even in this Proxies, there are both paid and free versions. You can Use the TOR proxy to change or hide your external IP address while browsing. 
6. Changing Internal IP address manually.
You can change the internal IP address of your computer manually by following the below steps
1. Open RUN command by typing Windows key + R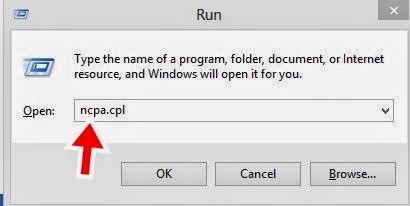 2. Enter "ncpa.cpl" (without quotes) in the run command box and hit enter, a BOX like this will appear.

3. There give right-click on it and select Properties. A box will POP up as shown in the figure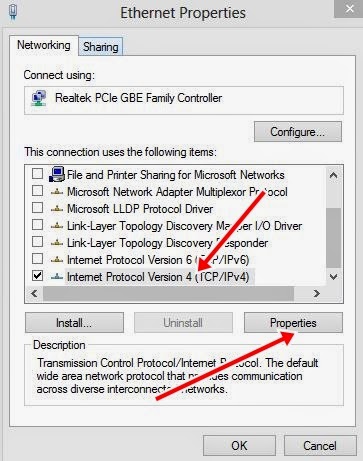 4. Select "INTERNET PROTOCOL VERSION 4 (IPv4)"and click on properties.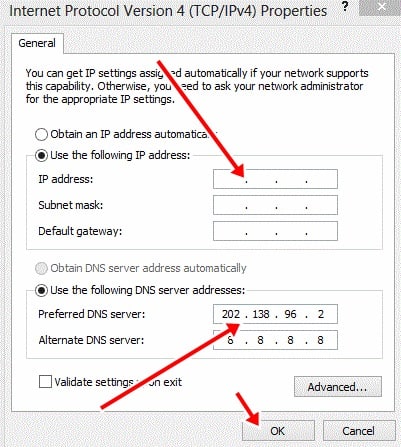 Also read: 9 Most Important SEO Guides to Help you Rank First Page on Google
5. AN IP address configuration box will appear where you can make necessary changes to your internal IP address. After making changes click OK to save your settings.
.