GENERAL
Wema Bank 2021 Royal Kiddies Essay Competition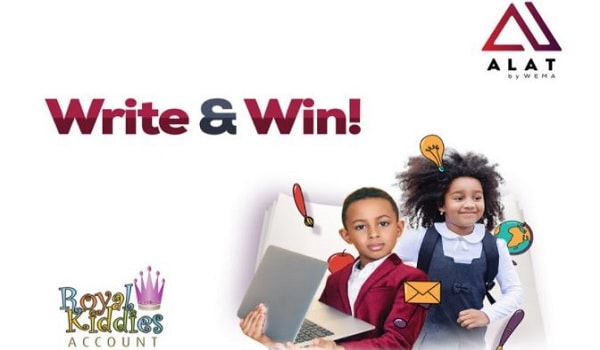 Wema Bank 2021 Royal Kiddies Essay Competition. Wema Bank has announced that it's looking for the best essays written by kids. Ten winners from its Royal Kiddies account holders will be rewarded in this forthcoming essay competition.
Your wards can win any of the competition amazing prizes. Simply follow these steps below to join;
Fund your ward's Royal Kiddies Account with a minimum of N20,000,

Send a mail to retail.products@wemabank.com with account information and his/her essay submission.
The Royal Kiddies Essay Competition submission entries close by May 24, 2021. (Terms and Conditions apply)
Also read: 21 Best Sites to Download TV Series and Movies for Free in 2021
Prizes to be Won
The top three Essays will get Huawei tablets and Royal Kiddies branded T-shirts.




The seven other finalists will get N20,000 prepaid gift cards for school supplies plus a branded T-shirt.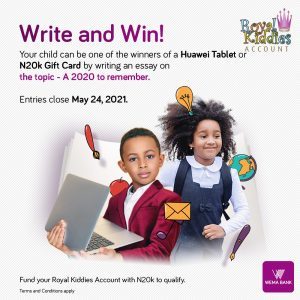 What is Wema Bank Royal Kiddies Account?
Children get an early start to financial freedom at Wema Bank with our Royal Kiddies Account designed for ages 0 to 12.

Opening a Royal Kiddies account for your children gives you access to school fees advance, scholarships, and life assurance to fund your education.
Documents Required to Open Wema Bank Royal Kiddies Account
Duly completed account opening form including signature mandate card

Copy of National ID card, Driver's License, Voters ID, or International Passport of the account administrator (parents/guardian)

1 passport photograph each for parent/guardian and child/ward and alternate administrator

BVN of administrator & Alternate administrator (Where applicable)

Birth certificate or School ID of the child

Copy of utility bill (Water, electricity, Waste, or telephone) issued within the last three months.
What are the Features of Wema Bank Royal Kiddies Account?
The account is operated by the parent/guardian who may or may not have an account with Wema Bank

Minimum opening balance of N2,000

Competitive interest rate (2.15%)

Limited withdrawals – Max of 1 withdrawal/month to qualify for interest payment

Lodgment of dividend warrants & cheques in the child's name is allowed

No debit card would be issued on this account

A Royal Kiddies e-purse will be made available on request.
Also read: How To Check First Bank Account Balance in Nigeria in 2021
What are the Benefits of Wema Bank Royal Kiddies Account to Customers?
Helps parents to save for their child's future.

Helps to teach a child the importance of saving from a young age and introduces the child to use financial channels through the Royal Kiddies e-purse.

Ensures continuity of child's education in case of death of parent or guardian.

Allows standing order for regular savings from parent's/guardian's accounts for payment of school fees

Higher interest rate than a standard savings account.

Eligibility for the annual Wema Educational Award

Transaction alerts through SMS and/or E-mail
Visit any Wema Bank branch close to you to get more information on how to proceed.
Also read: Clubhouse Now Out for Android Users – What you Should Know
We love to hear from you, comment below and share.