SEO
40 SEO Faqs (SEO Frequently Asked Questions)
SEO Faqs, SEO Faq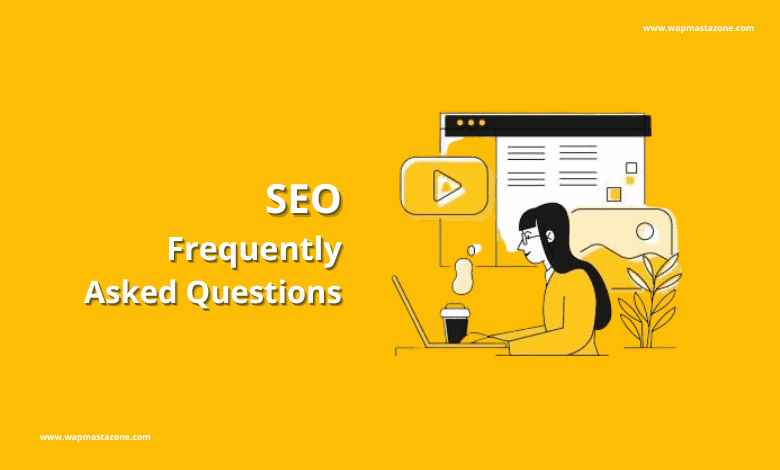 We have covered several topics on SEO, but this article focuses on SEO Faqs. We have covered 40 different SEO frequently Asked Questions.
40 SEO Faqs – Frequently Asked Questions
1. Who is an SEO Expert?
An SEO expert otherwise known as SEO specialist is a person who specializes in the area of search engine optimization by using their knowledge to rank a website on search engines. Someone who specializes in optimizing websites to improve their ranking on search engines. An SEO expert is someone who has a thorough understanding of search engine algorithms and uses their knowledge to enhance a website's visibility and ranking on search engine results pages (SERPs). SEO experts use a variety of techniques to achieve this, including keyword research, on-page optimization, link building, and content creation.
Suggested read: RoadMap to Becoming An SEO Expert
Also read: 15 Top SEO Experts and Specialists
2. How long Does it take to Become an SEO Expert?
How long it takes to become an SEO Expert sure varies depending on the individual. Since it is not taught in a university, you might have to pick up the skills piece by piece online until you become a specialist. Some of the factor that would determine how long it takes you to become an expert include time, access to information, motivation, learning method, etc.
3. What is the RoadMap of SEO?
An SEO roadmap is a s blueprint that outlines the various SEO tactics and strategies to be implemented. It serves as a ranking formula, encompassing the steps and approaches to be taken in optimizing a website's visibility in search engine results. An SEO roadmap can be created for internal use, guiding your own business's SEO strategy, or it can be shared with clients to showcase the planned approach for managing their SEO efforts.
4. How Can I Become an SEO Expert?
This is one of the common SEO Faqs. You can grow your career in SEO and also become an SEO Specialist by following the steps below:
Learn the Basics of SEO
Understand the Essential SEO & Web Auditing and Monitoring Tools
Knowing and Understanding the Types of SEO?
Understand the Important Search Engine Ranking Factors
Take Online SEO Certification Courses
Build a Portfolio and learn by optimizing your own website
Work with a Company
Keep up With Search Engine Algorithms
Build your Network
Understand the Responsibilities of An SEO Specialist?
Suggested read: RoadMap to Becoming An SEO Expert
5. What is SEO? – SEO Faqs
SEO is popularly known as search engine optimization and it is the process and practice of improving search appearance, visibility, and ranking of web pages on search engines like Google in return for organic traffic. Traffic can also come to your website or blog by direct browser search, referrer, or social platforms, but Best practices of SEO would get you more traffic than any other means.
Also read: What is SEO?
6. What is On-Page SEO?
On-page SEO is also known as on-site SEO and it is an SEO practice that involves the optimization of a web page. Factors that affect on-page SEO include content quality, focus keywords, internal linking, title tags, optimized metadata, meta description, and backlinks.
Also read: The Concept of ON Page SEO – Ultimate Guide
7. What Is Off-Page SEO?
Off-Page SEO refers to all the activities that are done outside the website to improve its search engine ranking. It includes everything that happens beyond the website, such as social media marketing, link building, brand mentions, and other forms of online promotion. The primary goal of Off-Page SEO is to create a positive image of the website in the eyes of search engines and users.
Also read: The Concept of OFF Page SEO – Ultimate Guide
8. Why Is Off-Page SEO Important?
It is important because it helps search engines understand the quality and relevance of a website. Search engines like Google consider many factors when ranking a website, such as the number and quality of external links pointing to the website, the authority, and reputation of the linking websites, social media signals, brand mentions, and so on. Off-Page SEO plays a significant role in improving these factors, which ultimately helps improve the website's search engine ranking and visibility.
9. Is SEO a Stressful Job?
The stress levels in a job can be influenced by the performance standards established by the company, and this applies to roles related to SEO as well. Nevertheless, in comparison to IT or other programming-related positions, SEO jobs are generally considered to be less stressful.
10. Will SEO Exist in 5 or 10 years?
Certainly, SEO will exist in the next 5 or 10 years and in the future mainly because SEO relies on search engines like Google and Bing. Even as algorithms and features continuously evolve to align with users' preferences. It is unlikely that this reliance on SEO will undergo any significant alterations in the next few years.
Also read: What is SEO Optimizer
11. What Are the 3 Core Pillars of SEO?
The 3 major core pillars of SEO are
12. What Are 4 Main Areas of SEO?
The 4 most popular areas of SEO include:
Also read: SEO for Beginners – Ultimate Guide
13. What Are the 5 Components of SEO?
The 5 basic components of an SEO Strategy include:
Content
Keywords
Technical SEO
14. Is SEO High Paying?
SEO skills are 'highly sought after' and can pay as much as $125/hr.
15. How Much Does SEO Manager or Specialist Earn yearly?
The average pay for an SEO Manager or SEO Specialist earns around $83,000 a year in the united state, with an average salary of $72,000 yearly.
Also read: 7 Proven Steps To Grow Your Domain Authority
Also read: 7 Most Common SEO Mistakes you Should Avoid
16. What is the Top Salary for SEO?
SEO Specialist Salary
| | | |
| --- | --- | --- |
| | Annual Salary | Weekly Pay |
| Top Earners | $83,500 | $1,600 |
| 75th Percentile | $68,500 | $1,300 |
| Average | $57,609 | $1,107 |
| 25th Percentile | $45,000 | $865 |
Also read: Google Indexing and How Web Crawler Works
Also read: 13 Key Indications that your SEO Strategy is Successful
17. Is SEO job Tough?
This question is one of the common seo faqs and the answer is that learning SEO is not inherently difficult, but it does require an investment of time, effort, and perseverance. When starting from scratch with no prior knowledge of search engines and their functioning, it is natural to feel overwhelmed, particularly if you are attempting to learn SEO independently.
18. Is SEO a Good Career?
This question is one of the common seo faqs and the answer is Yes. SEO is a good career and there are various career paths available in the SEO industry, including working in-house, serving clients, and building and expanding your own websites. If you are interested in pursuing a rewarding career in the SEO field, then pursue it.
19. Will AI Replace SEO?
Up to this point, there is no indication that AI will replace SEO or SEO specialists. Although AI has emerged as a valuable tool to support and expedite certain aspects of SEO by automating repetitive tasks, the expertise of humans is still essential for strategic decision-making and editorial work.
Suggested read: AI SEO – The Impact of Artificial Intelligence on SEO Strategies
20. What Are the Bad SEO Practice?
Your SEO strategy will fail if you don't fix or do the follow:
Not doing keyword research and not optimizing for keywords
Slow Website
No or Poorly Installed Robots.txt
Not Submitting Sitemap to Webmastertools
Poorly Design Websites and Site Navigation
Poor internal linking
Not Fixing Broken links or 404 Errors
Building Negative Backlinks
Not Properly Understanding your Audience
Not understanding search intent
Ignoring technical SEO
Not monitory your audience with google analytics and webmastertools
Also read: 7 Most Common SEO Mistakes you Should Avoid
21. What is a good SEO Score?
A good SEO scoring range falls between 80 and 100. This indicates that your website fulfills the utmost quality criteria concerning technical SEO, content, UX, and mobile usability. Some SEO professionals may advise aiming for a score of 85 or above.
22. Is 60 a good SEO Score?
Scores ranging from 40 to 50 are deemed average in terms of Domain Authority. Domain Authority between 50 and 60 are also considered to be good while, scores above 60 are indicative of excellent Domain Authority.
23. What Makes a Strong SEO?
Exceptional content that possesses authority and quality is a strong SEO strategy and a key determinant in search engine rankings. To be successful in SEO, you must develop a top-notch content tailored specifically for your target audience not only drives higher website traffic but also enhances your site's authority and relevance.
24. Does SEO Require Coding?
SEO generally does not demand extensive coding skills or any coding at all. It is entirely possible to excel in SEO without engaging in coding activities. However, the more comprehensive answer is that having a basic understanding of programming principles or being capable of performing some coding tasks can be an advantageous skill to possess in the field of SEO.
Also read: RoadMap to Becoming An SEO Expert
Also read: 15 Top SEO Experts and Specialists
25. Can a Beginner do SEO?
SEO is like any other profession and it is not so easy, but a beginner can do SEO if they invest time and effort. While there are immediate actions you can take and some concepts that demand substantial time and effort, it is indeed possible to practice SEO independently.
Suggested read: SEO for Beginners – Ultimate Guide
26. What Are the Factors that Affect the Success of SEO?
Before are the factors that affect the success of an SEO:
1. Keyword Rankings
2. Organic Traffic
3. Time Spent on Page
4. CTR
5. Bounce Rate
6. Returning Visitors
27. Is SEO important for Website Ranking?
this is one of the common SEO faqs and the answer is Yes. SEO is important if you want your website to rank and get organic traffic on search engines like Google and Bing.
28. Is SEO Analyzer Free?
Yes and No, some are free why some are not. Seooptimizer.me is free and seoanalyzer.wapmastazone.com is also free.
29. Is Competitive Analysis Important?
Competitive Analysis is important because it helps you to see the SEO Analysis of your competitors and then understand what is working for them. As such, you can adopt their strategies for your website search engine optimization.
30. Does Social Media Help to Increase My Website's Rank?
Although social media does not directly impact SEO rankings, it does increase brand exposure through the sharing of links on various platforms. Social media shares do not factor into SEO rankings, however, the increased sharing of your content through social media generates social signals, indicating to search engines that your posts are valuable to your target audience. Even though social media may not have a direct impact on your search engine ranking, however, it plays a crucial role in brand awareness.
31. Who Needs SEO?
Any online business with a product or service can greatly benefit from SEO if properly implemented. A good SEO strategy will help you get more relevance on search engines.
32. What Is Domain Authority?
Domain authority is a ranking system developed by Moz, with a ranking ranging from 1 to 100, which determines any website's ranking ability in search results.
Also read: 7 Proven Steps To Grow Your Domain Authority
33. What is Page Authority?
Page Authority (PA) is a metric developed by Moz that predicts how well a specific page will rank in search engine results pages (SERPs). Page Authority is calculated on a logarithmic scale from 0 to 100. The higher the Page Authority score, the more likely a page is to rank well in search engine results.
34. What is KPI in SEO?
Key performance indicators (KPIs) for SEO are metrics used to evaluate the performance of your SEO strategies. Without defining, monitoring, and analyzing the SEO KPIs that matter for your business, you won't know whether your SEO strategies are successful.
35. Is it Hard to Master SEO?
SEO is not necessarily difficult to know or learn, but commencing the learning process can be perplexing and overwhelming. Learning SEO entails delving into an extensive array of distinct digital marketing strategies, content creation, basic web technical knowledge.
Suggested read: 14 Ultimate Tips for Domain Name Selling & Buying
Also read: Domain Auction and Domain Bidding Process
36. Is SEO a Demanding job? – SEO Faqs
Yes, SEO can be a demanding job. It requires a combination of technical skills, analytical abilities, and creative thinking. As an SEO manager, you need to stay updated with the ever-evolving algorithms of search engines, continuously analyze data, conduct keyword research, optimize content, and build high-quality backlinks, among other tasks. Additionally, SEO efforts often take time to yield significant results, which requires patience and persistence. Therefore, the role of an SEO specialist can be challenging, but it can also be rewarding and impactful for businesses and websites when executed effectively.
Also read: 15 Top Tech Companies to Work For
37. Can I learn SEO by myself?
This is one of the most common SEO faqs and the answer is yes, you can do SEO on your own. However, you need to invest time and effort into it in order to become good at it.
38. Which industry Needs SEO the Most?
Below are some of the industries that need SEO the most
Tech Industry
Online Businesses
Medical Services Industry
Home Repairs and Renovation
Real Estate
Professional Services
Restaurants and so on
39. How long does it Take to Build SEO?
The time it takes to build SEO and get significant results can vary widely depending on various factors, including the competitiveness of the industry, the current state of the website, the quality of the content, the strength of the competition, and the effectiveness of the SEO strategies implemented. Depending on the strategies, It may take 6-12months
Also read: What is SEO?
40. Is WordPress Good for SEO? – SEO Faqs
Yes, WordPress is a good platform for SEO (Search Engine Optimization). There are several reasons why WordPress is good for SEO, this include:
SEO-Friendly Architecture: WordPress is built with clean and optimized code, which makes it easier for search engine crawlers to index and understand the website's content. Its structure and architecture contribute to better SEO performance.
SEO Plugins: WordPress offers a wide range of SEO plugins, such as Yoast SEO and All in One SEO Pack, which can help users optimize their websites more effectively. These plugins provide features like XML sitemaps, meta tags, keyword optimization, and content analysis, simplifying the SEO process.
Mobile Responsiveness: With the growing importance of mobile SEO, many WordPress themes are designed to be mobile-friendly, which positively impacts SEO, as search engines prioritize mobile-friendly websites in their rankings.
User-Friendly Interface: WordPress is built with user-friendly interface, making it easy for website owners and content creators to manage and update their websites regularly. Fresh, relevant, and updated content is an important factor in SEO.
Regular Updates and Security: WordPress releases regular updates to improve performance, security, and overall functionality. Having an up-to-date and secure website is beneficial for SEO, as search engines tend to favor websites with good security measures.
Speed and Performance: WordPress websites can be optimized for speed and performance through caching plugins, image optimization, and other techniques. Faster-loading websites tend to have better SEO rankings.
Social Media Integration: WordPress allows easy integration with social media platforms, which can contribute to increased social signals and engagement, positively impacting SEO.
Also read: 9 Most Important SEO Guides to Help you Rank on Google
Also read: Top 15 Free Keyword Research Tools