BLOGGING TIPS
Trending
15 Important Reasons Why your Blog is Not Getting Traffic
how to increase website traffic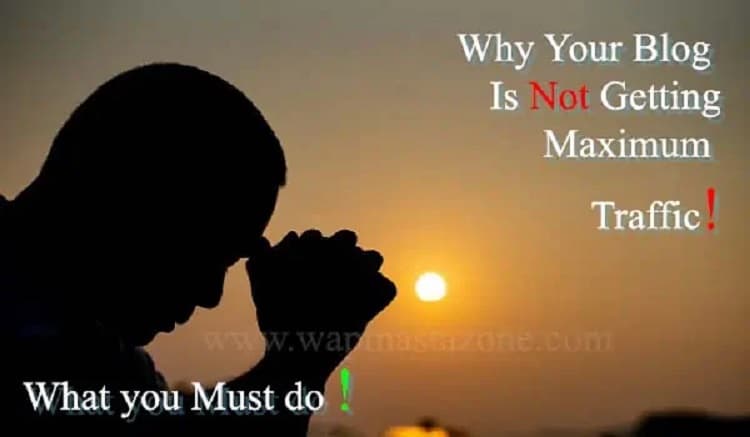 why is my website not getting traffic?, how to increase website traffic
Last updated: 08:07.2022
While blogging has proven to be a good way of making money online, it is however a long walk to success. It requires a lot of patience, investment in quality articles, and so on. Organic traffic plays a major role in becoming a successful blogger.
So, you have asked yourself, why is my blog not getting traffic or enough traffic?
You are probably doing something wrong! You are not getting traffic for many reasons you are yet to explore. In this post, I will share with you 15 important reasons why your blog is not getting traffic and what you should do to improve your blog or website traffic. Also, do not forget that it takes a little while for the changes made to reflect.
Also read: 9 Most Important SEO Guides to Help you Rank First Page on Google
How to Increase Website Traffic
1. Your Blog is New
It takes some time for new blogs to start getting traffic if everything is done correctly. During the early days of your blog, search engines would try to crawl your blog. So, SEO becomes important, writing great content becomes an important factor and your patience comes after.
Did someone tell you it's an easy ride? No, it's not. Blogging isn't an easy walk to success, it takes your effort and consistency.
2. You have not done Search Engine Optimization (SEO)
To succeed in blogging, SEO is a major lead. So, you are probably not getting traffic because your website is not optimized for Google indexing and search engines.
One of the ways to increase your website traffic is to take SEO very seriously for Google to easily rank your blog once properly optimized.
Ensure your site is mobile and web-friendly.

setup amp for your blog

Inter-link your blog articles

use focus keywords and use popular and related tags for your articles

add meta descriptions for your articles

submit your blog sitemap to google webmaster

link your blog to google analytics

create important pages like about us, contact page, privacy policy, terms and conditions, copyright, and disclaimer page.
You will see changes with time if you do the aforementioned correctly.
Recommended SEO TOOLS
Also Read: 9 Most Deadliest Computer Viruses that Stood the Test of Time
3. You are Not Writing Engaging Content –

how to increase website traffic
You are getting low traffic probably because you are not engaging your readers. Readers are interested in fresh and informative content. An article that can keep your visitors glued to your blog for 5-10 minutes is informative.
Research has shown that a reader is most likely to decide whether to stay or leave your website within the first 60 secs of opening your blog.
If you write engaging and informative articles, readers would come to your blog organically. If your articles help the readers to solve their problems or meet their needs, they will surely bookmark, share, subscribe, and also come back to your blog.
Don't just write because you want to update your blog, do some research. Find out what the audience is searching for, target a topic and write about it. Writing two well-detailed resourceful articles every week is far better than just posting random articles on your blog frequently.
4. You are Not Consistent –

how to increase website traffic
Again, you are not getting traffic probably because you are not consistent in updating your blog. you update your blog today and the next time you posted is one month after!. How then do you want to keep your readers?
Have you ever wondered why Dwayne Johnson wrote " Success isn't always about greatness? It's about consistency. Consistent hard work leads to success. Greatness will come. 
Consistency is a key player in blogging, you must embrace it.
Also read: How to know and What to do if your Phone is Being Monitored by Spyware
5. You are Not Using Target Headlines or Topics
You are not getting traffic not because your blog content is not unique, maybe your headlines/topics are not catchy. Now, I am not talking about clickbait topics but topics that are related to the article and are also convincing.
Your topic should be catchy enough to convince the reader that your article is what they are actually looking for.
Your headline should be unique and not too long.
Let us paint a scenario here and I want you to be the judge later. take for example; A blogger writes a headline as "5 Mastery to help you rank the first page on Google" and another blogger writes "5 things to help you rank on Google".
I guess you have decided who is taking away the traffic.
6. You have Not Embrace Social Media Platforms
Do you have a Facebook page, Twitter, and Pinterest page where you share and promote your articles? If not, then you are missing out. 
Using Social media platforms like Facebook, Instagram, Reddit, and Pinterest are good ways of promoting and generating traffic to your blog. So, create social pages and constantly share your blog posts on them. With time, you would grow followers and also generate more traffic.
Also read: How To Make $100/day on Fiverr – Complete Guide
7. You have Not Build Backlinks –

how to increase website traffic
How often do you engage on other blogs? do you comment on other blogs with a link to your blog?
do you write guest posts for another website in order to build organic backlinks? if not, then you should put them into consideration. Backlinks are important for SEO. It's a good sign that you are doing something right when other blogs link back to your blog post.
8. You are Waiting for Miracles to Happen
Are you waiting for miracles to bring traffic to your blog? oh no, 
Miracles won't take you there, you must put in the effort. Remember you are not the only one, you are competing. Your competitors are never going to wait, so you can't wait either. You must do everything possible to stay ahead of your competitors.
Also Read: 10 Signs of a Malware Infection on your Computer
9. You lost Focus
It is very easy to get lost when you are just starting. Most bloggers that didn't do enough research before starting blogging are guilty of this point. The point here is that you must pick a niche and focus on it. 
Don't be everywhere because it won't help the growth of your blog. If your blog's niche is about animals, then you have no business posting about cars. 
Don't get lost if you are just starting, otherwise, you would go back one day to clean up your blog.
10. Your website is Poorly Structured
Your blog will fail many tests if it's poorly structured or populated with widgets and unnecessary add-ons.
Just like the popular saying from the bible. Psalm 11:3 says and I quote "
if the foundations are destroyed, what can the righteous do?
Your blog is doomed to fail if already poorly designed. Go back and check your site structure and ensure everything is put in order. Optimization plays important role in generating traffic. So, your blog must be properly designed.
Recommended SEO TOOLS
Also read: The Complete difference between PayPal FnF and PayPal GnS
11. You Spend Less Time on your Blog
Not spending efficient time on your blog is one of the reasons why your blog is not getting traffic.
To reach the pick of success in blogging you must see it as a double-edged sword that must be carefully handled, you must see it as a full-time job by creating enough time;
updating old posts,
updating outdated plugins
replying comments,
checking and fixing error pages.
Your engagement is essential for the growth of your blog. Peradventure, you happen to have a full-time job, then you should consider outsourcing by getting intellectual writers to update your blog for you while you pay them in return.
12. You are Not Competing
Blogging is not a sprint but a marathon. You must compete in order to stay ahead of your global competitors.
Take advantage of SEO tools like SEO Checker, 50+ SEOTools, SEO Analyzer, ubersuggest, Alexa, SEMruch competitor analysis tools to check for what your competitors are doing right and build on that so as to beat them in the race.
Also read: How to Prevent Facebook Hack – Complete Guide
13. You are not Using Featured Images
Some readers are most likely to open your article if the featured image is convincing enough. Related and catchy featured image is important for SEO and it helps you to capture the reader's attention.
Most of the time, you would download images from google to use, but it is, even more, better when you create or edit every featured image you use on your blog post. Don't just use any image, the images should be unique and distinct.
14. You are not Promoting your Blog
Apart from promoting your blog on social platforms, you can also take advantage of paid ads like Facebook ads, Pinterest ads, and google ads.
Paid ads are proven ways of driving traffic to your blog. However, the uniqueness of your post would determine if the readers would stay long on your blog or never come back.
15. Your Blog is Slow 
Your blog is extremely slow and that is one of the reasons why your blog is not getting traffic.
There are many factors that determine your blog load time and I have highlighted some of them within this post.
Ensure that your site speed falls between google's recommendation for site load speed between 1-3 seconds.
By removing unused plugins, removing unnecessary addons or widgets, using compressed images, and regular patch updates, you can achieve a fast load time.
By achieving a fast load time for your blog, your blog ranking will surely improve and traffic will also increase.
Also Read: What Search Engine did People Use before Google?
How to Increase Blog Traffic Summary
I have provided the answer to this question in the post already, but I will list them in points;
implement SEO strategies

become passionate about blogging

structure your website design

write engaging blog posts

spend more time on your blog

use catchy and target headlines

embrace social media platforms

focus on one niche

engage on other blogs and also write guest post

offer your readers freebies

stay ahead of your competitors

use featured images for your blog post

use image names and alt tags

use focus keywords

use paid ads if necessary

use internal linking

Improve your site load spead

be consistent
What more? Start SEO
why is my website not getting traffic?, how to increase website traffic