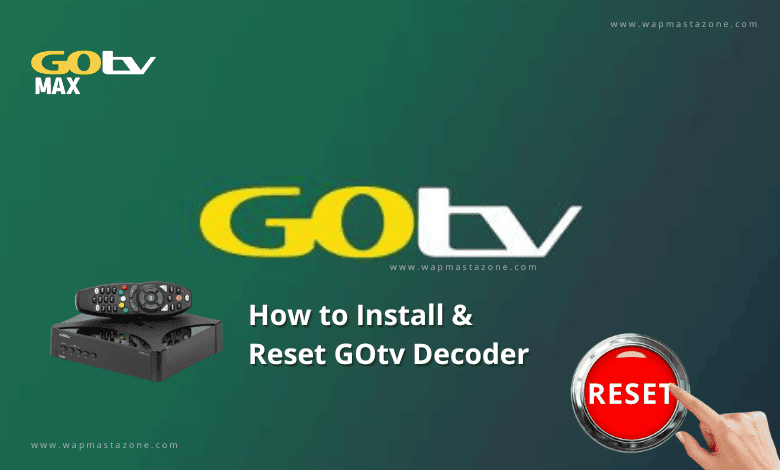 In this article, you will learn about gotv decoder, how to install it, and how to reset Gotv decoder. GOtv is one of the most used TV service providers in Nigeria because it is very affordable.
However, like any electronic device, a decoder may encounter occasional issues that require a reset. Resetting your decoder can help resolve various problems, such as signal issues, frozen screens, or software glitches. So follow the steps below to know how to do gotv installation and how to reset your Gotv decoder.
Suggested read: How to Contact Gotv Customer Care
How to Install Gotv Decoder
Gotv installation is very simple. Follow the step-by-step guide to install the decoder:
Unpack your decoder and set it up

Connect the decoder to the TV using the voice and video cable provided 

Take the antenna outside and mount it temporarily.

Connect the Antenna to the decoder using the cable that comes with the box

Connect the decoder to power using the power cable 

Power on and setup will begin automatically

Select the language and allow time for the decoder to scan the available channels 

If it does not scan, adjust the outside antenna until the strength of the signal is strong enough

When it is done scanning, that's it.

that's all.
You can also see the video below for the installation process
Also read: Gotv Subscription, Gotv Prices, and Self-Service in Nigeria
Suggested read: Gotv smallie channels list and Price in Nigeria
Also read: Gotv Jinja Channels List and Price in Nigeria
Also read: GOTv Max Channels list and Sub Price
What is GOtv Decoder Reset?
GOtv-decoder reset is the process of restoring the decoder to its default factory settings. Majorly, it helps to clear gotv error codes. Resetting the decoder can help resolve software-related issues and restore optimal performance.
What Are the Requirements for GOtv Decoder Reset
Before proceeding with a decoder reset, ensure you have the following requirements:
Stable power supply

Gotv-decoder and remote control

And a TV

Patience
How to Reset GOtv-Decoder
Follow these step-by-step instructions to reset your decoder:
Power your Television and decoder

Wait for the decoder to completely boot

Once the booting is completed and press the "Help button" on your remote which is located at the bottom of the remote.

The Gotv-decoder Menu will display on your screen.

Then select "Advanced options"
Choose "Installation" then press enter, then select "Reset" and press enter

After this, the decoder will instantly reset to factory settings and reboot.
Note that you will need to rescan your channels after the reset is complete in order to continue enjoying your gotv subscription.
Also read: How To Download and Run myGotv App on Android & IOS
Why is GOtv Decoder Reset Necessary?
There are several reasons why your may want to reset your decoder:
It helps to clear error codes

It can help resolve technical issues such as poor signal reception and freezing screens

Resetting the decoder clears any temporary glitches in the system, allowing it to function properly.

A reset can help resolve software-related problems, such as error messages or malfunctioning applications
Also read: All DStv Packages and Prices in Nigeria