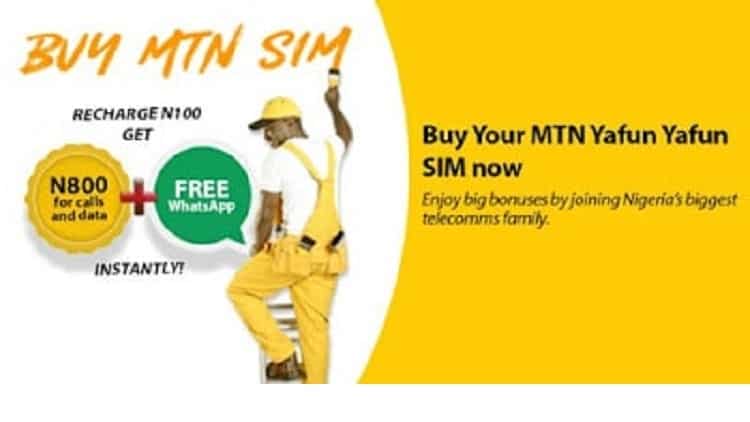 It seems MTN Nigeria don't want the situation of last year to repeat itself, recall that during the last year 2016, MTN lost almost 2 million subscribers due to the tempting offers released by Globacom used to gain the no 1 position as Nigeria preferred network in terms of new data subscribers.
This same Yafun Yafun (MTN StartPack) was one of the promos in MTN Nigeria used during the middle of last year to regain back their lost customers. Then, the bonus was 6 times (500% bonus) value of all your recharges, but now it has increased to 8 times (700%) value of your recharges plus Free Whatsapp!
Just like the old MTN Yafun Yafun, the new Yafun Yafun required a new MTN sim card. The SIM is different from the regular MTN SIM card.
Also read: How to Call or Contact MTN Customer Care in Nigeria
The new MTN Yafun Yafun SIM offer, gives new customers on the network 8 times the value of their recharge plus free access to WhatsApp weekly, by recharging a minimum of N100 after activating a new MTN SIM. 700% bonus on EVERY recharge of N100.
When you recharge N100, you get N800 for calls and free access to Whatsapp for a week.
When you recharge N200, you get N1600 for calls and free access to Whatsapp for a week.
When you recharge N500, you get N4000 for calls and free access to Whatsapp for a week.
For you to be eligible for these offers, you need to buy the MTN Yafun Yafun SIM and recharge at least N100 naira. This means that any recharge below N100 won't receive any bonus. Remember, a recharge of 100 Naira gives you 800 worth of airtime plus free WhatsApp for a week.
Also Read: How to Hide Chats on WhatsApp Messenger – Easy Steps
To Receive the 700% Bonus on Recharge
Simply recharge from N100 and above airtime value by dialing *555*digits PIN# and you will automatically receive 700% bonus that will be credited in a dedicated account.

You will be able to use the airtime bonus to make calls and send SMS to ALL Local Networks in Nigeria. You will be able to browse the internet on Pay As You GO rate with the airtime bonus.

The airtime bonus is valid for 7 days.

You will receive the 700% bonus on ALL your recharges for a period of 3 months.

After 3 months you will stop receiving the bonus on your recharges and the system will automatically migrate you to MTN BetaTalk tariff plan.

To check your 700% bonus balance, simply dial *559*17#.
To Get MTN Yafun Yafun SIM Card




Simply visit the nearest MTN shop for a Yafun Yafun sim card.
Important Note:
With the formal MTN Yafun Yafun Promo, known as MTN StartPack 500% Extra Bonus on Every Recharge, we later noticed that after loading ₦100, you can use up to 1GB when using the airtime to browse.
Also read: MTN Setup New Portal For NIN and SIM Card Linking