SMARTPHONE
Samsung Unveils New smartphone Galaxy Note 20 & Galaxy Note 20 Ultra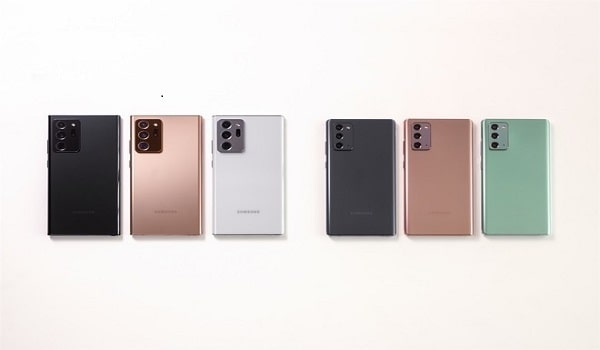 At the first-ever virtually held Galaxy Unpacked event, the Samsung galaxy note finally gone official as the company unveiled the new Samsung series. The new series includes Galaxy Note 20 and Note 20 Ultra smartphones. As constantly, Samsung laud its new Note series is strong and designed for the Note lovers.
It has a polycarbonate back that feels like mate glass. It comes with a 6.7-inch Full HD+ Super AMOLED flat display with a 60Hz refresh rate. On the other hand, the Galaxy Note 20 Ultra has a larger display with glass and metal sandwich design. It features a 6.9-inch QHD+ Dynamic AMOLED curved display with a 120Hz refresh rate. Samsung is promoting Adaptive refresh rate capabilities on the Note 20 Ultra that allows the phone to adjust its refresh rate according to the content powerfully.
For Example, it can go down to 1Hz for the Always—ON Display, hover at 24Hz for movies, and vary between 30 to 120Hz for gaming as needed. However, you are restricted to choosing between 120Hz on FHD+ or 60Hz on QHD+.
Both the new Galaxy Note phones of 2020 are powered by Snapdragon 865 Plus processor in the US and for some other regions, they come with the in-house Exynos 990. They have LPDDR5 RAM, Galaxy Note 20 follows the UFS 3.0 storage standard whereas the Galaxy Note Ultra supports 3.1 storage. Also, the Galaxy Note 20 does not offer a microSD card slot facility, but Galaxy Note 20 Ultra comes with this facility with expansion up to 1TB.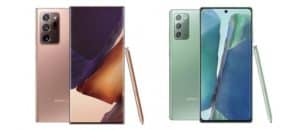 The Galaxy Note 20 and Galaxy Note 20 Ultra comes with an in-display ultrasonic fingerprint sensor as well as IP68 certification for water resistance and dust. Another difference between the two is the sizes of battery capacities. The vanilla Galaxy Note 20 has 4,300mAh capacity and the Note 20 Ultra has 4,500mAh, though both of them support 25W wired fast charging and 15W wireless fast charging tech, it also has a reverse wireless charging support.
Another difference is the camera configuration at the back, though the front camera is the same on both. The Galaxy Note 20 has 12MP primary sensor with OIS, 64MP telephoto camera, and a 12MP ultra-wide-angle camera. On the other hand, the Galaxy Note 20 Ultra has a 108MP primary camera with OIS and laser autofocus, 12MP telephoto camera with 4x optical zoom, as well as a 12MP ultra-wide-angle cameras. Both the Note tablets have a 10MP single front camera that is housed inside a punch-hole.

The Galaxy Note 20 Ultra also comes Ultra-Wide Band chip that allows faster device-to-device connections and faster file transfers Both the Galaxy Note 20 and Galaxy Note 20 Ultra comes with S Pen that is focused on making the most of your user experience. The new S Pen offers enhanced experience with some new features. In terms of looks, the S Pen looks no different than its predecessor but its latency has been reduced to just 9ms, which was 42ms on Note 10. It also has some new air action tricks called touchless navigation. It can return to the home screen or take a screenshot as a flick of the wrist. and it has 24 hours of battery life.
The S Pen also works as a mouse input for Wireless DeX. You can connect your device wirelessly with a Smart TV and manage both the TV and the phone at the same time.
Availability and Price:
Samsung Galaxy Note 20 will come in Mystic Green, Mystic Bronze, and Mystic Gray color choices. The Galaxy Note 20 Ultra comes in Mystic Bronze (matte), Mystic Black (glossy), and Mystic White (glossy). The Galaxy Note 20 Ultra with 256GB costs $1,299, and the 512GB model is priced at $1,399. The Samsung Galaxy Note 20 is priced at $999, 
They are going to be all on sale via carriers and in Unlocked by Samsung versions from the official website and online retailers.
Consumers who pre-order from August 6 to August 20 will get $100/$150 Samsung Credit on respective phones.
We love to hear from you, please comment below and share.