COMPUTER
Opera Computer Browser Now Allows Instagram Quick Access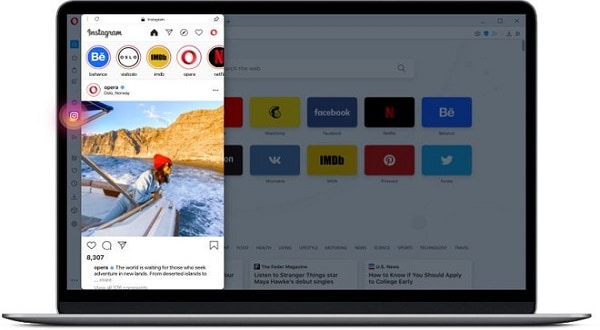 The opera computer browser is known for offering quick access to widely used social media and instant messaging platforms. It already has integration for Facebook Messenger and WhatsApp Messenger. It is now time for a new update that extends the quick access integration to the popular photo-sharing platform Instagram.
The new update i.e. Opera 68 adds Instagram as a quick access platform to the left sidebar. It is available just below Facebook Messenger and WhatsApp shortcuts. Clicking on the Instagram icon opens the website of the platform where the user needs to sign into their accounts. New users can also choose to register for a new account.
It is worth noting that the shortcut simply opens the Instagram website and nothing else. The benefit of offering the integration is that a user does not need to enter the URL every time he wants to use the platform. It also eliminates the need for bookmarking the website for future usage. Once logged in, a user simply needs to click the shortcut to quickly check the feed, comments, and likes on their posts as they do on a smartphone app.
Maciej Kocemba, Product Director for Opera said,
"People like to have the choice of which social media platforms to use and on which device to access them. We are integrating Instagram to give them better access to their friends and loved ones and for them to have the convenience of using a large display and keyboard to watch Instastories or write comments or DMs."
We love to hear from you, comment below, and share.