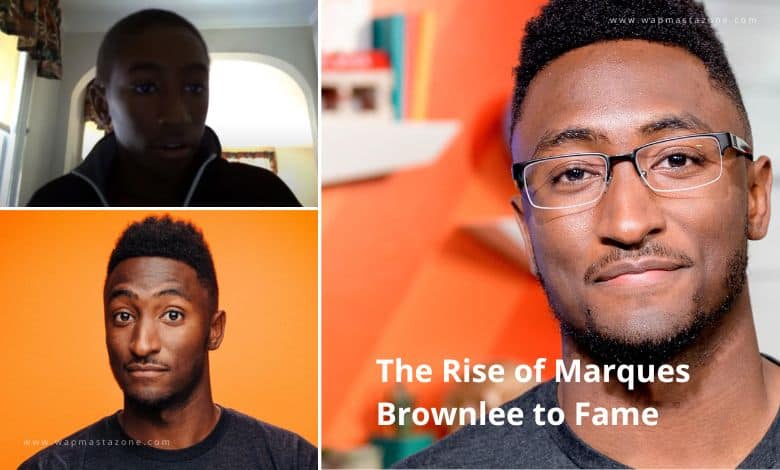 In 2008, a young boy released his first YouTube video and his second in the same year. His third video was then released on youtube in 2009, titled "HP Pavilion dv7t Media Center Remote Overview" This would mark the beginning of his career. His name is Marques Brownlee.
Also read: 11 Top Tech YouTubers
The Rise of Marques Brownlee to Fame
Who is Marques Brownlee?
Marques Brownlee, commonly known as MKBHD, is a popular American YouTuber, technology reviewer, and internet personality. He focuses on gadgets and features reviews spanning various categories, including video games, drones, and smartphones. He gained prominence through his YouTube channel, "MKBHD," where he posts high-quality videos related to consumer electronics, technology reviews, product comparisons, and discussions on various tech-related topics. Marques is known for his in-depth knowledge, honest opinions, and detailed reviews, which have earned him a large following and a reputation as one of the most influential tech reviewers on YouTube. He has interviewed prominent figures in the tech industry and has become a well-respected voice in the tech community.
Also read: 40+ Best Mark Wahlberg Movies on Netflix
What is Marques Brownlee age?
Marques Brownlee age at the time this article was first published is 30 years. He was born on 3 December 1993.
When and Where Was Marques Brownlee Born?
Marques Brownlee was born on December 3, 1993, in Maplewood, New Jersey, United States.
| | |
| --- | --- |
| Name | Marques Keith Brownlee |
| Birthday | 3 December 1993 |
| Height | 1.9 m |
| Born/Hometown | Maplewood, New Jersey, United States. |
| Birth Sign | Sagittarius |
| Career | Youtuber, Podcaster and TechSavvy |
| Joined Youtube | Mar 21, 2008 |
| Net Worth | $8 million – $15 million |
| YouTube Subscribers | 17 million + |
| Marital Status | Unmarried |
| Known As | MKBHD |
| Residence | New Jersey |
| Citizenship | United State |
| Parent | Marlon Brownlee and Jeaniene Brownlee |
Where and when did Marques Brownlee Graduate?
Marques Brownlee graduated from the Stevens Institute of Technology, located in Hoboken, New Jersey, United States. He completed his undergraduate studies and received his degree from there, but the specific year of his graduation is not widely disclosed or publicly available.
Also read: 50+ Best Matt Damon Movies on Netflix
When did Marques Brownlee Rise to Fame?
Marques began rising to fame in the technology and YouTube community around 2012. His channel, MKBHD, gained significant attention for its high-quality production, informative tech reviews, and engaging content. Over the years, his reputation grew, and he became one of the most well-known and influential tech YouTubers, reaching millions of subscribers and garnering widespread recognition for his expertise in consumer electronics and technology.
What is Marques Brownlee known For?
Marques is primarily known for his technology-focused YouTube channel. He is widely recognized for his in-depth product reviews, gadget unboxings, and discussions on various tech-related topics. Marques is known for his exceptional video production quality, thorough analysis, and honest opinions.
How did Marques Brownlee Get Rich?
He has built his wealth primarily through his successful career as a YouTuber and content creator. As his YouTube channel gained popularity and amassed millions of subscribers, he was able to monetize his content through various means. YouTube provides revenue through advertisements, and popular channels like MKBHD can generate significant income from ad revenue.
In addition to ad revenue, Marques has also collaborated with various brands for sponsored content and endorsements. As a highly respected and influential figure in the tech industry, his opinions and recommendations hold weight, making him a valuable partner for brands looking to reach a tech-savvy audience.
Marques has diversified his income streams by launching his own merchandise, including branded products such as apparel and accessories. This allows him to capitalize on his brand and connect with his dedicated fan base.
Also read: 35 Best Free Sports Live Streaming Websites
What Phone does MKBHD Use?
As an influential tech reviewer, Marques Brownlee, also known as MKBHD, regularly tests and reviews a wide range of smartphones. Since his reviews cover numerous devices, it's difficult to pinpoint a single phone that he uses exclusively. However, Marques has mentioned in various videos and interviews that he uses multiple smartphones for different purposes, depending on his testing needs and personal preferences.
What is MKBHD youtube channel?
His channel link is https://youtube.com/@mkbhd/
who are the Famous people Marques Brownlee Has interviewed and Worked with?
He has had the opportunity to interview and collaborate with several famous people in the tech industry. Some notable individuals he has interviewed and worked with include:
Also read: 21 Best Sites to Download TV Series and Movies for Free
Also read: FzMovies Review – The Largest Free Movies Streaming Site
Some of MKBHD Career Marks And Achievements
In December 2015, Brownlee interviewed professional NBA basketball player Kobe Bryant, titled "Talking Tech with Kobe Bryant!", in which he talks about tech interests of Kobe and the most recent Kobe-designed Nike shoes at the time, the Kobe 11.
During one of the 2016 Democratic presidential primary debates that was cosponsored by YouTube, Brownlee asked the candidates, by video, whether tech companies and the government can find a middle ground over encryption while considering rights to privacy and national security.
In October 2016, he interviewed Apple's senior vice president of software engineering Craig Federighi during the release of their latest MacBook Pro 2016. The latter was, again, invited to Brownlee's channel after WWDC 2020 in June.
In March 2018, he interviewed Neil deGrasse Tyson. In April 2018, Brownlee won Shorty Awards Creator of the Decade.
In June 2018, Brownlee was a guest on Hot Ones.
In August 2018, he interviewed Tesla CEO Elon Musk and with the assistance of TLD (Jonathan Morrison) filmed Tesla Factory Tour with Elon Musk!
In December 2018, Brownlee was featured in YouTube Rewind, later releasing a video on his complaints about the series.
In February 2019, he interviewed Bill Gates.
In October 2019, he interviewed Microsoft CEO Satya Nadella before Microsoft's Surface announcement, in addition to actor Will Smith.
Brownlee reached 10 million subscribers on December 18, 2019, making MKBHD one of the most-subscribed-to technology-focused YouTube channels, according to Social Blade.
He interviewed Bill Gates again in February 2020.
In September 2020, he interviewed Mark Zuckerberg, discussing holograms and the future of virtual reality.
In December 2020, he interviewed Barack Obama, discussing the use of technology and social media in government.
In December 2020, he was honored in the Forbes 30 Under 30 listing in its social media category.
In May 2021, Brownlee interviewed Sundar Pichai, CEO of Google on various subjects such as future technology and AI.
In April 2023, Brownlee collaborated with footwear brand Atoms to create the high-top Sneaker 251, named after the duration of his first YouTube video
As of June 2023, his main channel has 17.1 million subscribers