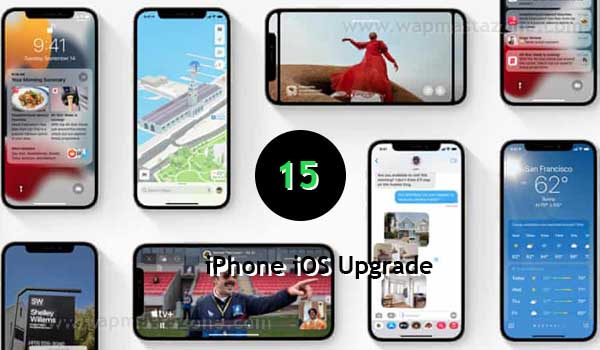 Apple iOS 15 is now officially available for download and a list of eligible iPhone and iPad devices has been released. The iOS 15 update comes with interesting features. The new features come with new features for FaceTime calls, a new notifications experience, added privacy features, complete redesigns for Safari, weather app etc. Some of the features are highlighted below.
Also read: Apple iPhone 13 Series Full Specifications and Prices in Nigeria
Features of iOS 15 Update
Focus and Notification: designed with Focus; a Do Not Disturb feature that helps users to eliminate distractions based upon preset or custom tasks. Notification on iOS15 has also been redesigned which makes it more visually. It added contact photos for users and larger icons for apps
Safari redesign: the popular web browser "Safari" has also been redesigned. Controls are now easier to use with one hand and provide more focus to a webpage's content. A new compact tab bar that floats at the bottom of the screen so users can easily swipe between tabs has also been introduced.
FaceTime upgrades: the iOS 15 is designed with a SharePlay which is the multifaceted sharing feature built on FaceTime that allows you to watch TV shows and movies, listen to music, or share your screen with other friends via FaceTime.
Microphone modes: Two new microphone modes have been added to FaceTime calls to help users customize how they want their sound.
Live text: is a new feature that uses on-device intelligence to recognize text in a photo that users can search for, highlight, and copy. Spotlight can now search for photos by location, people, scenes, objects, and text. Spotlight also offers web image search and richer results for actors, musicians, TV shows, and movies. 
Also read: How to Install Apple iOS 15 On iPhone
List of iPhone getting iOS 15 Update
| | |
| --- | --- |
|   |   |
| iPhone 6s Plus |  iPhone 11 Pro |
| iPhone SE (2016) | iPhone 11 Pro Max |
| iPhone 7 | iPhone SE (2020) |
| iPhone 7 Plus | iPhone 12 |
| iPhone 8 | iPhone 12 Mini |
| iPhone 8 Plus | iPhone 12 Pro |
| iPhone X | iPhone 12 Pro Max |
| iPhone XR | iPhone 13 |
| iPhone XS | iPhone 13 mini |
| iPhone XS Max | iPhone 13 Pro |
| iPhone 11 | iPhone 13 Pro Max |
|   | iPod touch (7th generation) |
Also read: 15 Best Free VPN for Android, iPhone and Computer Users
iPadOS 15 introduces a new multitasking experience, with Split View and Slide Over functions easy to discover and use. iPadOS 15 also comes with the Translate app, which delivers new features for translating text and conversations. Users can now build apps for iPhone and iPad, on iPad, with Swift Playgrounds. see list below;
List of iPad getting iOS 15 Update
| | |
| --- | --- |
| 12.9-inch iPad Pro (5th generation) |  iPad (8th generation) |
| 11-inch iPad Pro (3rd generation) | iPad (7th generation) |
| 12.9-inch iPad Pro (4th generation) | iPad (6th Generation) |
| 11-inch iPad Pro (2nd generation) | iPad (5th Generation) |
| 12.9-inch iPad Pro (3rd generation) | iPad mini (6th Generation) |
| 11-inch iPad Pro (1st generation) | iPad mini (5th Generation) |
| 12.9-inch iPad Pro (2nd generation) | iPad mini 4 |
| 12.9-inch iPad Pro (1st generation) | iPad Air (4th Generation) |
| 10.5-inch iPad Pro | iPad Air (3rd Generation) |
| 9.7-inch iPad Pro (9th generation) | iPad Air 2 |
Also read: Pegasus Spyware – The Most Intelligent Spyware Ever Built