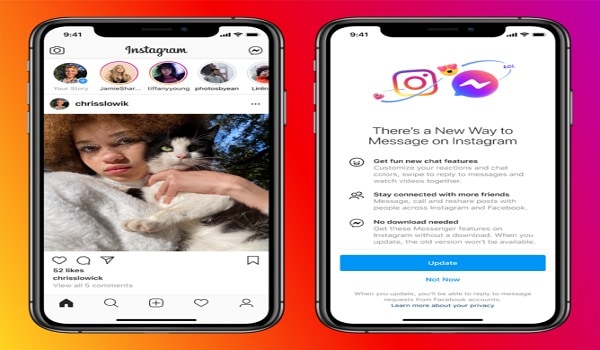 Facebook has publicly announced the unification of Messenger chats with Instagram direct messages (DMs). The combination was tested for some time and is now progressing to everybody all over the world. This will effectively permit users to continue with their Messenger contacts straight via Instagram DMs.
As soon as the feature is available for you, a huge pop-up will appear inside the Instagram application making the announcement. It will highlight some of the advantages and let users select whether to choose for the merger or keep it waiting for the anticipated future. Those who will opt-in will see their Instagram inbox too showing Messenger conversations. They will also get the right to use certain Messenger features to advance their chat experience.
Here is a list of features that will be coming users' ways after the merger:
Communicate Across Apps: Flawlessly connect with friends and family on Instagram and Messenger by using an app to send messages and join video calls.
Selfie Stickers: Build a series of boomerang stickers with your selfie for usage in conversation.
Chat Colors: Personalize your chats with fun color gradients.
Custom Emoji Reactions: Build a shortcut of your preferred emojis to reply faster to messages from friends.
Enhanced Reporting and Blocking Updates: At this time you can report complete conversations in addition to single messages on Instagram, and receive proactive blocking hints on Instagram and Messenger as soon as you add your accounts in the new Accounts Center.
Forwarding: Effortlessly share great content with up to five friends or groups.
Replies: Reply straight to a particular message in your chat and keep the conversations smooth.
Animated Message Effects: Include visual elegance to your message with animated send effects.
Watch Together: Enjoy watching videos on Facebook Watch, Reels, TV shows, movies IGTV, and more with friends and family throughout a video call.
Vanish Mode: Select a mode where seen messages vanish after they're seen or when you close the chat.
Message Controls: Choose who can message you directly, and who can't.
This fresh merger is basically a step in Facebook's eventual target of linking all of its apps with each other. These consist of Facebook Messenger, Instagram, and WhatsApp. It wishes to offer an experience where users can network with friends/contacts on any app via any of its app.
We love to hear from you, please comment and share.