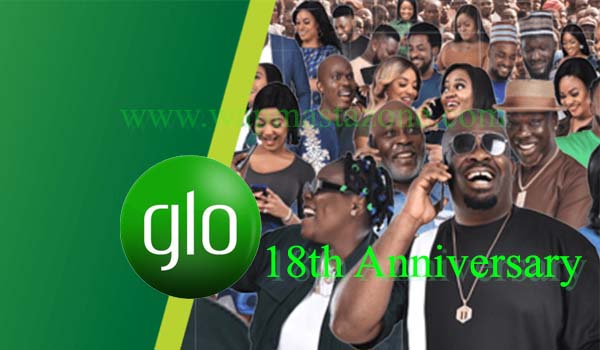 In celebration of its birthday, the giant network provider Globacom will be giving out free airtime and data to over 50 million Glo subscribers.
In over 18th years, Globacom has covered millions of subscribers and has 4G coverage in most of the villages in Nigeria. In a text message sent across to subscribers,  Glo said;
"…on our 18th anniversary, please accept our gift of N200 worth of 200MB data, and 6 min of glo to glo call, valid till 29th of August."
Also read: Everything you need to know About Glo TV App
Glo also wrote on its website;
"In celebration of our birthday, we'll be giving out free airtime and data to over 50 million Glo users".

"To commemorate this major milestone and to appreciate the millions of customers who have remained loyal to the brand all these years, We are giving AIRTIME GIFT to be credited to all customers FREE of CHARGE.
This anniversary gift of N200 airtime value is given as a one-time benefit to be consumed within 24 hours on the 29th of August 2021.
To be eligible for the anniversary gift, you must be an active Glo customer and you must have recharged with a cumulative of N200 or more between July and August 16, 2021.
Also read: Steps on How to Contact Glo Customer Care in Nigeria
Glo 18th Anniversary Offer Frequently Asked Questions
What is the Glo 18th Anniversary offer?
It is an anniversary offer to show loyalty appreciation which rewards Glo customers with both data and voice bonus.

Who is eligible for this offer?
The offer is available to all existing prepaid and postpaid customers.

How can I enjoy this offer?
Offer will be given to all customers with usage revenue of N200 and above in last 30days.

What Benefits do I enjoy on this offer?
You will enjoy one-time benefits of N200 equivalent: simply 6minutes of Glo to Glo calls and 200MB data.

What is the validity of the offer?
It is only valid for 24hrs.

Can I accumulate my bonuses?
No, it is a one-time offer for customers.

When will the offer be given to customers from the network?
Customers will get the offer on different days from 27th – 29th August with 3 different time of delivery. Each customer will have a specific date that offer will be given to them and are in batches of 12midnite, 6a.m and 12noon.

How will the customer know if offer is received?
SMS notification of special thank you message will be sent to customers.

What if I have recharge N200 in the last 30days?
No except it is used for a chargeable activity on the network worth N200.
Also read: How to Transfer Airtime on Glo in 2021 – Easy Steps