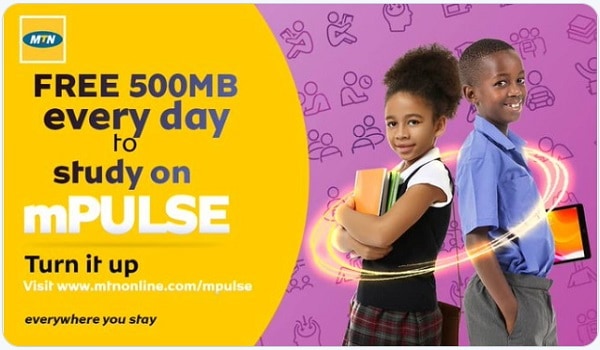 The Mtn mPulse is a Tariff plan on MTN designed to educate children between the age of 9 to 15 and young ones in the course of e-learning resources (mPulse website). Nevertheless, everyone is eligible for this offer.
The data offer is purposely launched for accessing elected e-learning websites for primary, secondary, and tertiary education in order to progress their knowledge although at home.
The new normal for learning made brighter by MTN. Get FREE 500MB daily data for your teens and tweens to learn, play and shine on MPulse. Visit https://t.co/akKsyAGeAY for more. #mPulse #StaySafe #StayConnected pic.twitter.com/s5TrJXCrSV

— MTN Nigeria (@MTNNG) August 7, 2020
Please note that the MTN mPulse Tariff Plan is totally different from the normal MTN Pulse Tariff Plan that we all know.
Characteristics of MTN MPulse
The MTN MPulse service has two features, and they are;
mPulse tariff
mPulse website
The Advantages of MTN mPulse
Special data bundles for the mPulse at 700MB for N150 and 200MB for N50.
Special Birthday reward of N200 airtime.
Free WhatsApp monthly for 7days.
Data Bonus on recharge.
National calls at 15.36k/secs.
SMS to all networks in Nigeria at ₦4.10.
mPulse website with fun and educational content. www.mtnonline.com/mpulse
How to Migrate to MTN mPulse and Get Free mPulse Daily 500MB
 To benefit from all of these great deals from MTN mPulse, basically, migrate to MTN mPulse using code *344*1# or by sending the word 'mPulse' to 131 to migrate.
Furthermore, you can migrate to MTN mPulse via MyMTN App, download MyMTN App on Google Play Store, go to the tariff plan and select mPulse to get activated on the MTN mPulse Tariff Plan.
After you have successfully migrated to MTN mPulse, the next thing now is to know how you can get the free data on your line.
Method to follow to Get the Daily Free MTN mPulse 500MB
Always visit any of the government e-learning sites to get the free 500MB activated on your line.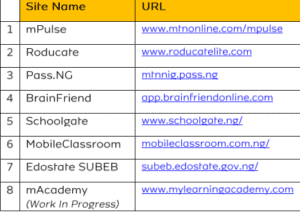 As explained above, you will be able to get the free data when you visit the websites in the pictures above.
Furthermore, that's just the only method to activate on your MTN SIM via MTN mPulse Tariff Plan the free daily 500mb.
According to the info we provide above, the data can only power the government e-learning site which is designed to study and get information.
So let's talk about how you can make this free 500MB data to work with all your apps.
Steps to Power Up MTN mPulse 500MB Free Data With VPN
Usually, we use a number of VPN like Stark VPN, Http injector, Tweakware, Samsung Max VPN, TSL tunnel VPN, Ec Tunnel VPN, and more to power up any of the internet data or tweak online.
Currently, we are just finding ways to make the VPNs work with the just-announced mPulse 500mb daily free data.
So what you have to do is check on Wapmastazone for the updates and we will let you know as soon as we detect the applicable setting to power it for all your smartphone apps.
We love to hear back from you, please comment below and share.