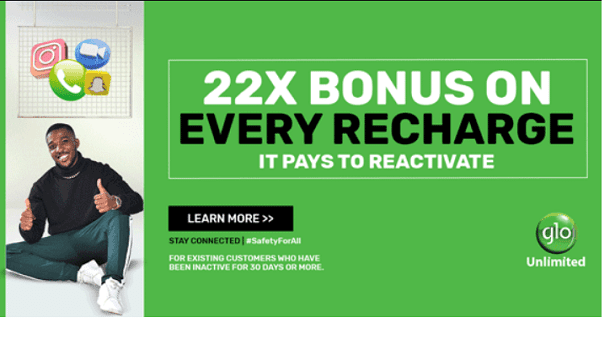 Glo 22X plan is a prepaid plan recently introduced by Glo Nig which rewards customers with amazing data and voice benefits every time they recharge their Glo lines. The plan allows customers to satisfy their browsing and talking needs from the same recharge. The plan is a way of bringing back customers that have abandoned their line for over 30days. The plan offers customers 22 times the value of every airtime they recharge.
Who is Eligibility for Glo 22X
All existing prepaid customers, who have not used their line for consecutive 30days will get Glo 22X benefit once they recharge their lines. Customer doesn't need to dial any USSD code to migrate.
Benefits OF Glo 22X
• Up to 5GB FREE data Every Month for 3 months!
• A whooping 22 times value (2,200%) on every N100 recharge to call ALL NETWORKS
How to activate Glo 22X plan
There is no USSD code to activate or migrate Glo 22X plan. All you do is to start using that your Glo SIM that has been abandoned for over 30days.

How do I get these benefits?
Depending on the amount recharged,  customers will receive amazing value as follows:
• You will receive a special data bonus on your first recharge of the month for 3 months
• Value in main account as well as value in bonus account can be used to call All networks
Recharge Amount
Voice Benefit Main Acct

(N)

Voice Benefit Bonus Acct(N)
DataValue


(N)

Data Benefit on 1st Recharge of the Month*
Data benefit on Subsequent Recharges
Total Value


(N)

N100

100

350

1,750

40MB

40MB

2,200

N200

200

700

3,500

200MB

80MB

4,400

N500

500

1,750

8,750

500MB

200MB

11,000

N1,000

1,000

3,500

17,500

1GB

400MB

22,000

N5,000

5,000

17,500

87,500

5GB

2GB

110,000
How much do I pay for making calls on Glo 22X?
• Glo to Glo calls are charged at 60k/sec for both main and bonus accounts
• Calls to other networks are charged at 75k/sec for both main and bonus accounts
• SMS is charged at N4/msg from main account and N14/msg from bonus account
How do I confirm if I have received the 22X Bonus?
A confirmation message will be sent to your phone after every recharge. In the unlikely event that a confirmation message is not received, kindly dial #122# to view your 22X bonus.
For more frequently asked question (FAQ), follow this link