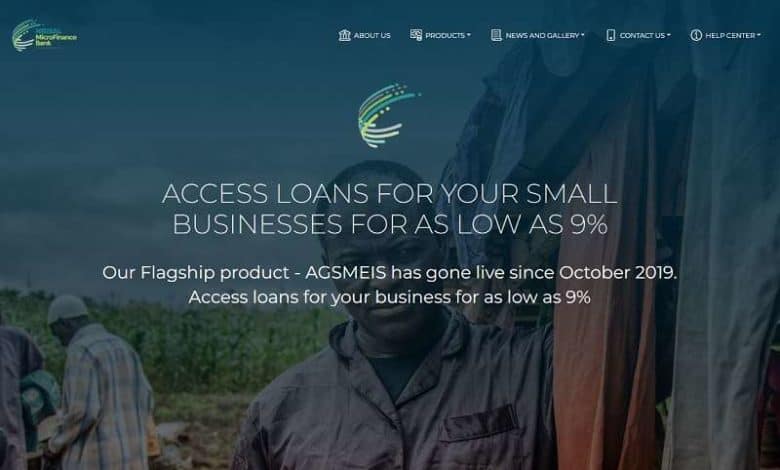 Loan in Nigeria, grants in Nigeria, quick loans in nigeria
The Central Bank of Nigeria is giving non-interest which is also collateral-free. Individuals can get up to N3,000,000 to small business owners in a scheme under AGSMEIS which is known as Agric-Business/Small and Medium Enterprises Investment Scheme.

Also read: How to get Grants And Loans in Nigeria in 2022
What Businesses/Sectors Are Eligible For the NMFB Loan
I.C.T

Telecommunications

Media

Creative Industry

Agriculture & Agro-allied Processing

Art & Entertainment

Automobile Services

Fashion and Dressmaking

Catering & Event Management

Courier & Delivery Services

Apparels and Textiles

Cottage Industry

Publishing

Hospitality

Health Services

Kerbs and Electric Pole making

Welding and fabrication

Animal Husbandry

Cosmetics, Beauty, and Makeup Artistry

POP and Tiling

Carpentry

Masonry

Electrical and Electronics
Also read: Top Business Auto Loans in 2022

NMFB Loan Modalities – loan in Nigeria
The scheme Financing would be for start-ups, business expansion, or revival of weak companies. The terms of the NMFB loans are stated below;

Loan amount: Up to N3,000,000

Interest: 5% per annum for regular and 0% for non-interest AGSMEIS

Moratorium: Maximum of 18 months for principal and 6 months on interest.

Tenor: Up to 7 years (depending on nature/gestation period of the project)
To get the AGMEIS loan, the below conditions must be met:
Interested Applicants will apply for the loan through the CBN-accredited EDI,

Interested Applicants must undergo training by a CBN-certified Entrepreneurship Development Institution (EDI),

Fill the form with all the details required, sign, and get them authenticated by the EDI,

Your application will then be sent to CBN through NIRSAL MFB by the EDI, for processing.

Those who qualified will be contacted and given the loan.
Also read: List of All Nigeria Banks Transfer Codes in 2022
Requirements For NMFB/AGSMEIS Loan Application
BVN

A Business Plan provided by the EDI

Details of two (2) Guarantors

Valid ID card

Certificate issued by a CBN-certified EDI

How to Apply For AGMEIS Loan
Follow the steps below to begin your application;
Open the AGSMEIS loan application website Click here to Apply
Choose if you are a new or returning applicant then click next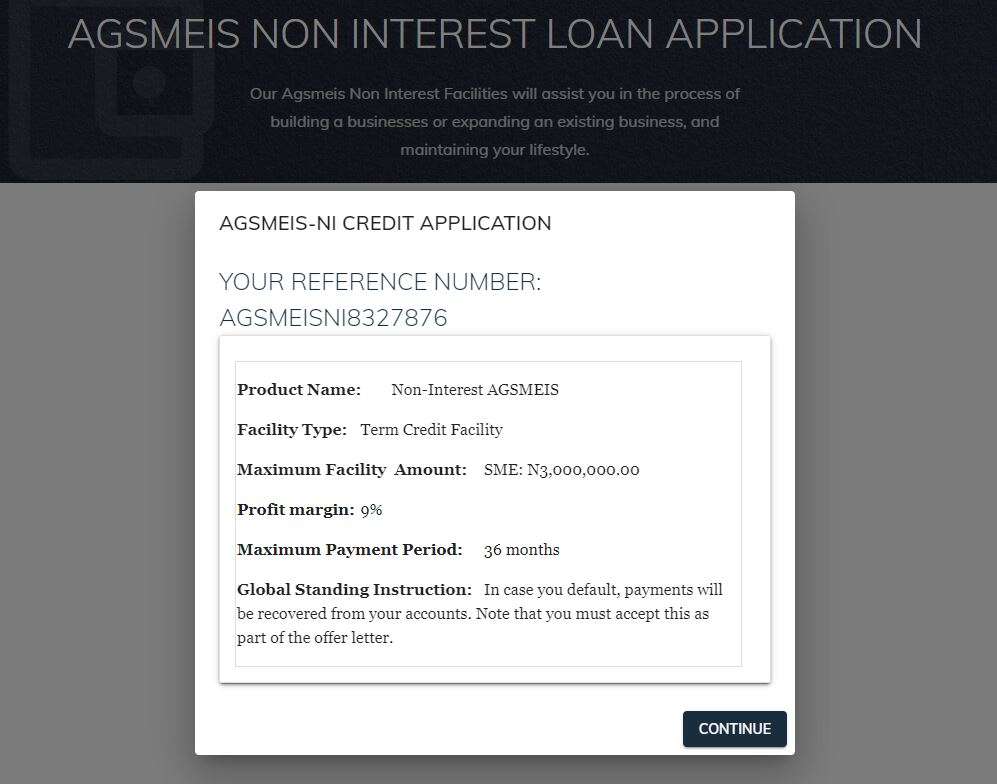 Enter your BVN and click validate BVN

Once validated, check if your details are correct, click next,

Then, fill out the form after and click submit,

You should receive an activation email or SMS once your application has been successfully submitted.

Follow the link in the e-mail or SMS sent to you to finalize your application,

Also read: MTN Digital Bank – How to Open a MoMo PSB Account
NMFB Loan, loan in nigeria, free loan in Nigeria, loan in nigeria, CBN Loan, where can i get loan in Nigeria?, AGSMEIS, collateral-free loan, collateral-free loan in Nigeria,non interest loan, How to get free Loan, CBN Free loan, AGMEIS loan ,