FACEBOOK
Facebook Unveil 'ViewPoints' Research App, which allows you to make Cash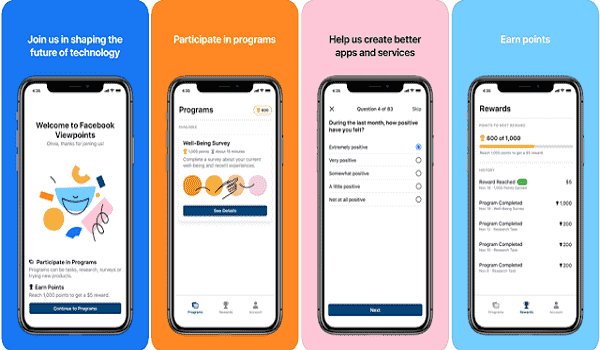 Facebook has unveiled a new market research app named Viewpoints. The app is for users to make cool cash when participating in surveys, tasks, and research.
According to Facebook, the objective of the social network with this app is to obtain genuine feedback from the users who are going to make use of this new platform in order to improve products such as WhatsApp, Instagram, Facebook, Oculus and other services.
We believe the best way to make products better is to get insights directly from people who use them. We'll use these insights to improve products like Facebook, Instagram, WhatsApp, Portal and Oculus, and to benefit the broader community".
A program can be any type of task, such as participating in research, taking surveys or trying new products. You'll earn points for every program you successfully complete.
To use Facebook Viewpoints, you'll have to provide information like your name, email address, country of residence, date of birth, and gender. The app can pull that from your Facebook account, which is the only supported login method at this time. After that, you'll be invited to "programs," which are surveys that award a set number of points. Reach 1,000 points, and Facebook sends you $5 via PayPal.
Get started by installing the Facebook Viewpoints app from Google Play Store for Android or App Store for iOS users and creating your account. When programs become available, Facebook will let you know through email or notifications.
Facebook says it'll be careful with your data (for real this time), and it won't sell it to third-parties.
Facebook also warned users that they "cannot live on this", that is, it cannot be taken as a formal job.
The operation of the app will be very simple. Users will get invitations from time to time to participate in different programs. The company will indicate what user information they will use, how they will do it. And how many points they will receive for their participation in the program.In addition, Facebook Viewpoints will inform these users how many points they will need to receive a payment, as well as alert them when they reach the points required to receive the payment in question.
How Can I Withdraw My Earned from Facebook Viewpoints?
Once a certain amount of points has been accumulated. A charging process will start in the app itself. The payments of these prizes will be through Paypal. So it will be necessary to have a PayPal account to be able to withdraw money from the new Facebook platform.