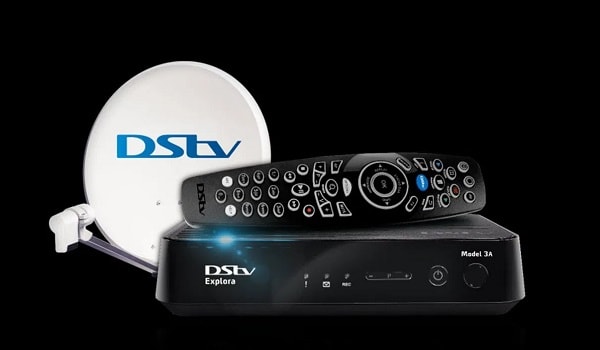 MultiChoice seems to be taking a new dimension in an attempt to provide DStv subscribers much cheaper service. The DStv flex will give subscribers more advantage over their subscription as they can choose the channel of their choice. 
In an article from Thinus Ferreira who is a TV Journalist, he made this known that Multichoice will be breaking up its combined entertainment and sports channels offering and unbundling it. Subscribers will still have access to a premium collection of entertainment TV channels in a so-called "skinny bundle", together with an optional add-on package of sports channels.
Also read: Dstv Business Packages and Prices in Nigeria
He alluded that If MultiChoice does break up its existing DStv pay-TV bundle by splitting out sport into optional, with separate add-on TV packs, it would be the biggest change to DSTv bundling and TV packages in Africa in the last 25 years.
As part of a new possible DStv bouquet structuring plan, MultiChoice is looking at allowing DStv subscribers to choose their sport channels – the most expensive content – separately in the form of 3 different, optional, add-on sports packages each containing various bundled SuperSport and ESPN channels.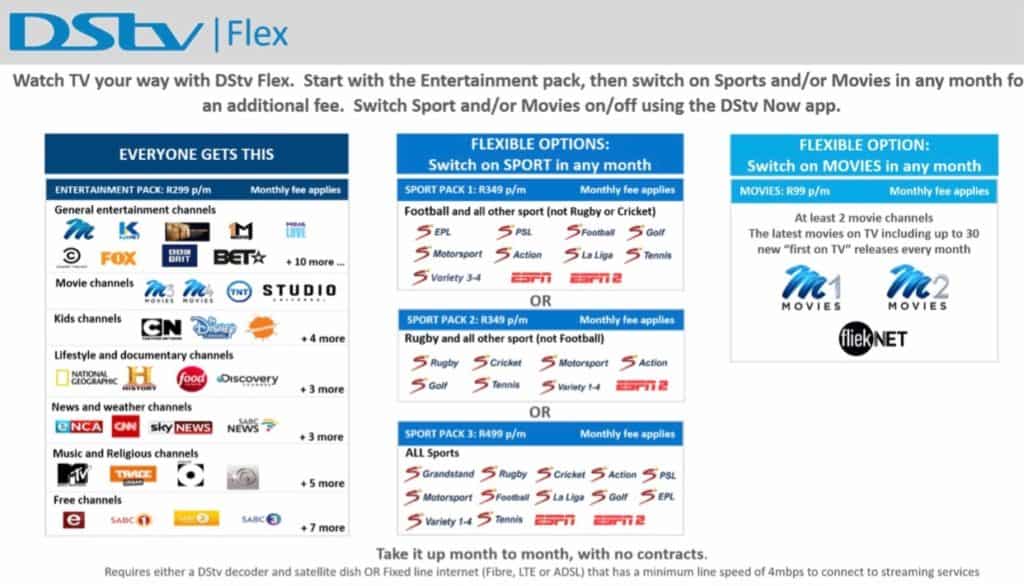 The aim of "DStv Flex" is to try and keep highly-prized DStv Premium customers within MultiChoice's subscriber base – a fast-dwindling top-end subscriber segment – and to try and limit the growing churn of premium DStv subscribers.
Also read: DStv Compact Channel List and Price in Nigeria
DStv Flex Functionality
Customers who apply for Flex will be charged a mandatory amount of money per month which is yet unknown, with each extra 'pack' stacking on top of that. This price includes compulsory Entertainment TV channels with 64 premium channels. 
This would include M-Net, kykNET, 1Magic, Mzansi Magic Moja Love, Comedy Central, FOX, BBC Brit, BET, and 10 more channels; movie channels like M-Net Movies 3, M-Net Movies 4, TNT, and Studio Universal; as well as kids channels like Cartoon Network, Disney Channel, Nickelodeon and 4 more.
The basic DStv Flex pack would also include documentary and lifestyle channels like National Geographic, History, Food Network, Discovery Channel and 3 more; News channels like eNCA, CNN International, Sky News, SABC News and 3 more; music and religion channels like MTV, Trace Urban, Channel O, 1Gospel and 5 more; as well as free-to-air channels like e.tv, SABC1, SABC2, SABC3 and 7 more. 
Subscribers will also be able to add between one and three sports packs from here if they want sports channels. The most amazing thing about this development is that subscribers will have more control.
Also read: Guide on How to Contact DStv Customer Care in Nigeria
While this might take some time, let's wait and see how it will unfold.
Source: Thinus Ferreira