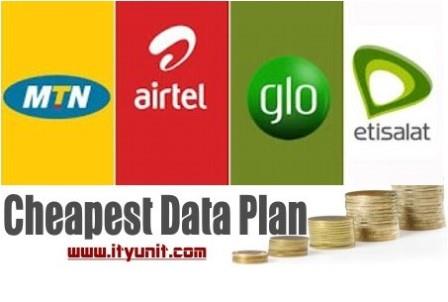 February 2017 is here, may it be a good news bearer for you. May all your wishes be fulfilled. Happy New month, my people!It has been a while I reviewed the best and affordable internet plans for all Smartphones/PC. Today, I'd brief you guys on the best and cheapest internet data plans which I hope they really nice for you to enjoy in this new Month.
It's no longer news that 
MTN Glo and Etisalat have terminated the use of Blackberry subscriptions in which I'm sure that the Blackberry users will be looking for a way out to continue surfing the web via their Blackberry devices. 
Note that Airtel Blackberry Plans still alive, so Blackberry users with OS 7 can still flexing with it. For now, Blackberry OS 7 users need to get Airtel sim and dial *431#
Airtel Data Plans For Android and iOS Users
Airtel Tripple surf is what in vogue now, for the reason that it gives you up to 100% bonus on data activation, purchase, and renewals. In other words, it rewards customers for being loyal to the company.
It is not a data plan on its own. It only gives you the bonus on your data subscription based on your current Airtel data plan. The Percentage of data you get is dependent on your current Airtel data plan.
To Activate the Triple Surf offer
Just dial *141#

Select option 2 in the menu "Triple Surf Offer", you will see the list of applicable bundles

Activate any of the applicable data bundles and you will begin to enjoy your bonus
Airtel Double Data Offer
The Airtel Double data offer gives you 3GB for N1000, 7GB for N2000, 18GB for N4000. You get free extra 1.5GB when you activate 1.5GB for N1000, extra 3.5GB when you activate 3.5GB for N2000,but the only problem we have with Airtel is their SIM eligibility issues on their numerous surprises.
To subscribe to the offer
Dial *496# to get 3GB for N1,000

Dial *437*2# to get 7GB for N2,000

Dial *438*1# to get 18GB for N4,000
The validity period is 30 days.
It's unfortunate that not all Airtel SIMs will be able to benefit from this Airtel double data offer. It's meant for those who got an SMS from Airtel only.
Airtel Weekend Bundle
I don't know the reason why you guys abandoned Airtel Weekend Bundle when the subscription code is active and the plan is still ok for downloading. Remember that you can get 7GB for just N700 every weekend, with the Airtel Weekend Bundle.
1024MB (1GB), for just N100 every day, dial *474*1# to activate.

Dial 140# to check data balance.
MTN Data Plans
MTN normal data plan still remains unaltered, simply dial *131*1# to choose your preferred MTN data plan.
Don't forget that you can be getting double of your MTN data subscription (100% data bonus) via IMEI Tweaking. The double data offer will last for 6month.
Glo Data Plans
No doubt Glo is the best when it comes data, you can get titanic data for the lesser price, though you may not be able to use it the way you want due to their imbalance GPRS network, but is like their network is a little bit better now.
N500 = 1.6GB, valid for 7 days

N1000 = 3.2GB, valid for 30 days

N2000 = 7.5GB, valid for 30 days

N2500 = 10GB, valid for 30 days

N3000 = 12GB, valid for 30 days

…and many more
Even with just N500 Glo will give you 1.6GB. Simply dial *777# and follow the prompt to subscribe to your preferred Glo Data.
Etisalat Data Plans
When other Networks like Glo are busy increasing the Data Volume of their Data Plans, Etisalat is busy on the other end increasing the Data Price of their own Data Plan.
Etisalat 500MB cost N500 to subscribe dial *229*2*12#

Etisalat 1GB cost N1000 to subscribe dial *229*2*7#

Etisalat 1.5GB cost N1200to subscribe dial *229*2*7#
Etisalat data plan via third party sellers is still a better option for those who need huge Etisalat data for the lesser price, but I'm short of words in referring you to any third party data seller at this moment.
do you find this post informative ?  leave a comment below .