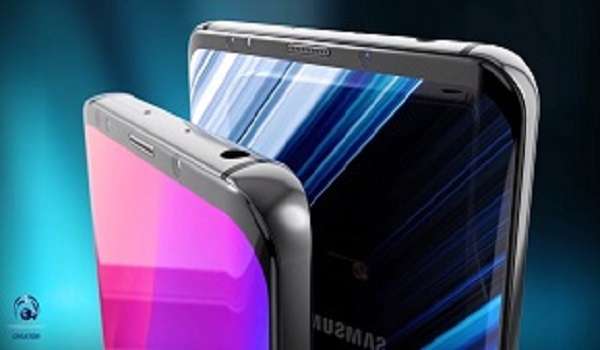 Samsung's next-generation Galaxy S10 could deliver significant design and feature updates to the South Korean smartphone manufacturer's flagship line of premium smartphones. At least, that's what the rumours are suggesting. Even Samsung Mobile's leader DJ Koh has chimed into hype up the next Galaxy S smartphone. If the rumours are accurate, we're expecting a pretty significant overhaul in the Galaxy S10 lineup that could see the adoption of new technologies, next-gen specs, and more modern design. If true, these rumours paint a futuristic vision of what the Galaxy S10 could look like.
Check out the leaks and rumours for the Galaxy S10, with a little visual help from a video from concept artist Concept Creator
Also read: How to Unhide or Hide Caller-ID on Infinix Android Phone
1.There will be three models of the Galaxy S10.
Samsung is supposedly planning to offer three variants of the Galaxy S10, according to the often reliable technology analyst Ming-Chi Kuo, who has successfully predicted elements of new Apple iPhones.
One model will have a 5.8-inch display, another will have a 6.1-inch display, and the other will have a 6.4-inch display, Kuo believes. They're all said to come with Samsung's signature curved edges, but some rumour-mongers think otherwise, with the smaller model coming with a flat display.
2. There could be another variant that supports new, ultra-high-speed 5G networks.
The larger Galaxy S10 Plus model could come in two different variations, one of which will have 5G support, according to XDA-Developers, citing information it found in the code inside an upcoming software update for the Galaxy S9 Plus.
5G is a new wireless standard that promises extremely fast data speeds and potentially less congestion than the current 4G LTE standard is experiencing today. That means 5G data speeds will still be fast, even during times of peak data traffic.So far, however, 5G availability is extremely limited and hasn't been fully deployed by most carriers.
Also read: 7 Brilliant Ways to Make Money Online in Nigeria 2021
3. Rumours are suggesting that the Galaxy S10 will have a front-facing fingerprint scanner underneath the display.
A front-facing fingerprint scanner embedded underneath the display is perhaps the most hotly anticipated feature that could come to the Galaxy S10 – and the rumour mill says it's well on its way.
An invisible fingerprint scanner underneath the display would certainly add to the futuristic look and feel of the Galaxy S10. So far, some phones from Chinese manufacturers including Vivo, Xiaomi, Oppo, and Huawei have this kind of hidden fingerprint sensor.
One of the latest rumours claims that embedded fingerprint sensors will come standard on two of the upcoming Galaxy S10 models, according to The Investor, and the lower-end model with a flat display will have a regular fingerprint scanner on the side of the phone. The rumour lines up with Ming-Chi Kuo's earlier predictions
4. Samsung says that the Galaxy S10 design will have 'very significant changes over its previous Galaxy smartphones.
Samsung's own head of its mobile division DJ Koh said that the upcoming Galaxy S10's design will have "very significant" changes over previous Galaxy phones.
Koh didn't elaborate on what changes are coming to the Galaxy S10, but there could be a clue in a rumoured change in the Galaxy S10's earpiece, which you'll see in just a moment.
Also read: 9 Most Important SEO Guides to Help you Rank First Page on Google
5. The Galaxy S10 won't have a traditional earpiece.
The earpiece on the Galaxy S10 won't actually be an earpiece, according to ET News. Supposedly, phone call audio will be transmitted to a user's ear with vibrations emanating from the display, rather than using a traditional speaker.
Without a traditional earpiece, there would be no need for an opening from which sound can escape out. Fewer ports and openings could lead to a cleaner and more modern design, but it could also point to a clue that narrower bezels are coming to the Galaxy S10. It could even allow Samsung to make an all-screen front surface without the need for an iPhone X-style notch.
Still, the front-facing cameras and sensors will still need a hole to peek out of somewhere, so it remains to be seen how Samsung will accommodate the Galaxy S10 design.
6. It might have a camera with three lenses.
So far, the rumours suggest that the Galaxy S10 will have three rear camera lenses, and two front-facing cameras, according to Korean news outlet The Bell.
The Bell reports that the extra lens on the back will be a 16-megapixel ultra-wide-angle lens, similar to the ultra-wide-angle lens on LG G and V phones. This ultra-wide-angle lens will come in addition to the 12-megapixel optical zoom lens and standard wide-angle lens that Samsung's current-model Galaxy S and Note phones already have.
The dual-lens system on the front, meanwhile, could allow for an iPhone X-style portrait mode while taking selfies.
7. The Galaxy S10 might a have 3D face scanner to unlock your phone, similar to Apple's Face ID system.
A face scanner will feature in the Galaxy S10 for unlocking the phone, and potentially also creating augmented reality stickers, according to The Investor – citing Samsung's partnership with Mantis Vision, a company that develops 3D sensing camera solutions.
8. It will come with next-gen specs.
It will likely run on the latest and most powerful chip from mobile chipmaker Qualcomm, the Snapdragon 855, according to Phone Arena. Most smartphone models from 2018 are running on the current-generation Snapdragon 845.
The Galaxy S10 is also said to sport faster memory technology for both RAM and storage, which could boost the phone's performance.
9. It will come with an updated version of Samsung's Experience interface that runs on top of Android.
First and foremost, it will be surprising if the Galaxy S10 doesn't come with the latest version of Android – Android 9.0 Pie. Samsung's phones usually sport a tweaked version of Android, with a slightly modified interface of its own. That interface to be called "TouchWiz," but it's been called "Experience" for the last few years.
Samsung's latest Experience 10.0 interface on the Galaxy S10 is said to come with a wide variety of design and function updates, which you can check out at XDA-Developers, or check out the video below:
Interestingly, Samsung apparently hasn't adopted the new navigation gestures from Android 9.0 Pie, according to what we know today.
it will likely to be released around March 2018, but the price tag is uncertain.
If Samsung follows its usual smartphone release cycle, the Galaxy S10 will likely be announced in February and released to buy in March, much like the Galaxy S9.
As for price, few rumours exist, so it's hard to tell. Either way, it's likely to have a similar price tag as the current-model Galaxy S9, which starts at $US720. Perhaps the smaller model with a supposedly flat screen may cost less, but at this point, that's pure speculation.
Also read: The Complete difference between PayPal FnF and PayPal GnS